Rubbish Removal

Camden Town NW1

It doesn't take long for any home to amass junk and clutter in it – as you buy new goods and older items become redundant, when you can't bring yourself to get rid of things, etc. These items will do nothing but take up space, make your home look messy and generally get in the way. Camden Town rubbish removal NW1 is the answer but it can be a lot of work, as you may have many items to get rid of, and some of them may be large and heavy. Whatever it is, we can help. Handy Rubbish is top waste collection firm based in NW1 that will see to all the work on your behalf. Call anytime on 020 3540 8282 to find out about our Camden Town NW1 waste removal services.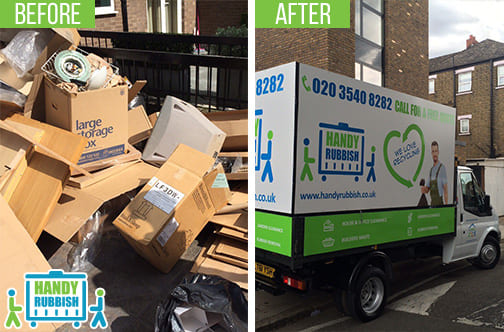 What we do
Where to find us
Like us
Book Cheap
Rubbish Clearance Service in NW1
We are committed to giving you the best Camden Town waste clearance solutions and we will see to all necessary house clearance tasks. Our team will come to your address when you need them to and bring everything they need to complete the work. We can send as many people as necessary so the entire job can be completed quickly. Our staff will work with you to sort, break up, bag and shift unwanted goods. They will work carefully so that no damage comes to your home. They know how to do the job without any problems and will ensure a swift result. We can remove a huge range of items, large or small, from your home, so contact us on 020 3540 8282 now and discover how we can help you.
Hire Us for Successful
Rubbish Removal in Camden Town
Most goods we collect from your property as part of our rubbish clearance NW1 services will be recycled. We are committed to helping the planet and we take all necessary steps to do this. We work with groups and sites in NW1 to ensure the recycling we do it performed correctly and legally. We want to avoid dumping unwanted items and instead want them to be reused or made into something new. We do all of this as part of your rubbish disposal Camden Town at no extra cost or effort for you. This ensures that as long as you hire us for your waste disposal in NW5, you are helping the planet.
List of services we provide

in Camden Town, NW1
Household Rubbish Clearance Camden Town, NW1
Commercial Rubbish Disposal Camden Town, NW1
Building Waste Removal Camden Town, NW1
Garden Rubbish Removal Camden Town, NW1
Electronic Waste Collection Camden Town, NW1
Garage Clearance Camden Town, NW1
How We Can Help You with Our Excellent
Waste Clearance Services in Camden Town
We can help you get the best rubbish removal results in Camden Town, NW1 if you call 020 3540 8282 now. Talk to an expert who will fill you in on everything we can do for you. We will let you know how we help, what our services entail and so on. If you are happy with this, we will then give you a free quote. You don't have to commit to any quote and it will let you see the price before you decide to hire us. You can request any amount of estimates so that you can get the right service and the best deal for you. We can cover your waste disposal Camden Town NW1 today, so get in touch with Handy Rubbish now.

Testimonials
I have been looking for a reasonably priced waste removal company in Camden Town NW1 for more than a week and I have finally found it! They did an excellent job and the price they charged me was reasonable!
- Reviewed by Kara Molloy
A Concise Look at Camden Town

Often just referred to as Camden, Camden Town is within Inner London. It was originally a part of Kentish Town but separated to become its own location. Its current population stands at around 24,000 and it is near Kentish Town, Islington, King's Cross, Regent's Park and more. The area is most famous for Camden Market which attracts over 100,000 people each week to shop at its wide variety of stalls. Other landmarks in Camden Town include the Electric Ballroom nightclub, the Roundhouse Theatre, the Jewish museum, Camden catacombs and the TV-AM building.


DO YOU NEED ADDITIONAL SERVICES?