Rubbish Removal

Belvedere DA17

With the many things that go on in an average person's life, you can be forgiven for forgetting to keep track of certain things like rubbish removal in Belvedere, DA17. Sometimes it's hard to get everything perfect without any help. Forget about all the worries, because Handy Rubbish is here.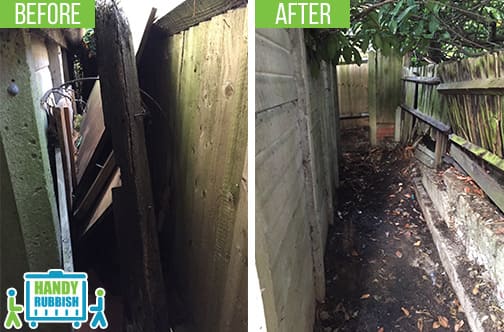 What we do
Where to find us
Like us
Book Cheap

Rubbish Clearance Service in Belvedere

House clearance is a bit like this, but it's more easily salvaged if you've let things get out of hand. If you let items build up in your cupboards, attics, spare rooms and so on, don't fret. Just call Handy Rubbish and we'll dispatch some DA17 waste clearance professionals to take care of things. Hiring us is really simple; just call 020 3540 8282 and have a chat with our friendly call centre staff.
Belvedere is All Well and Good

, but What About the Rubbish Removal DA17 Services?

Our services here at Handy Rubbish are fairly numerous, but easy to sum up. You will find more details by calling us on 020 3540 8282 but here's a quick list:

- House / Flat / General Domestic clearance for a quick home clear.
- Garage / Garden clearance for more specialised home clearing jobs
- Office / Commercial clearance for affordable business clearance tasks.

In short, we provide rubbish clearance DA17 services to anyone, and our prices are hard to beat.
List of services we provide

in Belvedere, DA17
Household Rubbish Clearance Belvedere, DA17
Commercial Rubbish Disposal Belvedere, DA17
Building Waste Removal Belvedere, DA17
Garden Rubbish Removal Belvedere, DA17
Electronic Waste Collection Belvedere, DA17
Garage Clearance Belvedere, DA17
Our Belvedere, DA17 Waste Clearance Specialists
are the People to Call for an Efficient Clear!
Our team of Belvedere rubbish disposal DA17 professionals ensure that all of the relevant precautions are taken into account, and everything we take is disposed of, recycled and reused in an appropriate fashion. Potentially hazardous materials like battery acid and electronic components are handled with the strictest care, in accordance with the health and safety guidelines.
Get the Number One

Rubbish Clearance in Belvedere, DA17

So there you have it, a quick and easy home clear that won't leave your wallet reeling. Whether you're looking for domestic, business, or indeed any sort of junk clearance, Handy Rubbish is all you have to remember. Our phone number one last time is 020 3540 8282. Get in touch today and hire our Belvedere waste disposal!


Testimonials
I can't believe they did such a marvellous job in Belvedere. I hired them for waste collection in DA17 and got a heavy discount!
- Reviewed by Joan
Belvedere - a beautiful place to call home!
Belvedere is part of the London borough of Bexley, and it's part of the DA17 post codes. It's a place worth checking out, because it upmarket look and feel, and the many services and sights it has to offer. Belvedere's name comes from the Italian for 'beautiful view', and it's a very appropriate description of the area. There's lots of great views in the area, especially from its highest points - some bordering on the breathtaking side. In addition to this, Upper Belvedere (the focal point of the district) is among a large area of open space. It is a fine place to relax and unwind. Upper Belvedere has a variety of shops, pubs and restaurants in the area as well, so there's a great deal to experience. Belvedere is also home to some Victorian and Edwardian era architecture - there are houses and classical churches in this style dotted around the place. In terms of a place to live, Belvedere comes highly recommended. It's a place of architectural and natural beauty, and has a convenient shopping district as well. There's a lot of merit to this place!
DO YOU NEED ADDITIONAL SERVICES?