Rubbish Removal

Clerkenwell EC1

Is there any unwanted furniture or white goods in your home you'd like to get rid of? Then call Handy Rubbish on 020 3540 8282 and in no time it'll be done for you. We carry out white goods recycling as well as Clerkenwell rubbish clearance on a daily basis because we are a well-respected company that's been operating for many years. People come to us for every type of job, including office clearance, because we are renowned for giving a better service you've been meaning to do for so long but haven't got around to.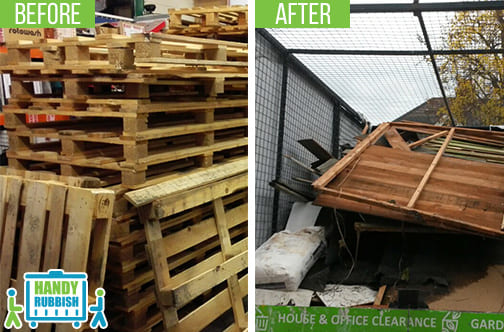 What we do
Where to find us
Like us
Book Cheap

Rubbish Removal Service in EC1

Our expertise in carrying out every type of clearance means that when you need garden waste clearance Clerkenwell or, perhaps, furniture disposal in EC1 then to call us is the best move you can make. In addition to the quality of service we give and the fantastic low prices, one other reason it's so beneficial to hire our rubbish disposal in EC1 so you don't have to think about skip hire for no more hassle.
Clearing Space Is Safer

When You Hire Clerkenwell Rubbish Removal Company

Handy Rubbish doesn't just collect things and take them away for you, we do it ethically and try to recycle as much as we can. We do the hard work for you so you don't have to think about the physically demanding chores of trying to remove a cooker from the kitchen or trying to get that awkward sofa through the living room door. Why don't you call our EC1 waste disposal experts!
List of services we provide

in Clerkenwell, EC1
Household Rubbish Clearance

Clerkenwell,

EC1

Commercial Rubbish Disposal

Clerkenwell,

EC1
Building Waste Removal

Clerkenwell,

EC1
Garden Rubbish Removal

Clerkenwell,

EC1
Electronic Waste Collection

Clerkenwell,

EC1
Garage Clearance

Clerkenwell,

EC1
Excellent Quality

and Cheap Prices for Waste Clearance in EC1

We have house clearance professionals who are fully trained in all aspects of rubbish removal Clerkenwell, EC1. One other reason it's so good to hire our professionals is that we also can take care of junk disposal for you. This is not only physically demanding work but can also be, potentially, hazardous to your health.
For Every EC1 Rubbish Removal Service That You Need,
Call Us
One other thing to take into consideration when you're hiring our waste collection Clerkenwell experts is the fact that we will always be there for you not just for the first time you call us but for everything you call us. This can give you peace of mind because it's natural over time that you will accumulate items in your home which at a later date you will no longer. By knowing our phone number 020 3540 8282 you know you're only a phone call away from hiring a wonderful waste removal EC1 company who will take care of things you don't need.
Testimonials
Thanks for the waste removal service provided by Handy Rubbish.
Handy Rubbish is one of the best rubbish removal companies in Clerkenwell EC1 that has been there for my family and me. They are everything I hoped for.
Handy Rubbish delivered such great rubbish disposal for us in Clerkenwell EC1. I would highly recommend them to my friends.
I was in desperate need of a rubbish removal service in Clerkenwell. Thankfully, Handy Rubbish were able to come to my aid. They did a terrific job clearing out the mess in my back garden. I'm certainly going to hire them for future jobs.
Would use their Clerkenwell builders waste removal again because they went above and beyond to take care of everything.
I called for waste disposal help and the team in EC1 took care of everything in a few hours for me. Would highly recommend.
Above satisfactory junk collection service in Clerkenwell. They do the absolute best when it comes to what they do!
I am so glad I hired their cheap rubbish removal service in Clerkenwell. The process in EC1 went smoothly and hassle-free! Would recommend!
Clerkenwell, a One-Time Home to Spa Baths, Tearooms and Theatres
Clerkenwell is in the London Borough of Islington located between King's Cross and the City of London. The area gets its name from 'Clerks well', a source of water which was first used by a nunnery in 1140. The same was rediscovered in Farringdon Lane in 1924. Clerkenwell has been a fashionable place to live through much of its history. In the seventeenth century, for example, Oliver Cromwell, the Duke of Northumberland and Erasmus Smith all lived there. The area was known as a 'resort' with many spa baths, tearooms and theatres. Sadlers Wells Theatre in present Clerkenwell continues this tradition and has been the sixth such venue to be built at this Rosebury Avenue site since 1683. Much of Clerkenwell's housing today is Georgian terraces along with early 20th century tenement blocks and municipal buildings. The only train station in the area is Farringdon Station which is also a tube station on the Circle, Metropolitan and Hammersmith & City lines. There are also mainline services to Brighton and Bedford amongst other destinations. Places within easy reach of Clerkenwell include Holborn WC1 WC2 to the south-west, Smithfield EC1 to the south, Bloomsbury WC1 to the west, Islington N1 to the north and King's Cross to the north-west.
DO YOU NEED ADDITIONAL SERVICES?