Rubbish Removal

Haringey N4

If you feel as though your home or your office could benefit from the help of property Haringey rubbish clearance services then why not hire Handy Rubbish? When it comes to N4 waste removal services you won't find any better company in the area than ours, and we can provide you with the services that you need, without the expensive price tags! Lots of people depend on our company for help with things such as: garden clearance, commercial clearance, furniture clearance and more, and we'll ensure that your home or office has never looked better!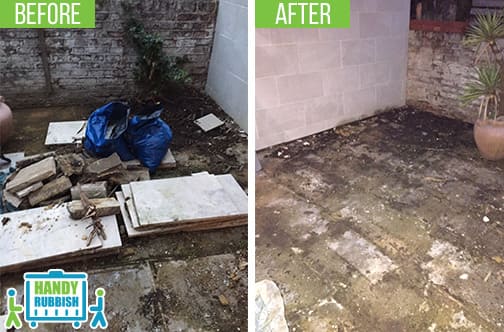 What we do
Where to find us
Like us
Book Cheap

Rubbish Clearance Service in N4

At our company we help lots of people every single week by providing the best waste clearance services in Haringey, N4! Not only do we have one of the most varied and fantastic ranges of services possible, but we're also proud to boast about our competitive and affordable prices! It doesn't matter if you're looking for builders rubbish disposal in Haringey help or loft clearance assistance, our company can help you and you won't need to concern yourself over the price! Our low prices don't reflect a drop in quality – we're still able to provide you with consistently excellent clearing help that you won't find anywhere else.
Our Haringey Waste Collection Services
are the Perfect Choice for You
If you want to have a clearer living or working space then you don't need to look any further! From your garden to your office, from your loft to your garage, there's no area of your home or business that our team won't be able to work their magic on! We'll help you with rubbish removal N4, furniture removal, waste disposal Haringey and more, so that you won't need to lift a finger to get the results that you want to see! Why contact any other company when you can have the best in the business!
List of services we provide

in Haringey , N4
Household Rubbish Clearance Haringey , N4
Commercial Rubbish Disposal Haringey , N4
Building Waste Removal Haringey , N4
Garden Rubbish Removal Haringey , N4
Electronic Waste Collection Haringey , N4
Garage Clearance Haringey , N4
Hire the Best Haringey Waste Clearance Help
For Your Home Or Office!
Handy Rubbish is the only company that you need if you're in the market for professional and dependable N4 waste collection services. Our experts are just waiting to provide you with the high-quality services and low prices that you need for both your home and business. To find out more and to hire us for your needs call us today on 020 3540 8282! You won't believe the difference that our teams can make to your life, so if you want a clutter-free environment in which to work or play then all you need to do is to hire our company right now!
Testimonials
They are the best waste removal company in N4.
They have been doing regular rubbish removal in our offices in Haringey N4. The workers are ethical and professional. The company also follows all the regulatory standards to ensure that the environment is protected.
They provided me with a very competitive quote, and the entire rubbish clearance service in Haringey ended up being speedy and convenient. I thoroughly recommend this team and would definitely use them again.
Handy Rubbish was fantastic and did a thorough job. They were professional and timely in junk removal. I want the same team scheduled to me again. I would love to use them again in Haringey N4.
We did not know about Handy Rubbish before. We read the reviews and booked them online. We compared their quotes with others and decided to engage them for waste clearance in Haringey. I can say without fear that this is the best company. We highly recommend them.
For the past three years, they have been working for us. For these three years, there is no complaint at all. We recommend them to Haringey residents. They are a reliable removal company.
This is the most efficient rubbish clearance company in Haringey N4! They really impressed me with what they had to offer and with their special offers in N4. I was over the moon with their service!
Haringey Makes the Perfect Place to Live!
Haringey is a London borough that's located in North London. There is some dispute over whether or not this borough falls under the Inner London or Outer London specifications, but what is agreed upon is that Haringey is a fantastically historical and marvellous place in which to live. The area is home to lots of amazing sights and places to visit, including the stunning Alexandra Palace, Bruce Castle and Tottenham Hotspur Football Club. Haringey is well-known for its many theatres, and the entire area has a lot of pride in its cultural arts. Theatres in Haringey include the Haringey Shed, Jacksons Lane, the North London Performing Arts Centre and the Bernie Grant Arts Centre. For those with a passion for performance and stage production, Haringey is the place to be! There are many actors and musicians who herald from Haringey, including actors Simon Pegg and David Tennant, and the famous and The Kinks also formed here.
DO YOU NEED ADDITIONAL SERVICES?