Rubbish Removal

Merton SW19

London may be one of the leading tourist destinations in the world, but it hasn't happened by chance. The area is not only deeply engrained in history, it also has a business backbone that rivals some of the world's leading financial cities. This backbone is largely built off small businesses, many of which make their home in Merton. If you are looking to move your business rubbish clearance Merton SW19 is going to be high on your agenda. When it comes to Merton waste removal services, plenty of companies will be on hand to help. However, not all of them can deliver exactly what you need every time.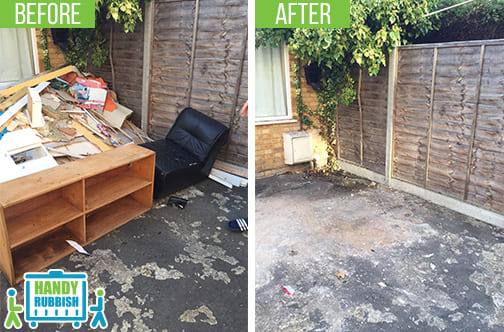 What we do
Where to find us
Like us
Book Cheap
Rubbish Clearance Service in SW19
When you want the very best Merton SW19 waste clearance operation that money can buy, don't waste your time with the imitators and pretenders. Pick up the phone and call the Handy Rubbish team on 020 3540 8282 today. We are standing by waiting for your call. We will provide you with more detail about what we can offer, along with a completely free no obligation quote.
We can Offer You the Best
Merton Waste Disposal Services

that Money Can Buy

If areas like Mayfair and Knightsbridge are all about luxury, then Merton is certainly an area about prosperity and business. As time goes on, the area becomes more and more associated with local and small businesses. If there is one thing that all these businesses have in common; it is that at one point or another they must tackle the task of Merton rubbish removal SW19. When it comes to waste collection SW19 and your business, the very last thing you need to be doing is putting your job into the hands of a company that doesn't know what they're doing. Thankfully, you needn't have to do that ever again. This is because Handy Rubbish is on hand to remove rubbish from your office. Using the very best in both staff and apparatus, we know what Merton waste disposal truly entails.
List of services we provide

in Merton, SW19
Household Rubbish Clearance Merton, SW19
Commercial Rubbish Disposal Merton, SW19
Building Waste Removal Merton, SW19
Garden Rubbish Removal Merton, SW19
Electronic Waste Collection Merton, SW19
Garage Clearance Merton, SW19
Exceptional Deals on
Merton Waste Removal Services
If you are on the lookout for a new company to take control of your rubbish disposal Merton needs, then pick up the phone and call 020 3540 8282. We will talk you through the entire process from start to finish; we will also provide you with a free no obligation quote.

Testimonials
I ended up with a lot of waste after a home renovation project in SW19. I had to hire a professional waste collection service in Merton but I was on a budget and needed a cost-effective service. I found Handy Rubbish and was fully satisfied with their help! They removed all the rubble for a low price and I got just what I wanted!
- Reviewed by Janet
The Place to Live In
Merton is a borough based in South West London, even though it may seem like it has been around for a while it is in fact a relatively new area on the grand scheme of things. The area was formed during the London Government Act of 1963, before being dubbed an urban district in 1965. The area also finds itself situated amidst several other well-populated London areas, including Wimbledon, which is a popular tourist destination. The borough itself takes its name from the former historic parish that resided there, which itself was called Merton. On paper, Merton may seem like a fairly subdued area, but it actually has several famous connections. Many don't know that the area was one of the homes for the ITV series "The Bill". In fact, the home set of Sun Hill Police Station was located there. Video games have also found themselves a home in the area. Mega-producers Square Enix and Eidos Interactive operate in Merton, by sharing the same head offices. Next time you sit down and discuss up and coming business areas in the capital remember that Merton is bringing a lot to the table, even if such isn't widely publicized.
DO YOU NEED ADDITIONAL SERVICES?