Rubbish Removal

Dartford DA1

You don't have to sacrifice the money you have set aside for the new furniture or for the summer holiday. We know that waste collection is a job which inevitably costs money, and so we have come up with many deals and offers on Dartford, DA1 rubbish removal which are sure to keep your pocket healthy. If you are unsure about how much your waste removal will cost exactly, call us for a free quote and discuss it with our specialists.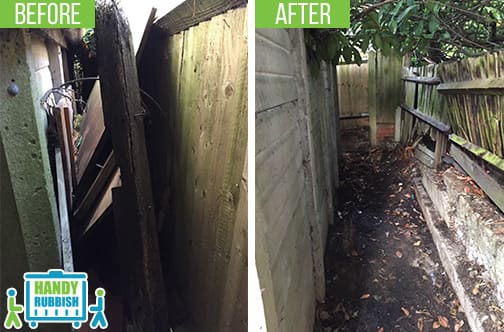 What we do
Where to find us
Like us
Book Cheap

Rubbish Clearance Service in Dartford

We are always happy to point you in the right direction, and if you feel it may be too costly, we are sure to strike you a deal! Other competing rubbish disposal companies in the DA1 and DA2 areas cannot offer you such dedication, so waste no more time and call us for your Dartford rubbish disposal service!
Dartford, DA1 Rubbish Removal Services
Made Simple With Us
So you are a current owner of heaps of junk after a house renovation or a garden clearance, or perhaps a nearby area needs some tidying up? Whatever the problem is, we have the best solution with our DA1 waste removal services! At Handy Rubbish we have been delivering such solutions for years, so let our wealth of experience lend you that vital helping hand. We have a bundle of offers which are sure to strike your favour! If you live in the Dartford area, we can offer you assistance on the very day you make your booking. So get on the phone today for our rubbish clearance DA1 services – call 020 3540 8282 and we will be on our way the moment you hang up!
List of services we provide

in Dartford, DA1
Household Rubbish Clearance Dartford, DA1
Commercial Rubbish Disposal Dartford, DA1
Building Waste Removal Dartford, DA1
Garden Rubbish Removal Dartford, DA1
Electronic Waste Collection Dartford, DA1
Garage Clearance Dartford, DA1
We Offer Eco-friendly

DA1 Waste Disposal Help Anywhere

You don't have to do the heavy, manual labour yourself! Dispose of your rubbish wisely with us – there are ways in which are not recommended. What we mean is that your junk is useful to us – we recycle around 85% of collected trash from waste clearances Dartford, so your junk is in fact not such a waste after all. Give your rubbish to us and we can help improve the environment, as well as your home or your affected area. Many other companies offering Dartford waste collection DA1 services cannot offer such. This is simply the best way to dispose of your rubbish, so act now and contact us on 020 3540 8282 and help yourself and your environment!
With Our Dartford Waste Removal Experts
You Have No Worries
Our accomplishments and our good work which we boast of are entirely down to the hard working team which we at Handy Rubbish have put together. Every member of our company is an important worker, and everyone has been carefully vetted and put through designed training to ensure that they are of the highest standard. Our rubbish disposal experts will be there to carry out our every promise with care and skill. Our team is a fast acting, so you no longer have to endure the embarrassing possession of rubbish heaps. Call us today on 020 3540 8282 for a free quote on waste disposal in Dartford DA1 and to make that all important booking!
Testimonials
Excellent work from Handy Rubbish with junk clearance in DA1.
Wanted to clear out my house and needed a trustworthy waste removal company in DA1. Booked with Handy Rubbish in Dartford and got remarkable results at a low price!
Some Information Worth Knowing About Dartford

Located in the borough of Dartford in the county of Kent, the principal town of Dartford has many things to offer. The town sits on the London Basin, which offers chalk mounds and large areas of open space. Dartford Heath in particular is a recognised Area Of Outstanding Natural Beauty. Dartford offers two theatres – The Orchard Theatre and The Mick Jagger Centre. Dartford F. C. is the principal football team of the town. There are numerous train stations, main roads and buses which are connected with or situated in the town. There are also many schools, both primary and secondary.


DO YOU NEED ADDITIONAL SERVICES?