Rubbish Removal

Goddington BR6

Hiring convenient Goddington, BR6 rubbish removal services is now easier than ever. Handy Rubbish is the top choice when it comes to waste disposal. Whatever your needs may be, we have a solution for you. We are confident to say that each of our services has been designed with the customer in mind. Efficiency and perfect end result is what we aim at. The speed at which we carry out any BR6 rubbish clearance job is remarkable. You won't believe how quickly our team will dispose of the unwanted rubbish from your property. One thing is for certain: you will love every aspect of our work and will want to hire us again.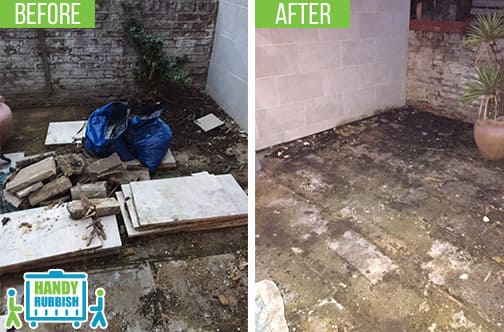 What we do
Where to find us
Like us
Book Cheap

Rubbish Clearance Service in Goddington

If you want to see your home in Goddington, BR6 free of clutter, give us call 020 3540 8282. Our company will provide you with an experienced team of waste collectors, who can load and dispose of any unwanted rubbish for you. We can easily tackle the clutter in your attic, basement, shed or garage. Forget about lifting heavy items and let our staff deal with this bothersome aspect of junk removal instead. We are ready to present competitive offers and deals that you will love. We will offer you a price to meet your budget and needs. Take advantage of our cheap waste removal BR6 services and we guarantee that you will surprised with the end result!
Budget-Friendly

Rubbish Removal Services in Goddington, BR6

At Handy Rubbish we know how hard it can be to remove all of the rubble, cement, bricks, plasterboard, timber and whatever else was used for your home renovation project. That is why we offer specialised waste clearance services Goddington, BR6. Our rubbish removal services are all you will ever need to get rid of the building materials and ensure your home's clean state is back to normal as soon as possible. No matter the volume of waste, we can quickly load it and dispose of it so that you can enjoy your renovated home.
List of services we provide

in Goddington, BR6
Household Rubbish Clearance Goddington, BR6
Commercial Rubbish Disposal Goddington, BR6
Building Waste Removal Goddington, BR6
Garden Rubbish Removal Goddington, BR6
Electronic Waste Collection Goddington, BR6
Garage Clearance Goddington, BR6
Quick and Efficient

BR6 Waste Clearance Services

If the clutter in your garden is preventing you from doing further work, 020 3540 8282 is your get away card. With our Goddington waste disposal service available at any day of the week, you needn't worry about green waste, soil and garden debris. Our team can quickly take care of all that for you, without you lifting a finger. Point us to what needs to be collected and our staff will do the rest. Trust in our service and you will soon be certain that is the right bet. Your garden will soon enough be free of all waste.
Dependable and Affordable

Goddington Waste Disposal Services for You

We are well-known all around Goddington as the most affordable company. Find out just how low our prices are by contacting us on 020 3540 8282 and asking for a free quote. In fact, you can take advantage of amazing deals on all of our rubbish disposal Goddington services. Check out for yourself what solutions we offer and how cheap all of our services are. You are literally just a phone call away from booking with the best Goddington waste collection BR6 company. Take this chance and you will soon enough enjoy a clutter-free property, without having to deal with any aspect of the bothersome job yourself.

Testimonials
Handy Rubbish is a good waste collection company in BR6. Will use them again.
I'm very grateful for the speed and efficiency with which they handled the builders waste disposal job I set them in BR6. It was a top service, they were in and out quickly, and it was all done for a very reasonable price.
The team from Handy Rubbish carried out their work quickly, professionally, and with a smile that just added to the overall quality of service. It was a great experience dealing with this rubbish removal team. I'd hired such teams before in Goddington but hadn't been thrilled with the standard of service. I'm so glad I decided to change things up, go with a different company this time around. I've now certainly found the company for me.
Let me say that this waste removal firm from BR6 went where no one went before! I honestly don't think any of us even ventured into the storage areas for years, and when we did we found that we had a tremendous amount of rubbish on our hands. This is a great company, affordable and efficient.
I recently helped my brother move out of his Goddington BR6 flat. He was getting rid of quite a bit of junk. We hired Handy Rubbish because they had the best rates for rubbish removal in the area. They did a great job, and they are cheap too.
The guys at Handy Rubbish in Goddington do fantastic work. I recently hired them for rubbish removal. They were cheap and did the job quickly.
Thank you Handy Rubbish as your great garden waste collection service to Goddington, now means my garden is tidy and waiting for the warmer weather. Great job!
Handy Rubbish offered a great deal for junk collection service in Goddington BR6. The service was second to none, would use again especially at such a bargain price.
Many thanks from Gareth Halliwell

01

Aug 2019
This very professional waste clearance service in Goddington managed to clear out all the old rubbish from my attic to make it ready for the conversion. They did a great job, and everything was done very quickly and with great care. Can't fault them.
Lowest waste removal prices in BR6 and best service I've experienced from a Goddington company. Have already recommended to all my friends!
Check Out the Scenery in Goddington

Goddington is one of the areas of Orpington. It is located within the London Borough of Bromley. The most notable feature of the area is Goddington Park. It occupies an area of 64 hectares, consisting of trees and grass. Five football terrains, two squares for cricket and 2 rugby pitches make this a fantastic place for sports. In addition, there are 10 tennis courts, astro-turf football pitch and 2 areas for children of all ages. There are several entryways in the area: the main one is from Goddington Lane, and foothpaths from Chelsfield Lane, Court Road and Avalon Road.


DO YOU NEED ADDITIONAL SERVICES?