Rubbish Removal

Homerton E9

During the years people gather up so many unwanted possessions in one place in their houses and don't have enough space for the valuable things they have. Our team of experts in Handy Rubbish can help you to get rid of all the things you do not need. This is why we offer a wide range of E9 waste removal services that include white goods recycling, garden clearance and furniture disposal.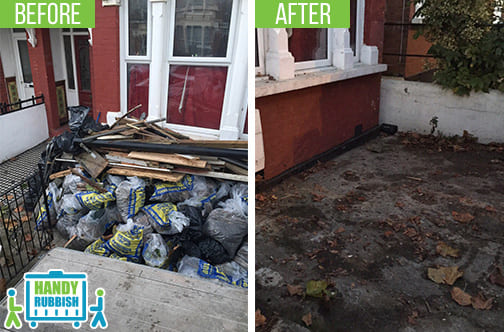 What we do
Where to find us
Like us
Book Cheap

Rubbish Clearance Service in Homerton

You may find that storage places in your house, especially in your basement and your loft, are overcrowded with unwanted things. Contact us today on 020 3540 8282 to find out how we are able to help you with your Homerton rubbish clearance needs, fast and easy!
Homerton Waste Clearance Company Available for
All Your Disposal Requirements
It is quite simple to buy something and then think "well, what was the real point in that?". If you have come to that point, wondering why you even bought something and you know, if you try to sell it, you will not earn a lot of money, Handy Rubbish can help. With over 15 years' experience in rubbish removal E9 service, we have the skills and the equipment to meet all your requirements.
List of services we provide

in Homerton, E9
Household Rubbish Clearance Homerton, E9
Commercial Rubbish Disposal Homerton, E9
Building Waste Removal Homerton, E9
Garden Rubbish Removal Homerton, E9
Electronic Waste Collection Homerton, E9
Garage Clearance Homerton, E9
We Will Cater For Everything

That Comes With Waste Collection Homerton, E9

We offer an affordable and swift service to be able to deal with all your Homerton rubbish disposal E9 needs at a suitable for you time. From things like dining tables to kitchen chairs and even to large suite sofas, we have you covered. All our rates are listed on our site and that lets you know how we can help you at reasonable prices. We pride ourselves on offering a fast and reliable waste collection Homerton, E9, and we are often able to fit your work in within 24 hours!
Let Us Be Your Pride and Joy

In Waste Removal In E9

Our team is efficient and we have clients all over in the local Homerton area, which makes us experts for any type of reuse or recyclable goods you may have! Discover more about our E9 waste clearance Homerton services by calling us today on 020 3540 8282 and allow one of our highly trained E9 waste disposal professionals to assist you with all the clearance tasks you have.

Testimonials
Called them coz I needed help with waste clearance in E9. They were punctual, polite and delivered a service in Homerton at a price that did not break the bank! Great work!
- Reviewed by Frank J.
Homerton – Home to Chat's Palace
Homerton based in the London Borough of Hackney, in East London comes under the postcode of E9. Surrounding areas include Lower Clapton, Hackney Wick, Leyton, Bethnal Green and Hackney Central. Transport links are only by overground services and the nearest stations include Hackney Central and Homerton. Homerton is served by Homerton University Hospital and it is home to Chat's Palace, which promotes a wide variety of music, theatre, arts, dance and drama not to mention other types of creative events with the name stemming from the nearby Chatsworth Road. The building itself was part of the Carnegie Library in the Eastern part of London. It has a number of bus routes connecting it to surrounding areas of East London and Central London. In the medieval times, this area was well-known for its arable farming, for the City of London markets and the surrounding areas, used to deal with cattle and sheep. It was a desirable place to live in during the Tudor period.
DO YOU NEED ADDITIONAL SERVICES?