Rubbish Removal

Noak Hill RM3

If you need Noak Hill rubbish clearance services, but you don't want to pay the hefty prices that typically go with them, opt for Handy Rubbish now and you will receive only the finest services out there. With our team of RM3 waste removal professionals, you won't need to worry one little bit. You can enjoy living without rubbish when you hire us to clear it away for you. So get in touch whenever you have time to make the most of our amazing clearance. It's really our staff that is amazing. They are utter professionals and will provide you with only the best services available.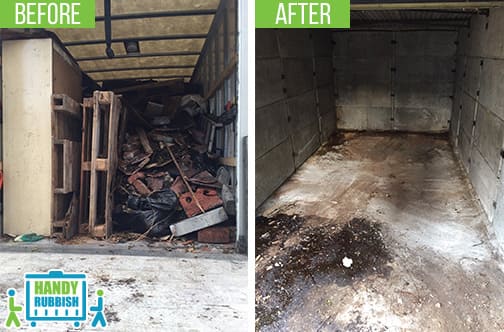 What we do
Where to find us
Like us
Book Cheap

Rubbish Clearance Service in RM3

Get in touch on 020 3540 8282 and let us help you! We are a Noak Hill waste clearance professional company and we can sort out any waste removal needs you have. We know it's not very pleasant having to do it all by yourself. But with us here to help, you can receive more than what you bargained for. As we have all the equipment and stacks and stacks of experience, you trust us 100% for first class rubbish removal services in RM3 whenever you need them. Please call now for a free quote.
Professional

Waste Disposal Company in Noak Hill

We offer such a huge range of wonderful services at Handy Rubbish. You have a number of superb waste disposal services in Noak Hill, RM3 to choose from. These include garage clearance, garden clearance, office clearance and more! So, for instance, if you have had no time recently to give your garden a good clear out; let us clear it out for you. You never know, once it has all been cleared out, you might have lots of room left over. There is no point in wasting space. You can enjoy the full freedom of having lots of space to do what you want with and you need not worry about a lack of space. You shall enjoy every moment. We can clear out any junk you have lying about your home, office, garden or garage. We can also provide you with rubbish disposal in Noak Hill too.
List of services we provide

in Noak Hill, RM3
Household Rubbish Clearance Noak Hill, RM3
Commercial Rubbish Disposal Noak Hill, RM3
Building Waste Removal Noak Hill, RM3
Garden Rubbish Removal Noak Hill, RM3
Electronic Waste Collection Noak Hill, RM3
Garage Clearance Noak Hill, RM3
Use Our Noak Hill Company, For Waste Clearance
at Brilliant Prices
We can provide you with a great RM3 waste collection services in Noak Hill at a cheap price that will not leave you strapped for cash. We offer terrific services at amazing prices. We understand that most people are restricted to a budget so we would love to help you and do whatever we can to make your life easier. Removing your rubbish will give you more space and more freedom and will cut down your stress levels. Call 020 3540 8282 now if you would like to receive professional help. By removing rubbish we remove problems of every kind. Call us on 020 3540 8282 today!

Testimonials
Cannot thank Handy Rubbish enough for the excellent waste removal service they delivered in Noak Hill RM3! Will certainly use their services again!
- Reviewed by Wallace L.
The Area of Noak Hill
Located in the London Borough of Havering and in the RM3 and RM4 postcode district, Noak Hill is a village in London. In this village lay many period homes, dating back to the 19th century. As you can imagine, there are some really interesting sights to see here. There are also churches and scattered farms. All in all, there is not a lot here for you to do and there are not many amenities but the views and sights here and the great history that lies beyond Noak Hill is indeed, fascinating. You will definitely be happy with the sights and great history here in Noak Hill. All in all, there are some beautiful sights here and the people who are the locals here are very friendly and kind and helpful so you should get along with them just find. And if you need anything, they will surely help you.
DO YOU NEED ADDITIONAL SERVICES?