Rubbish Removal

Golders Green NW11

With Handy Rubbish, you will always receive the best NW11 waste clearance that money can buy, and with our prices, your NW11 junk removal will probably be less expensive than you expect! We are a well-trained team of Golders Green rubbish removal professionals who are set on getting you that extra bit of space in your life, no matter what your budget is. We will be able to apply our experience and expertise to any job that you may have.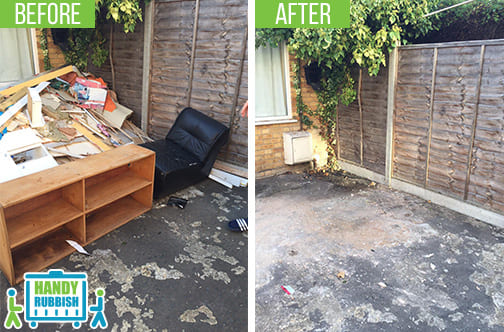 What we do
Where to find us
Like us
Book Cheap

Rubbish Clearance Service in NW11

Whether you are getting rid of junk or selling on your old items, we can help. If you're sorting out builders rubbish clearance Golders Green, or basement junk clearance, we can help with that as well. As you may have guessed, we are not averse to getting our hands dirty. Talk to our team now through 020 3540 8282 to get in touch with our house clearance company. Everyone can afford our competitive prices so there's no excuse for not choosing the top waste collected NW11 company.
Hire the Perfect

Waste Removal Company in Golders Green

Our Golders Green waste removals NW11 aim to give you all that you need for well within your budget. It is essential that we keep our rates competitive, as it is a competitive industry. You will find that our prices are lower than you would expect, and the result of this is to have a great service at a great price. There is no doubt you could have the dirty work done yourself, but the fact is it will take us a couple of hours, rather than you taking days to do it! Having a Golders Green rubbish disposal specialist simply means a focused effort, and you won't have to worry about dividing your time between other jobs and the rest of your schedule, as we can do loft or garden clearance for you in no time and at a great price.
List of services we provide

in Golders Green, NW11
Household Rubbish Clearance Golders Green, NW11
Commercial Rubbish Disposal Golders Green, NW11
Building Waste Removal Golders Green, NW11
Garden Rubbish Removal Golders Green, NW11
Electronic Waste Collection Golders Green, NW11
Garage Clearance Golders Green, NW11
The Best

Waste Collection Services in NW11

If you are thinking that our services could be of use to you in a domestic clearance or a commercial clearance sense, then get in touch on 020 3540 8282 and you will find that we have a diverse range of waste disposal services in Golders Green, NW11 to allow you to get the job done perfectly, and the results will be getting your house looking and feeling just as you like it to, without the effort of clearing the place out yourself! Get in touch as soon as you can to find more information about our services.
Testimonials
They are undoubtedly true experts in rubbish clearance. I am a happy and satisfied client in NW11.
Thanks to Handy Rubbish for their professional approach to waste, and recycling whilst handling my rubbish collection job in Golders Green NW11.
As always, Handy Rubbish was well within their appointment time, was very professional and friendly, and completed the waste clearance in NW11 as expected. Thank you!
We were to pack for our new home in Golders Green. We were astonished by the assorted kinds of rubbish on the ground. We looked for a rubbish clearance company that can do that job fast and somebody recommended Handy Rubbish. We are satisfied with them. They are real professionals.
If you want job satisfaction and quick delivery, you can choose them once you are in Golders Green. We have success stories to tell as about waste collection because of them.
I loved they work. Great waste clearance service in Golders Green, fast, efficient and affordable, just as it should be! Have already told my neighbours in NW11 about their money-saving deals!
Live in Golders Green
Golders Green is situated in north London, as a part of the Borough of Barnet. It was however, originally part of the Borough of Hendon, and it grew in population and size throughout the first half of the 20th century, until 1965 when it became part of Barnet. The tube station was partly responsible for this, though the Golders Green Hippodrome was also useful in attracting people to the area, as it was the home of the BBC concert Orchestra. Many people live in the area for its sense of leafy suburbia, with a lot of open space, like Golders Park, as well as pleasant residential properties. The area has high Jewish population, and this in itself attracts new residents, as well as Jewish tourists. The Kosher food service industry in the area is an attractive spectacle for visitors interested in Jewish culture and history especially. The tube station is on the northern line, giving excellent access to the city, and there are a lot of bus routes throughout the region that go further in to and out of the city. Nearby Hampstead Heath forms a wonderful area to relax in.
DO YOU NEED ADDITIONAL SERVICES?