Rubbish Removal

Harefield UB9

Handy Rubbish know that Harefield waste clearance is a big job, and it is our experience that makes us the best choice for you to receive a high-standard service. Our UB9 rubbish removal teams are perfect for ensuring quick, easy and discreet clearance, and reducing the chance of any sort of mistakes of accidents. There is a lot of potential for mess when it comes to clearing out a property, so be sure to use a company who are able to offer waste disposal UB9 that will clean up after itself.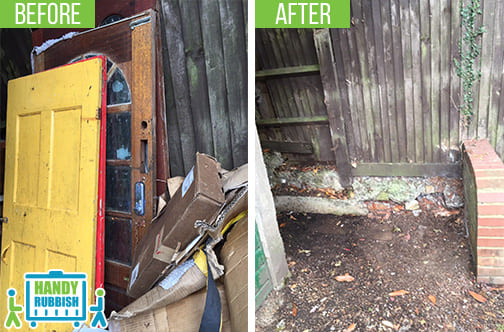 What we do
Where to find us
Like us
Book Cheap

Rubbish Clearance Service in UB9

Our waste removal Harefield team found that over the years, people tend to collect things, and this will tend to end up forming a load of mess and clutter in their homes. It is good to store things that you need, but the fact of the matter is that if you are not using things, then you need to get rid of them! The general rule is that if you have not touched or thought about something in a year or so, then it needs to go! Rightly, there are objects of immense emotional worth that should be treasured, but no one needs a rusty rowing machine in the shed, or a load of old clothing in the attic!
Harefield Waste Collection Company
Gives You Your Space Back
We can help you shift it all off, and make sure that there is nothing left over, giving you back that space you need in your home. Handy Rubbish are the Harefield rubbish clearance team for you, and we will ensure that you are set to get things sorted in the way that you want to, but with the help that you really need. Don't hesitate to give us a call on 020 3540 8282 and enjoy your free of junk home.
List of services we provide

in Harefield, UB9
Household Rubbish Clearance Harefield, UB9
Commercial Rubbish Disposal Harefield, UB9
Building Waste Removal Harefield, UB9
Garden Rubbish Removal Harefield, UB9
Electronic Waste Collection Harefield, UB9
Garage Clearance Harefield, UB9
Harefield Waste Removal
Can Clear You of Clutter
Rubbish disposal in Harefield, UB9 is a big part of what we do, but the fact of the matter is that you can often find yourself bogged down with other things that you need to get done. The general nature of things is that these jobs are rather boring, and people get distracted from things rather easily. You will potentially find therefore, that having a decent UB9 waste collection company involved will ensure that you are on track to get the job done efficiently.

Testimonials
I had too much office waste to deal with and I hired their team as they have a reputation for being the best rubbish clearance company in Harefield. They came to UB9 the very next day and it took them less than a few hours to get the job done and rid me of all that rubbish. Will be recommending them for sure!
- Reviewed by Grant D.
About Harefield
Harefield is part of the London Borough of Hillingdon, and is in the north west of London. It is on the outer edges of the Greater London area, and is on the boundary of its reaches, near the border of Buckinghamshire in fact. The area is in the UB and the WD post code regions, the UB standing for Uxbridge, which is fairly close, and the WD being the Rickmansworth post code. There is a famous hospital in the area, named the Harefield hospital, where pioneering heart surgery techniques were developed, changing the face of the procedure. By the close of the 1980s, the hospital was the foremost transplant centre. The area is served by several tube stations nearby, though the village does not have its own. Moor Park, Northwood, Rickmanswowrth and Uxbridge stations are all within easy reach, making the area a great place to commute to London from, as the city is only half an hour or so away by rail. There are plenty of open spaces in the area, as the rural nature of the region means that the density of buildings is not that high.
DO YOU NEED ADDITIONAL SERVICES?