Rubbish Removal

Keston BR2

Rubbish piles up everywhere and sometimes it is hard to keep it under control. Though the normal daily stuff is disposed of regularly, there are a lot of things, that are not that easy to just throw away in a bin. Handy Rubbish are the best in Keston and can be of assistance with all of your BR2 waste removal needs. Our assortment of clearance services includes furniture, office, house, garden and rubbish removal in BR2. Nothing is too much for us. Our trained workers know the correct practice to get rid of the things you don't need or want anymore.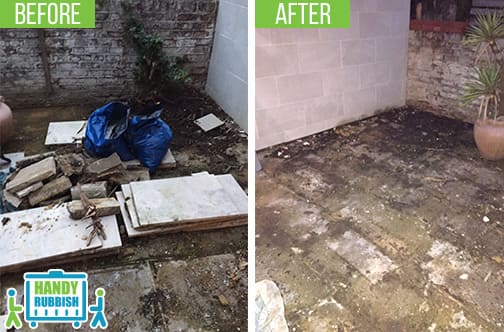 What we do
Where to find us
Like us
Book Cheap

Rubbish Clearance Service in BR2

We are the professionals and have a wealth of experience in clearance. You can hire us to move everything. If you are unsure about what you are dumping, just call us first and make an appointment to understand more details about how we will proceed in shifting your waste. Contact our BR2 waste collection team now on 020 3540 8282, and as for a free quote. We will oversee the entire job, so you don't have to worry about how to handle certain items such as pesticides, oil, paint and car batteries and electrical appliances.
Keston Waste Clearance
is the Answer to All of Your Rubbish Problems
Our reliable BR2 rubbish clearance services are there for all of your clutter dilemmas, as well as when you want white goods recycling or skip hire. We can help you to make more space in your house, garden or office. Nothing is too much for us, so call the best waste disposal in Keston Handy Rubbish. You can trust us to clear away whatever you want. Let us know in advance, as we need to supply the best service for your waste. There are legal requirements we have to follow, so you can rely on us to dispose of it in the approved manner.
List of services we provide

in Keston, BR2
Household Rubbish Clearance Keston, BR2
Commercial Rubbish Disposal Keston, BR2
Building Waste Removal Keston, BR2
Garden Rubbish Removal Keston, BR2
Electronic Waste Collection Keston, BR2
Garage Clearance Keston, BR2
Excellent BR2 Rubbish Removal Services
for a Cost That Is Within Your Means
For more about our waste clearance services in Keston contact our helpful and friendly customer service. We provide a first-class job and you can leave us to clear away all of the clutter and waste that has been sitting there for ages. All of your junk and unwanted articles are removed and reprocessed, where possible and in a way, keeping the planet greener. For more details about us, our excellent Keston rubbish disposal services in BR2 and rates, call 020 3540 8282. We will answer your questions and solve your dilemma.
Testimonials
Great work. My husband and I both like the rubbish collectors in BR2.
Anyone who knows Keston will probably be familiar with how difficult it can be to find a reliable and punctual waste removal service. What a lovely surprise Handy Rubbish turned out to be! We'll be sticking with them in the long term now, and suggest anyone else who has had similar problems in the past check them out. A great solution for both one-off or long term jobs.
Several other waste collection companies may be there, but how many of them can compare with them in BR2. Impossible. They are trained in the work, highly reliable and affordable.
Had this old, very old sofa that just had to go. Called their team in Keston and hired them for rubbish removal in BR2. I am glad I hired them as the price was more than affordable!
Keston - a Charming Place to Reside
Keston is located in the London area of Bromley, but part of the rural area of South East London. Its postcode is BR2. Keston sits on the edge of Hayes Common and to the north Kent. It is an attractive village location with splendid views or rural countryside that surrounds the village. There is plenty of history to this place with flint tools and dwellings, believed to date back to 3000 B.C, found on Hayes Commons. The area is a wealthy suburb with stunning mansions. The area has a rich past and Keston Park is a residential area and a gated part that expands over 140 acres. This area was once home to Margaret Thatcher and her family, Rolling stone Bill Wyman and footballer Kenny Sansom. Keston has a medieval church, 3 pubs, and 3 windmills. Transport links include 2 London bus routes in and out of Keston, one is 146 from Bromley North to Downe, and the other is 246 Bromley north to Westerham. There is a railway station located 1.5 miles away in Hayes and another just over 2.5 miles in West Wickenham.


DO YOU NEED ADDITIONAL SERVICES?