Rubbish Removal

White City W12

We have a lot of experience in the world of waste clearances in White City, W12, and we know that you will want to be sure that we can do our job well. Our employees are a highly skilled team, who are used to moving heavy objects from place to place. We can get rid of all sorts of waste, from junk furniture, to rubble, so why not give us a try? Our White City rubbish removal team is experienced in the arts of garage clearances as well as garden waste removal, so whatever the job is, we can deal with it.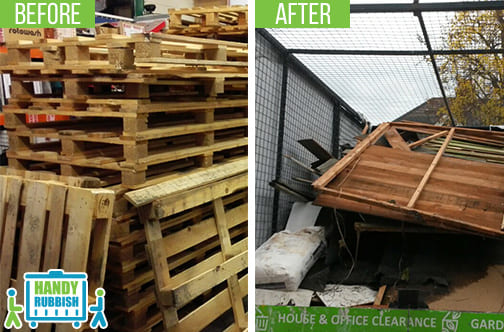 What we do
Where to find us
Like us
Book Cheap

Rubbish Clearance Service in White City

When you are in need of the best waste disposal W12, why not use a company who are made up of seasoned professionals? We have teams of strong workers who can get your place looking clear and usable. Don't put up with having your junk or waste cluttering your home or business - get rid of it with Handy Rubbish! When you are looking for amazing service, there is just a one name to call. Get in touch with us today on 020 3540 8282 and we can let you in on how to proceed with the best in W12 rubbish clearance professionals. Try us today - you certainly won't be wasting your time!
Professional

Rubbish Removal in White City, W12

Getting rid of waste may seem like it is a pretty easy job. However, it often turns out to be much more difficult than you think. People don't realize that for some types of waste disposal and rubbish removal you need certain permits and allowances. We can do all of this specialist work for you, to prevent you getting stressed. We know that you just want the rubbish out of your head as quickly as possible. This is why we offer rubbish disposal White City. We can get rid of your junk for an amazing price, and at an amazing speed.
List of services we provide

in White City, W12
Household Rubbish Clearance White City, W12
Commercial Rubbish Disposal White City, W12
Building Waste Removal White City, W12
Garden Rubbish Removal White City, W12
Electronic Waste Collection White City, W12
Garage Clearance White City, W12
Our White City Waste Removal Specialists can Really
Make a Difference
When it comes to value for money, our White City, W12 waste removal team cannot be beaten. You don't want to have your waste labored over, so allow us to get it out of the way without stress or bother. We will be in and out without you even realizing!
Our W12 Waste Collection is
the Best Value for Your Money
With White City waste collection W12 services at prices as competitive as ours, we are sure that we are the best value for money in the area, and can make your life that little bit easier. For more information and bookings, call Handy Rubbish on 020 3540 8282 today.
Testimonials
Handy Rubbish ensured that everything was cleared and no mess was left behind.
One of the things that I like the most about Handy Rubbish is the carefulness while doing their job. All those times; that I have been working with them, there was not a single time where anything in my house got lost or damaged. Also, do really good junk removal in White City W12. I highly recommend them.
For anyone who needs White City rubbish removal I would say check Handy Rubbish because they have great rates.
Best for waste removal in White City by a mile. I needed the house cleared in time for a move over the weekend, but was let down by another company at the last minute. Handy Rubbish stepped up to the mark with a quick, efficient turnaround and a very reasonable price. A quality operation.
Fast junk removal. Their rubbish removal team was polite and arrived promptly to White City W12.
It was a pleasure hiring them for rubbish removal in W12! They did a great job in White City and charged me an affordable rate! Thank you!
What you'll find in wonderful White City
White City is an area in the west of Central London, to the north of Shepherds Bush. It is a part of the London Borough of Hammersmith and Fulham, and is served by its own tube station. Nearby stations include Shepherds Bush Market and Wood Lane. The area is famously the home of British Broadcasting Corporation, and its headquarters there is the scene for much of its filming, especially for live shows. In the past the area was famed for a stadium called White City stadium, which hosted sporting events after its initial use for the 1908 Olympics. The stadium was demolished for the BBC complex, with only an engraved list of participants left to remember the original structure. The Queens Park Rangers used the stadium for short period and it was intermittently used as a dog racing track. QPR then moved to Loftus Road stadium, also in White City. Recently, the most significant landmark in the area has opened, the Westfield shopping centre, one of the largest shopping centres in London, and host to thousands of outlets, cafes, restaurants and bars.
DO YOU NEED ADDITIONAL SERVICES?