Rubbish Removal

Leyton E10

There are lots of times when you need more E10 rubbish clearance than the normal council provides. For instance do you have too much clutter or rubbish in your home or workplace? It doesn't matter whether you have domestic or commercial waste, we can give you assistance. It can be difficult knowing what to do with old bulky furniture, electrical appliances and pesticides etc. Hire Handy Rubbish and let our rubbish removal Leyton professionals take away your old and broken furniture, appliances or garden waste.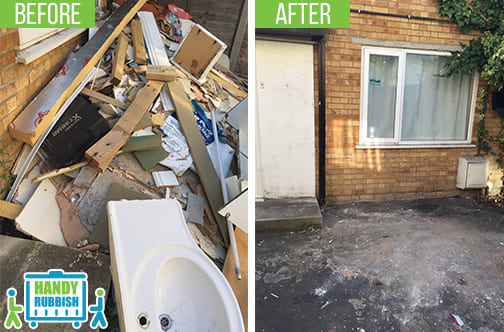 What we do
Where to find us
Like us
Book Cheap

Rubbish Clearance Service in Leyton

Nothing is too much for us, we can help in all rubbish removal situations in Leyton. You can tidy up and access what you want to keep first, and then when you have your junk piled up, hire our reputable Leyton waste clearance services to help. We will make the process easy. Our workers are skilled at removing the rubbish and transporting it to the recycling plant to be reused, where required. For more details read the full list of waste collection E10 services available. Or call for a free quote or book a consultation 020 3540 8282.
Hire Leyton Waste Removal Now to Remove Your Rubbish
Safely and Competently
Waste can soon build up, and before you know it, you have a surplus amount to dispose of. Leyton, E10 rubbish disposal can help in removing clutter in a professional manner, the choice is yours. You may have a rental place and a tenant with a lot of belongings for you to get rid of. Don't worry we can make it simple and take the lot. In addition we have other E10 waste disposal services, such as office clearance, building waste, junk, garage and garden waste clearance. If you are unsure about your rubbish, you want rid of, call us first.
List of services we provide

in Leyton, E10
Household Rubbish Clearance Leyton, E10
Commercial Rubbish Disposal Leyton, E10
Building Waste Removal Leyton, E10
Garden Rubbish Removal Leyton, E10
Electronic Waste Collection Leyton, E10
Garage Clearance Leyton, E10
Don't Forget To
Hire the Greatest

Rubbish Removal Company In Leyton, E10

Handy Rubbish are the experts in Leyton and will advise you on the best way forward. You can rely on us to do the complete work load and break it up, and transport to our recycling centers to be reprocessed. You don't have to worry about anything, our Leyton waste removal E10 consultants will do everything by the book.
To Get the Best E10 Waste Removal Service,
Contact Us
Everything you want rid of will be safely disposed of and with all of the proper permits. For property clearance, white goods recycling and skip hire make sure you contact our waste clearance Leyton, E10 professionals now 020 3540 8282.
Testimonials
Terrific local junk clearance company from Leyton E10. Highly recommend Handy Rubbish.
The garden waste clearance services of Handy Rubbish are top-notch; they have the best understanding of how to handle such in the whole of Leyton E10.
I was more than a little impressed with the exceptional service provided by the blokes at Handy Rubbish. I seriously could not have asked for a better Leyton E10 rubbish removal service.
Annaliese Prichard

27

Nov 2019
Best deal in town when it comes to junk collection in Leyton E10. Will definitely suggest you call on Handy Rubbish yourselves. When they cleared out my junk, they worked responsibly, taking no long breaks or lazed about.
I own two properties in the Leyton area and need regular waste removal service. Handy Rubbish recently did a junk clearance at one of the properties. The team was fast and efficient, and they have reasonable rates.
Travis Cranston

29

Jul 2019
Handy Rubbish rightly deserve their reputation in Leyton. We've used them on a regular basis for a fair while now. Rubbish removal on time, every time.
Ally Richardson

30

May 2019
After letting out my home in Leyton I found the house vacant and trashed. Their waste removal service was amazing. Once the house had been brought back to life; I had a little work done. Needless to say, the builders waste removal service was just as fantastic! 1000% highly recommend! Thanks Handy Rubbish.
I was looking for an eco-conscious waste disposal company in Leyton when I found their team in E10. They sorted my rubbish and send it for recycling which was very important for me. And they didn't charge me extra for being green. Magnificent service at low cost!
Leyton the Vibrant District of the East London
Leyton is a district in East London and a branch of the area of Waltham forest, and is also close to Walthomstow, Leytonstone, Stratford, Newham and Lower Clapton. It is about 6 miles from Charing Cross. Its postcodes areas are E10, E15 and E20. There are good transport links with tube, train and bus connections to the city, and pass through bordering towns. The area is mainly a residential area with a good mix of housing from flats, terraced to larger properties. The area is famed for the Queen Elizabeth Olympic Park, the venue for the 2012 Olympic Games, as well as the Leyton Orient Football Club. Some of the best views of the Olympic park and skyscrapers in the west of London can be seen from the High Road Bridge Crossing the A 12. Leyton is an energetic and multi cultural area and has a lot going on. It is mainly a working class region, experiencing an increase in young professional's residing and leaving a distinct cosmopolitan ambience. Improvements to Leyton have been made in recent years to make it a more attractive area.
DO YOU NEED ADDITIONAL SERVICES?