Rubbish Removal

Neasden NW2

As we're the most reliable and professional Neasden, NW2 rubbish removal company, you can't go wrong by booking one of our services. It's our values – values that our entire workforce abides by - that make Handy Rubbish one the best and most trusted companies in NW2. We're passionate about what we do and believe in quality and integrity, all of which results in a simple and hassle-free service for our customers in NW10. To hire one of our Neasden waste removal services or to receive a free estimate, call anytime on 020 3540 8282.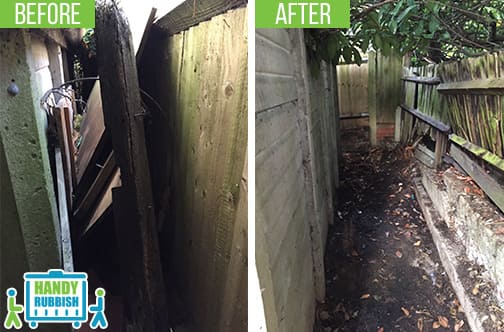 What we do
Where to find us
Like us
Book Cheap

Rubbish Clearance Service in Neasden

We've mentioned how we work at Handy Rubbish and how everything is geared towards ensuring you enjoy the best NW2 rubbish disposal service possible. But at the same time, our services have a strong environmental focus. When removing rubbish from properties in Neasden, we don't just chuck everything into the nearest landfill site. We'll take your items to a recycling depot where they can be sorted and organised and reused if possible. To choose a team with an environmental focus, call us on 020 3540 8282 and book a waste clearance Naesden service from us today.
Neasden Waste Clearance
for Your Property
If you want to take the hassle out of finding a loft clearing service, you've certainly come to the right place. Get some expert help, get our team to clear out your loft in NW2 and feel better about the state of your property. We have years of experience taking care of attic waste disposal NW2 jobs, so regardless of how much junk you have cluttering up your loft, we'll be able to remove it. Contact us on 020 3540 8282 and hire a professional for your job.
List of services we provide

in Neasden, NW2
Household Rubbish Clearance Neasden, NW2
Commercial Rubbish Disposal Neasden, NW2
Building Waste Removal Neasden, NW2
Garden Rubbish Removal Neasden, NW2
Electronic Waste Collection Neasden, NW2
Garage Clearance Neasden, NW2
A Neasden, NW2 Rubbish Removal Team
Catering to Different Needs
Gone are the days when you had to manage the back-breaking work of garden waste removal yourself. You won't have to get your fingers dirty with us operating in and around NW10 because we're at your beck and call, whenever you need us to take care of garden rubbish clearance Neasden, NW2. Call upon us to make your garden rubbish free and beautiful again and you'll be wondering why you didn't contact us sooner. We have the ideal professionals to suit your needs, so give us a ring today.
Our NW2 Waste Removal is a Money-Saving Solution to
Getting Rid of Rubbish
You may think that hiring a rubbish removal company will be expensive, but if you live in the NW2 district, that no longer has to be the case. We've been operating in the local area for many years and are renowned for providing top-notch Neasden waste collection NW2 services at low, affordable and very reasonable prices. We understand that having a spare room, loft or garden filled with junk and wanting to clear it out can be a big process that could have a long-lasting effect on the state of your property, so we don't want you to shell out and pay an extortionate amount.

Testimonials
This is an affordable waste management company in Neasden NW2. Best rubbish removal we've ever had.
Splendid team at Handy Rubbish who you can rely on for a thorough house clearance in NW2. I will be using them again.
Handy Rubbish provided us with a superior rubbish removal service. We reside in Neasden, and our yard was in dire need of cleaning out. They arrived, took the task at hand with stamina and good attention to detail. Will use them again.
Dennis Flanagan

27

Aug 2020
It was easy to organise the waste collection in Neasden with them. Everything was straightforward, and the service on the day was brilliant. I want to thank all of those who worked in my property for the hard work and assistance.
I had recently moved into my Neasden NW2 area flat, and I am assuming the prior tenants left behind some stuff that we needed to be hauled away. I called around, and Handy Rubbish had the lowest rates. I would use them again; they do a really good job.
I am very satisfied with Handy Rubbish in the NW2 area. I hired them to do a quick rubbish clearance at my rental flat. They showed up on time and got the job done in under 2 hours.
The junk collection service from NW2 was done by Handy Rubbish can only be described as outstanding. Many thanks.
Beth and Robert

06

Aug 2019
I used Handy Rubbish because of their junk clearance service in Neasden NW2. It was done promptly, and my house is junk-free.
If you need a rubbish clearance service in Neasden NW2, don't hesitate in using Handy Rubbish. They helped me out last week, and I couldn't have been more pleased with their work.
Really lovely team of waste removal professionals in Neasden. Extremely knowledgeable and always happy to go extra mile for customers! Would recommend to anyone in NW2 looking for affordable, and top quality rubbish management!
The Quiet Suburb of Neasden

Situated in North West London in the Borough of Brent, Neasden is a quiet little suburb just around the corner from Wembley and the North Circular. Neasden meant 'nose hill' and used to be a farming village, but the farm land has now been replaced with residential streets with large houses such as The Grange – a vintage building and one of the most iconic in North London. Neasden is also home to the Shri Swaminarayan Mandir – a Hindu Temple and the largest outside the subcontinent. Millions of people flock to the temple every year during various religious events.
DO YOU NEED ADDITIONAL SERVICES?