Rubbish Removal

Aldwych WC2B

We offer a comprehensive WC2B rubbish disposal service for anyone residing in Aldwych. Our company has worked hard to produce a quality service, which offers great value for money. No matter how smelly or messy the waste collection Aldwych job may be, we have an experienced and dedicated team who are ready to turn up on time and get the rubbish cleared. Our aim is to make our customers' living space hospitable once more, so whether it's an accumulation of rubbish in the garden or it is building materials inside the home, Handy Rubbish are here to help. Quit stressing about your mess because our professional team can assist you in your time of need.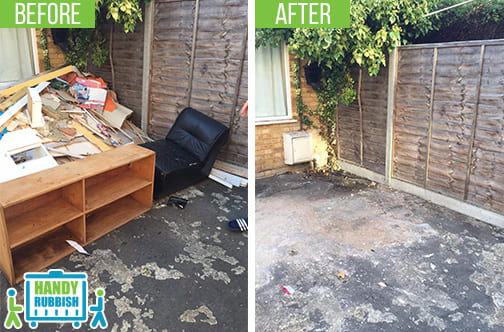 What we do
Where to find us
Like us
Book Cheap

Rubbish Clearance Service in WC2B

Our waste removal services in Aldwych, WC2B entail getting down and dirty to create a nicer living environment for you, your family and the surrounding neighbourhood. We will formulate an action plan including dates, times and how many staff members we need to deploy to get the Aldwych rubbish removal completed. Although we are essentially getting rid of something you no longer want, each and every member of staff will treat you and your property with the utmost respect. We take great pride in our quality customer care and our brilliant feedback fills us with joy as it reflects our determination and focus on fantastic results and satisfaction. Why not learn more about our Aldwych waste disposal packages by calling 020 3540 8282?
Quality Performance with Professional

Rubbish Disposal Teams in Aldwych, WC2B

We feel it's important to dispose of your rubbish in a safe and legitimate way, and that's why we only use the best recycling companies available. We at Handy Rubbish work in conjunction with reputable recycling firms, giving reassurance to any WC2B dweller that's worried about how their waste is going to be treated. Every type of house clearance will undergo the same vetting to ensure all waste is recycled appropriately. Our WC2B waste clearance team will contact the most suitable recycling company for your waste. Being kind to the environment is high on our list of priorities, so if you use us you'll be guaranteed a business that cares about the waste disposal process. Call 020 3540 8282 to find out more.
List of services we provide

in Aldwych, WC2B
Household Rubbish Clearance Aldwych, WC2B
Commercial Rubbish Disposal Aldwych, WC2B
Building Waste Removal Aldwych, WC2B
Garden Rubbish Removal Aldwych, WC2B
Electronic Waste Collection Aldwych, WC2B
Garage Clearance Aldwych, WC2B
Get Best Value

Waste Collection Service in WC2B for Your Money

Before going into business we assessed the industry and found that many other rubbish removal companies were overcharging for the services they provide in Aldwych, WC2B. We have tried hard to buck this trend to enable people of all incomes to take advantage of a quality waste removal service. For the work we do and the care we give our customers, we strongly believe we've come up with a winning formula that can't be beaten by our competitors. Although our prices are affordable it doesn't mean performance has been compromised. Call 020 3540 8282 to discuss prices and availability; our Aldwych rubbish clearance team are waiting to hear from you and are more than happy to help!
Testimonials
Couldn't have found a better Aldwych junk clearance service, this one is top.
Very pleased with the junk clearance job this WC2B team did for me last week.
Upstanding, respectable, and responsible junk clearance company in WC2B. Their customer service staff is open to all questions, and when they charged me, the amount was within my budget, matching the quote given me.
A speedy and hassle-free waste disposal service in Aldwych WC2B that was exceptional in terms of quality and price. Would recommend!
Aldwych - The Location

Aldwych is situated in the City of Westminster, London. It's noted as having a one-way street that has a direct route to Avonmouth, Bristol using the A4. The area is known for its businesses, rather than residential homes, although some new settlements have been designed for people looking for properties in Greater London. The location has had various iconic buildings in the past, from ITN television to the High Commission of India. This spot also boasts a famous underground station; although it's been closed it has been used in the production of several films and television programmes. Aldwych is a busy and bustling area sharing close links with neighbouring Charing Cross.


DO YOU NEED ADDITIONAL SERVICES?