Rubbish Removal

Worcester Park KT4

We can always accommodate your needs with our rubbish removal service in Worcester Park. No matter what of clearance job is, you should ring us and talk it over. There is nothing in the waste disposal area that we cannot accommodate or advise you on. Even if the job is something that we can't cater for, we will usually know someone who can! Many people are simply looking for some friendly advice and help when it comes to waste clearance in the KT4 district, and we are happy to oblige them! Our team are all friendly people, who have a great deal of experience in shifting waste.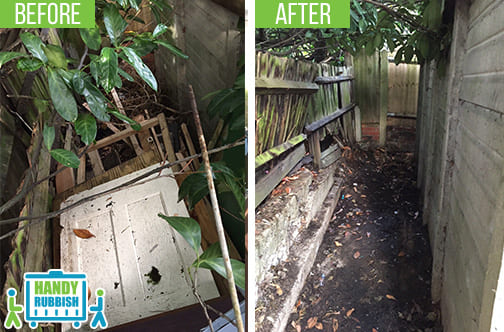 What we do
Where to find us
Like us
Book Cheap

Rubbish Clearance Service in KT4

Whether you are in need of domestic clearances or large scale commercial Worcester Park rubbish disposal, we can help you out. Our service with a smile comes with great results. We know that people need to get rid of things easily and discreetly, without any mess. Our staff will be able to clear up as they go, so that your place is left spotless, with no waste left to speak of! We offer an amazing team of efficient waste removal KT4 specialists. They can be in and out of your premises in no time, to ensure that your job is done with speed and precision, without any need to dirty up your hands or vehicle.
Go For the Best, Choose Our

KT4 Waste Clearance every time!

Knowing that you are going to get a great service from us, you may still be thinking that it is worth saving a little money by doing the Worcester Park rubbish clearance KT4 job yourself. We recommend to many people that they don't bother, as the hassle of doing your own waste disposal in the KT4 region can be surprising. For a start, loading up a car with your scrap and junk can dirty the vehicle, and hiring a van can be a pricy and time consuming. Call Handy Rubbish on 020 3540 8282 today and we can get started with showing you how we can help you.
List of services we provide

in Worcester Park, KT4
Household Rubbish Clearance Worcester Park, KT4
Commercial Rubbish Disposal Worcester Park, KT4
Building Waste Removal Worcester Park, KT4
Garden Rubbish Removal Worcester Park, KT4
Electronic Waste Collection Worcester Park, KT4
Garage Clearance Worcester Park, KT4
Perfect

Waste Disposal within Worcester Park

We have amazing relationships with the landfill sites and recycling centres around the area, which means that we can always dispose of your items responsibly. What's more, the time that these things can take is often extremely invasive, and you usually have to do them on a weekend! Take back your free time and we will make sure that you feel like the money that you spend on our waste collection services in Worcester Park, KT4 will be well worth it! You can get your junk disposal in Worcester Park off to the best possible start with Handy Rubbish so get in touch with us today on 020 3540 8282.
Testimonials
The crew is always jovial and professional at the same time. The company is really something.
Needed some Worcester Park rubbish removal and the Handy Rubbish team came through for us, took care of the mess. Great job.
Great option for anyone needing waste removal in Worcester Park. Always happy with their service and hope they stick around for a long time yet.
My nan was laid back due to a minor illness, and things were a bit cluttered in her flat in Worcester Park, as one would expect. Newspapers and magazines had accumulated over the months, and so had the rubbish in her kitchen, as she could not take care of it. She always held much pride in her home. The rubbish removal workers understood this and were very kind during the entire time. Thank you Handy Rubbish so much.
This company certainly offers the cheapest rubbish clearance service in KT4. Their quote was cheap, so I bit their hand off and was glad I did because what ensued was terrific. Their team in Worcester Park didn't disappoint me!
Come and see wonderful Worcester Park!
Worcester Park is a region in the south west of London, in the London Borough of Sutton. The area is in the KT post code, due to its proximity to the London Borough of Kingston. The region is popular for its open spaces as well as its remoteness from the city. This makes it a happy place excellent for commuters. This does mean that the region is fairly affluent. The area is accessible via Worcester Park Railway station, which runs a regular service to and from Waterloo. Trains also run south towards Guildford, making it a well connected area. To the northeast of Worcester Park, there lays an area called the Hamptons. This is a fairly recent building development that was erected in the style of the colonial revival. The area has its own grassland amphitheatre and leisure facilities for the many residents in the apartments and houses. The region is a great place to visit, even if only for the strangeness of wandering around a colonial style settlement in the modern day.
DO YOU NEED ADDITIONAL SERVICES?