Rubbish Removal

Moor Green B13

Our fleet of state-of-the-art Moor Green rubbish removal van are revved and ready for action so call today on 0121 794 8242 to get our engines started. As soon as a job comes in, our team of dedicated and professional waste collectors in B13 set to work to rid your premises of smelly waste. We don't delay in responding to your request for help, nor do we drag our heels once we arrive on site. Our firm runs a tight ship where a fleet of vehicles and an army of collectors work with military-style precision and timing. We get rubbish disposal Moor Green jobs done quickly and proficiently so you'll see results overnight with our fast acting team on board.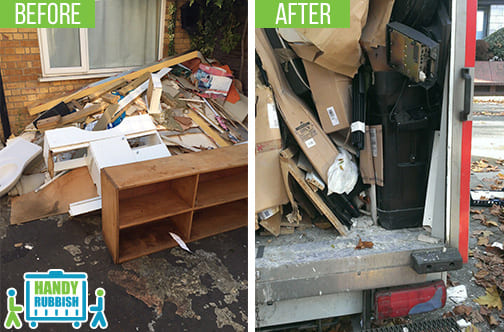 What we do
Where to find us
Like us
Book Cheap

Rubbish Clearance Service in B13

With the importance of protecting our fragile natural world, many customers are concerned about the carbon footprint of a company such as ours. We all read the negative stories in the press about gases being emitted from landfill sites and other such journalistic soundbites. Yet what is perhaps less realised is that as a B13 waste removal company, we can have a positive impact on the environment and turn those negative stories on their head. We follow stringent industry guidelines to make sure nothing goes to waste. Handy Rubbish recycles a large proportion of rubbish taken from each Moor Green waste disposal job, helping us to play a proactive part in saving the natural world. Ring 0121 794 8242 to find out more.
Hire Professional

Rubbish Removal Firm in Moor Green, B13

When you call us on 0121 794 8242 you'll soon learn that by hiring a professional in Moor Green rubbish clearance B13 company such as ours, the benefits far outweigh the cost of our services. If you want to have a clutter-free and freshly presented property, Handy Rubbish is the name that you need to remember. We are an eco-friendly company and have a positive contribution to saving our planet. Hiring us for your clearance job is the best way to have time to get on with other things. One of the main reasons customers seek our help is because we can save them time and money by doing the job for them. An amateur without the proper equipment or vehicle can spend hours labouring over dirty waste and mess. Such a job takes our experienced guys half the time because they are used to tackling waste removal in Moor Green every day.
List of services we provide

in Moor Green, B13
Household Rubbish Clearance Moor Green, B13
Commercial Rubbish Disposal Moor Green, B13
Building Waste Removal Moor Green, B13
Garden Rubbish Removal Moor Green, B13
Electronic Waste Collection Moor Green, B13
Garage Clearance Moor Green, B13
Treat Yourself to Time off with Affordable

Waste Clearance Company in B13

In this fast-paced world that we live in today, it becomes increasingly hard to fit in those must-do jobs. If your to-do list includes a thorough waste clearance weekend, then why not leave this to us to do for you? Who wants to spend their precious leisure time mucking out a spare room or garage and then having the hassle of transporting waste to the nearest waste collection site? When you hire us, we will handle your waste clearance in Moor Green, B13 deftly and professionally so that you can simply sit back and watch. Our vans are designed to carry large quantities of waste and are regularly cleaned and serviced to make sure they work as hard as our operatives.

Testimonials
I got several ridiculous quotes from other rubbish removal companies in Moor Green but it was Handy Rubbish that offered me the best price in B13! They delivered on service too!
- Reviewed by B. Peigne
Take a Step Back Through the Streets of B13 Area

Moor Green in Moseley (not to be confused with Moor Green in Erdington) is a small area rich in archaeological discoveries. Bronze Age burnt mounds and Roman coins are among the finds recorded. Its medieval past is denoted by the former Moor Green Forge as well as a ridge and furrow found in Highbury Park. The Birmingham-Gloucester railway was one of the city's earliest and ran through Highbury Park. Influential buildings of note included Moor Green Hall which was once home to Arthur Chamberlain, brother of Joseph, and was used as a military hospital during World War One.
DO YOU NEED ADDITIONAL SERVICES?