Rubbish Removal

Rayners Lane HA2

It is amazing what waste removal can do for your home. It can make it look as a completely new place and for the effort that you put in, you will really be rewarded. There is no doubt that HA2 waste disposal is not an easy task, but at Handy Rubbish we have house clearance services that can help you in your home and we also provide rubbish disposal in Rayners Lane at best prices so call us today on 020 3540 8282.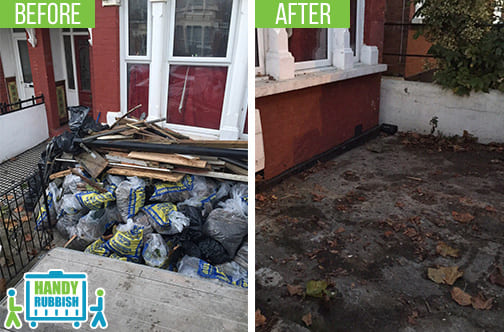 What we do
Where to find us
Like us
Book Cheap

Rubbish Removal Service in HA2

We are a house clearance company, meaning that we specialise in Rayners Lane rubbish removal for your property. This helps to make your home look clearer, calmer and generally a nicer place to be in. There are numerous ways that this we can help in your home - through simply throwing away rubbish and ensuring that all your bins are emptied and clutter put away. Waste removal in HA2 is one of the main services that we can offer at an affordable price and time that suits you. This has lots of benefits within your home, as having waste around can make your home look very cluttered, and so, by clearing through the clutter, your home will look a lot tidier, and you'll have a lot less dusting to do too!
Find Out More

about Rubbish Clearance in Rayners Lane

On top of getting rid of waste, rubbish and clutter in your home, one way to help your home look better is through getting rid of furniture, that you no longer want or use. This can just take up a lot of space that can be used for furniture you do want, or could help to give you some free space in your rooms. This is where we can help you, providing professional and affordable waste collection in Rayners Lane, HA2.
List of services we provide

in Rayners Lane, HA2
Household Rubbish Clearance Rayners Lane, HA2
Commercial Rubbish Disposal Rayners Lane, HA2
Building Waste Removal Rayners Lane, HA2
Garden Rubbish Removal Rayners Lane, HA2
Electronic Waste Collection Rayners Lane, HA2
Garage Clearance Rayners Lane, HA2
How Can Our Rayners Lane

Waste Removal Company Help You?

We can assist and advise on rubbish clearance Rayners Lane and rubbish collection and can also help with things such as skip hire and obtaining a skip permit. These are both extremely valuable services that we offer, as they ensure safe disposal of goods, and can help take the stress out of hiring a skip. After reading about what our waste clearance HA2 company can do for you, hopefully you can see that we have some valuable services at extremely reasonable prices and we are interested in working hard to help make your home a better place. If that is the case, call Handy Rubbish on 020 3540 8282 today.
Testimonials
Recommended by a friend for waste collection services in HA2. Would use again.
I chose their waste collection service in Rayners Lane after reading a few online reviews. They came to my property in HA2 and provided me with a free estimate. I was a little surprised with the price they offered me but I am glad I called them. The best decision in my life!
About Rayners Lane
Rayners Lane is a mainly residential suburban area in North West London. It is found in the London Borough of Harrow and is in the postcode district HA2 and HA5. Areas surrounding Rayners Lane include South Harrow, Pinner, North Harrow, and Eastcote. Nearby postcode districts include HA4, HA0, HA9 and UB8. Like many towns and suburbs in London, Rayners Lane grew because of a tube station, and so because of this, most of the area centres on this. This has brought many businesses into the area such as supermarkets and fast food outlets, to provide goods for the influx of people getting the tube. Although the area is mainly known for its tube station, which is art deco in style, the area has Rayners Lane FC, its own football club. This is surprising as the suburb is small, compared to other similar areas. One of the main known people from Rayners Lane is Commodore Harry Grattidge, who was one of the last captains to RMS Queen Elizabeth.
DO YOU NEED ADDITIONAL SERVICES?