Rubbish Removal

Penge SE20

It becomes more and more often we just don't notice when junk is building up in our homes. You might not even notice that things are junk, because to you they have just become the norm. It can be amazing though how much going through, sorting and getting rid of the rubbish can help make your head clearer and generally put you in a better mood. Having to face this task alone can be a challenge, especially if you have lived there a long time as there can be so much to sort, so, if you are planning on doing a SE20 rubbish removal in Penge, get in touch with us on 020 3540 8282 and let Handy Rubbish help you sort out your home.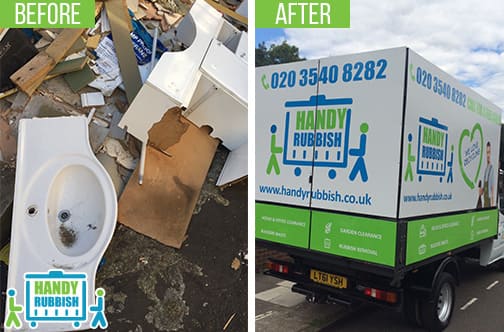 What we do
Where to find us
Like us
Book Cheap

Rubbish Clearance Service in SE20

If you live in a commuter suburb such as Penge, it is highly likely that you spend a lot of your time travelling to and from the city for work. After working all day and then travelling, it can be hard to want to sort out your home after this. Here at Handy Rubbish we have Penge waste clearance SE20 professionals who will come into your home at a time that is most suitable for you to help you clean out and sort your home. These professionals can help with loft and basement clearance alongside rubbish disposal Penge and white goods recycling if needed.
Affordable

Waste Removal in Penge

Our SE20 waste removal workers simply take the stress out of this for you, making it one less thing for you to worry about after a long day of travelling and working. Although cleaning out your home can really sound like such a small and trivial thing to get sorted, once you have done it, you will be amazed at how much it can help make your days feel that much calmer. You work so hard and having a clear and tidy home to come home to is one of the biggest rewards that there is. We are even able to help you on getting a skip permit Penge for skip hire if this is something that you may end up needing when clearing out your home.
List of services we provide

in Penge, SE20
Household Rubbish Clearance Penge, SE20
Commercial Rubbish Disposal Penge, SE20
Building Waste Removal Penge, SE20
Garden Rubbish Removal Penge, SE20
Electronic Waste Collection Penge, SE20
Garage Clearance Penge, SE20
Get the Best

Waste Disposal Service in SE20

If you believe that our SE20 rubbish clearance services in Penge would be helpful to you in your home, get in touch with us today on 020 3540 8282 to arrange an appointment for your earliest convenience. It is amazing how much our help and assistance can work with you to help make your home a nicer place for you to live in. If you hire our Penge waste disposal company then you can join the hundreds of people who've used and loved our waste collection SE20 company. Stop worrying about your junk clearance needs and hire the help that you require from our company.
Testimonials
We're ranking this rubbish removal firm in Penge a solid "10 out of 10" stars.
I hired this waste removal company to help with the builders waste clearance needs from our recent SE20 renovations. They were great to work with and got everything done fairly quickly.
We used Handy Rubbish and their rubbish removal team last week. They charge less than other Penge places and did a fine job.
I want to commend their rubbish removal team on the excellent job they did in SE20. Keep up the great work. I look forward to utilising their services again when in need.
In terms of a rubbish disposal, everything was handled brilliantly by Handy Rubbish. I commend the crew that came around to SE20. They worked hard and efficiently, getting the job done in super-quick time.
For what they did for us in Penge, we do believe that Handy Rubbish does have the best, local waste removal prices in the area.
The costing of this rubbish removal company in Penge SE20 is incredible. You do not have to spend a lot of money to get splendid services.
Handy Rubbish will be handling all of my waste clearance from now on. They did an excellent job. Most of the other SE20 area companies charge outrageous rates, but these guys are relatively affordable.
Great junk removal experience. The rates were in line with what you'd expect in SE20, and the work done was as requested.
We had to do a complete spring cleaning on our flat in Penge, so we had a lot of trash to be hauled away. We had this company come out to do a waste clearance, and I must say the blokes who work for them could not be kinder or more efficient. Fantastic company.
Need a waste removal in Penge SE20? Handy Rubbish will do a 10/10 job. Great effort, thanks guys and gals.
Had a positive experience using the waste clearance service from my apartment in Penge. Great work.
I used their rubbish removal in Penge because I needed to get rid of a huge pile of construction waste. They came to my property in SE20 at short notice and took it all away. The price was affordable and the service was remarkable!
About Penge
Mainly viewed as a commuter suburb, Penge is situated in Bromley in London. It borders Lewisham and its postcode district is SE20. It is a short train ride into London itself. Penge is surrounded by areas such as Anerley, New Beckenham and South Norwood and postcodes including BR3, SE25 and SE21. With easy access to multiple railway stations, and along with access to green spaces, Penge is a great place to live. Penge has had a few famous residents including Bill Wyman from The Rolling Stones, Prime Minister Andrew Bonar Law and artist Camille Pissarro - fitting as Penge was once viewed as a strong entertainment district. The suburb which was established in Victorian times, still has several of its landmarks from these times, including a few almshouses offering accommodation to poor people at the time. In addition to this, Penge is said to have an extremely high number of pubs for its size, making it great for those commuters who are looking to have a couple of drinks after work.
DO YOU NEED ADDITIONAL SERVICES?