Rubbish Removal

Notting Hill W10

There may be busy cities all around the world, but very few come close to the active nature of London. It truly encompasses the spirit of a city that never sleeps. One of the key areas that have helped in building this reputation is Notting Hill. The leafy and subdued area of West London is home to some of the capitals leading hidden gems, when it comes to pubs, clubs, and restaurants. It has made it quite the place to live. Should you be either moving to, moving around, or moving out of the area you will need to familiarize yourself with one thing. Our Notting Hill waste clearance company is the right solution of this problem.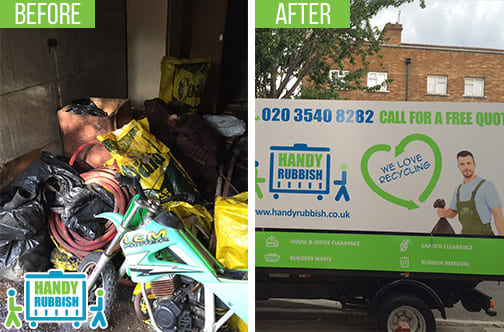 What we do
Where to find us
Like us
Book Cheap

Rubbish Clearance Service in Notting Hill

Notting Hill home clearance is part of the parcel when it comes to moving, but how do you find the right W10 rubbish clearance for you situation? Simply put, all you have to do is pick up the phone and call Handy Rubbish on 020 3540 8282. One of our dedicated rubbish removal W10 team is standing by to talk to you more about who we are as a company and set-up a time for us to come and help clear your home.
Do You Need Notting Hill Rubbish Clearance Services? Then
Look No Further!
Trendy, artsy, and culturally on-point are all words you can use to describe Notting Hill and the "Notting Hill Set" types that tend to emerge from the area. Residentially the area seems to go through boom and bust cycles, but one of the things that always tend to contribute to the boom is the garages within the area. Both houses connected and independent, garages in the capital are considered to be like gold dust. If you have one or about to rent/purchase one, then you will need to seriously think about how you will handle rubbish disposal Notting Hill when the time comes.
List of services we provide

in Notting Hill, W10
Household Rubbish Clearance Notting Hill, W10
Commercial Rubbish Disposal Notting Hill, W10
Building Waste Removal Notting Hill, W10
Garden Rubbish Removal Notting Hill, W10
Electronic Waste Collection Notting Hill, W10
Garage Clearance Notting Hill, W10
We Have a
One-Track Mind

for Notting Hill, W10 Waste Removal

When you need a waste removal Notting Hill, W10 service that you can count on when it matters, look no further than Handy Rubbish. We know garage clearances unlike any of our competitors. Don't put your needs into the hands of a cowboy, put them into the hands of honest Notting Hill, W10 waste disposal professionals instead.
Get Ready

For the Best Rubbish Removal W10

Get the process started today by picking up the phone and calling us on 020 3540 8282, or sending us an email. Do you want to speak to us face to face? No problem, simply swing by our offices and our Notting Hill waste collection W10 team will be more than pleased to talk to you in person.

Testimonials
I am pleased with their low-cost waste collection service in Notting Hill W10! Would hire them again for sure!
- Reviewed by Claudia
An Area With History
If you were to break down the most important residential regions in London, Notting Hill is an area that would surely be up for discussion. Notting Hill today can be considered one of the most upmarket regions of the capital. Celebrities in their droves choose to live in the region, with many of the properties in the area selling for millions. Tourists also tend to flock there due to attractions such as Portobello Road Market and Notting Hill carnival. However, it was once upon a time a very different place, and holds specific relevance to the London we see elsewhere around the capital. The area was first developed in the 1820s and developed a name for being "artsy" and "alternative", a reputation that in many regards still stands to this very day. During the 20th century the area became home to many Caribbean immigrants, who would add to and be the forerunners to the multi-cultural capital we see today. The race riots that would occur in 1958 would also change the face of the area. If you don't already class Notting Hill as one of the most important areas in London's history, then you should.
DO YOU NEED ADDITIONAL SERVICES?