Rubbish Removal

Perry Common B23

If you're looking for some B23 rubbish removal assistance but don't know where to look, be sure to call 0121 794 8242 and get in touch with Handy Rubbish today. We're an award-winning, Perry Common based waste removal company with many highly experienced and dedicated staff, all ready to take care of your rubbish related woes. Whether you want help with a mass, property wide clear out, or a semi-regular waste collection B23 service you can count on us. We specialise in accessibility, so we make our services easy to hire and even easier to afford!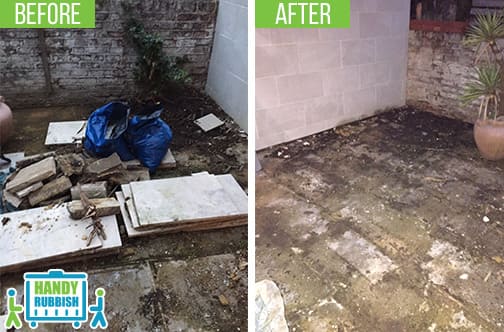 What we do
Where to find us
Like us
Book Cheap

Rubbish Removal Service in B23

There's no denying that rubbish clearance in B23 is a messy job, and very few people want to deal with it on a regular basis. For those people, we've got a range of services to give you the help that you need. If you've got way too many things going on, but you still want the junk cleared out of your home, we will take care of it. Our services extend past the cupboards – if you've got a loft, a cellar or an attic that needs a thorough clear-out, we've got you covered! A messy garden is a sorry sight, so start off its regeneration by hiring our garden waste clearance services today! If your current waste removal Perry Common services aren't sufficient for your needs, we'll pick up the slack!
Regular Perry Common Rubbish Clearance Helps the Planet, and
We Do Our Part
We do our part to provide a convenient rubbish removal service in B23, and while that's all well and good there are certain responsibilities that we must take on. The disposal of rubbish and waste is very highly tied into the environment, and we're very aware that improper Perry Common rubbish disposal can have a highly negative impact. It's for this reason we recycle as much of the waste that we pick up as possible. Everything from papers to plastics, tins and bottles – we do our part. We understand that the Earth's resources are finite, so we make sure we conserve them as much as possible while also providing a cost-effective junk removal service. To find out more about what we do, simply call 0121 794 8242.
List of services we provide

in Perry Common, B23
Household Rubbish Clearance Perry Common, B23
Commercial Rubbish Disposal Perry Common, B23
Building Waste Removal Perry Common, B23
Garden Rubbish Removal Perry Common, B23
Electronic Waste Collection Perry Common, B23
Garage Clearance Perry Common, B23
We Supply Convenient B23 Rubbish Removal

Services at Reasonable Prices

There are plenty of jobs that are necessary evils, and the rubbish removal is definitely one of them. These types of job are best left to the professionals, and Handy Rubbish can dispatch some to you. Waste clearance in Perry Common, B23 can be complicated and dangerous task for those who are untrained, but the services we provide are easy to afford. We'll take care of all of your unwanted rubbish, junk and furniture, and dispose of them in the most environmentally friendly way possible. So if you're in Perry Common, call us today on 0121 794 8242. Our B23 waste disposal services are cheap, flexible and if you're local you'll be eligible for same-day service!

Testimonials
Disposing of waste was as easy as pie thanks to the waste disposal team based in Perry Common B23! Quick and affordable!
- Reviewed by F. Larsen
Here's a Good Look at the Perry Common Area

Perry Common is in the North of Birmingham, and is part of the Erdington council constituency. The North Birmingham Academy is a secondary school in Perry Common, and the Hawthorn Shopping Centre on Hawthorn Road is the area's high street. The Witton Lakes are a pair of former water reservoirs in the area, and were created near the end of the nineteenth century to supply drinking water to the city of Birmingham. After the reservoirs became defunct, they've become a conservation area with a surrounding park. The lakes are now used for model boating. Perry Common Library is housed in a Grade-II listed building and has many learning resources available.


DO YOU NEED ADDITIONAL SERVICES?