Rubbish Removal

Gun Quarter B4

Do you feel overwhelmed by all the waste accumulated at your property? Perhaps you'd like to convert your loft into an extra bedroom, but that's quite impossible at the moment as there's a ton of junk up there? Or maybe you'd like to free your office space of the clutter that's bothering your employees and slowing down your work? Whatever your predicament, Handy Rubbish has a suitable rubbish disposal Gun Quarter solution to offer you! Our all-encompassing range of rubbish removal services covers just about all kinds of rubbish you could think of, and we will clear it all away in record time, guaranteed! Contact us on 0121 794 8242 anytime to talk to an expert and get our latest deals on rubbish clearance in B4!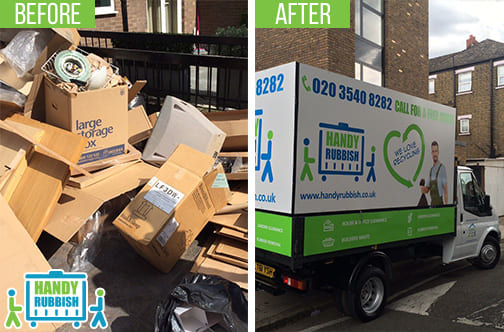 What we do
Where to find us
Like us
Book Cheap

Rubbish Removal Service in B4

Our Gun Quarter waste collection services can be tailored as per your specifications, thus offering you the perfect fit for your need and for the exact kind of rubbish you'd like to dispose of. Here are some of the waste types we cover: General waste – we offer a great alternative to the unreliable council collection services; we'll come at a time that suits your schedule and requirements; Office clutter and electronics – we can handle all kinds of waste generated in a workplace, as well as collect and send old electronics for recycling; Garden waste – our service covers anything from green waste, such as hedge clippings, grass and branches, to broken garden furniture and clearing away old sheds or other debris; Loft, garage and cellar junk – whatever you may have stashed away in your attic, cellar or garage, we will quickly collect it, and steep staircases, narrow spaces and hard-to-reach areas are no issue for us whatsoever; Builders waste – if you are left with heavy waste such as concrete or bricks after construction work, we'll take it all away swiftly and safely. We have these and many other B4 rubbish removal services available at very low costs. Dial 0121 794 8242 to find out more.
The Go-To Gun Quarter

Rubbish Removal Company

We put the safety of our clients, the public and the environment very high on our list of priorities. To guarantee we are not harming nature in any way, we have fine tuned our waste removal in Gun Quarter in such a way as to be extremely eco-friendly. We do that by using fuel-efficient vehicles, sending anything that can be recycled to one of our partnering recycling depots and repurposing or donating items that are still usable in any way. We are your best bet for reducing your carbon footprint as well as contributing to minimising dumping in landfills and pollution. Hire us for waste disposal B4 today and help save the planet we live on!
List of services we provide

in Gun Quarter, B4
Household Rubbish Clearance Gun Quarter, B4
Commercial Rubbish Disposal Gun Quarter, B4
Building Waste Removal Gun Quarter, B4
Garden Rubbish Removal Gun Quarter, B4
Electronic Waste Collection Gun Quarter, B4
Garage Clearance Gun Quarter, B4
Book Today for a Hefty Discount

on Waste Clearance in B4!

Now, Handy Rubbish offers you the opportunity to get rid of all your unwanted items and rubbish at a bargain price! Book one or more of our B4 waste clearance services today and you may be eligible for a special discount. With the lowest prices, combined with a superior quality solution for every possible eventuality, you need to look no further for the best value for money rubbish disposal in B4, Gun Quarter! Give us a ring at 0121 794 8242 to make a booking and say goodbye to waste for good!

Testimonials
Genuinely shocked at the brilliant service I got from the team when helping with my waste clearance in B4. Not used to such attentive, cheap and efficient service in Gun Quarter, so was a really pleasant shock to meet these guys who actually seem to care about their customers not just money.
- Reviewed by Steph Vandling
Gun Quarter – England's Gun Manufacturing Hub

A predominantly industrial district in Birmingham, Gun Quarter is the cradle of the British gun manufacturing industry. For centuries, ever since the English Civil War, the district has been a world centre for firearm manufacturing, producing military as well as sporting guns. With the decline of the industry after WWII, a significant part of the factory buildings were demolished, with only a few like The Bull pub, where factory workers used to receive their payment, still standing today. Only a handful of small firearm traders and manufacturers remain in the Gun Quarter today and there are extensive redevelopment plans for the area. The Birmingham Gun Barrel Proof House is a local museum that houses a large collection of firearms and ammunitions.


DO YOU NEED ADDITIONAL SERVICES?