Rubbish Removal

Sidcup DA14

Our home is the place, where we should feel content and comfortable, able to relax and put the stress of our day behind us. It is difficult to feel this degree of comfort, if the home has accumulated piles of mess. A large mess can all this stands to make you feel stressed and will make you wish you were back at work! be easily built from items, being added daily to a pile of rubbish. A messy house not only makes you feel uncomfortable, but it won't make visitors feel welcome either and will probably have them running straight for the front door. If you find that you are in dire need of Sidcup rubbish clearance, you may want to hire professional waste removal DA14 services. Make a call on 020 3540 8282 today and avail yourself to our exceptional offers!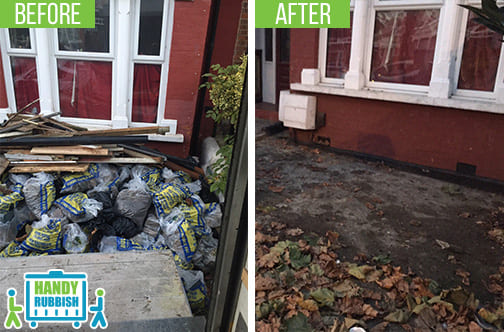 What we do
Where to find us
Like us
Book Cheap
Rubbish Clearance Service in DA14
You can call Handy Rubbish on 020 3540 8282 and Sidcup DA14 waste clearance professionals will be happy to offer you some advice and guidance on the best way to improve your home. You can also read on for some more information on how we can help you.
Sidcup Waste Removal Company

at Your Service

If you want a clean and fresh home, you have to be prepared to declutter on a regular basis and get rid of any unwanted waste. House clearance may involve getting rid of large items, such as furniture and packing away and disposing of smaller items, like unwanted electrical goods. Small goods can accumulate just as much mess as those larger items and it is important not to rush the job of getting rid of items you really don't want. A routine Sidcup rubbish removal DA14 can easily turn from a small job to a massive job and the waste removal process can be difficult, especially if you are handling it all on your own.
List of services we provide

in Sidcup, DA14
Household Rubbish Clearance Sidcup, DA14
Commercial Rubbish Disposal Sidcup, DA14
Building Waste Removal Sidcup, DA14
Garden Rubbish Removal Sidcup, DA14
Electronic Waste Collection Sidcup, DA14
Garage Clearance Sidcup, DA14
Our
Waste Disposal Company in Sidcup

Will Deal with All the Mess in Your Property

If you don't have the time for your waste disposal Sidcup DA14, you would rather call on the professionals, who are experts in the field of property clearance services, so it is time to give Handy Rubbish a quick call. We will take care of small to large jobs and everything in-between and will do it quickly and efficiently. We can guarantee that you will be more than pleased with the results of your Sidcup waste collection. We have the expert techniques and can offer advice on how to make the best out of your space, by simply removing the clutter from your home. We also offer rubbish disposal Sidcup for your garden or office. Give us a call on 020 3540 8282 to find out more.
Testimonials
Handy Rubbish crew was amazing! And their junk clearance services at my apartment in Sidcup was exceptional!
I had a graduation party at my house two days ago. Due to my busy schedule, it was so hard for me to clean up the mess that my house became. Luckily, I had a friend who recommended Handy Rubbish to me. It was really something. They did everything correctly. What a junk removal service in Sidcup!
If you need a waste disposal service, seriously give these guys a ring. Not only are they awesome blokes, but also do awesome work. They have lower rates than most in the DA14 area. The competitors are rubbish (pun-fully intended!).
Handy Rubbish are amazing. Cleared all my old furniture without me having to lift so much as a finger. And I loved the prices! Great to have such a reliable waste removal service in Sidcup.
My home in DA14 had built up quite a few extra bags of rubbish. The two men that came out for the waste disposal were incredibly polite and professional. I now use this company regularly.
I am very happy with the waste removal service I received in Sidcup! They took away all the rubbish from my home in DA14 and disposed of it in a swift and efficient manner! Reasonably priced and effective! Would recommend!
Living in Sidcup
Sidcup is situated in the South East of London in the Borough of Bexley. It is in the postal area of DA14, DA15 and SE9. It is nearby to Bromley, BR1 and Greenwich, SE10. There are a number of areas of interest in Sidcup, including the exquisite manor houses. The Frognal House is one of such houses and was the residence of Thomas Townshend. The Sidcup Parish is another landmark of the area, which was originally known as Foots Cray. It was renamed back in 1925. The area of Sidcup has been made famous through its mention in two plays, which were the Relative Values and The Caretaker. It was also mentioned in the TV series, Porridge. Sidcup has been the home of many famous faces, including Kate Bush, a singer and songwriter, Garry Bushell, a journalist, who currently resides in Sidcup and Quentin Blake, the illustrator and artist. You never know who you may bump into with a visit to this part of the world!
DO YOU NEED ADDITIONAL SERVICES?