Rubbish Removal

Petts Wood BR5

Clearing out your home can be a challenge and it can also be a really boring task. If you're busy during the week, it is often the last thing that you fancy doing when you have time off. Often if you live there, you don't even notice that you need to have a clear out, but that is where we come in. We are Handy Rubbish and we have waste clearance services in Petts Wood, BR5 to help you out with decluttering your own home.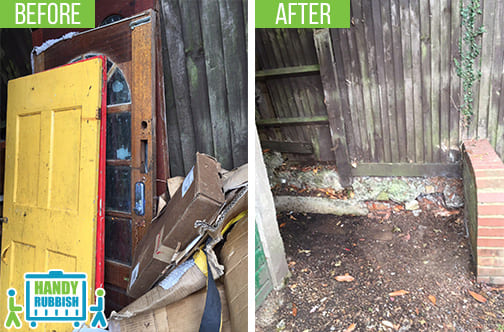 What we do
Where to find us
Like us
Book Cheap

Rubbish Clearance Service in BR5

Doing a rubbish clearance BR5 can be a great way to help make your home feel completely new again. Your clutter and junk has all been sorted and moved so that you may have access to parts of your home you haven't had in a very long time! We can assist with waste disposal Petts Wood to help free up space, and having a clean out can be a really good alternative to moving house as it lets you feel like you are somewhere completely new, without as much of a cost. You may find items that you'd forgotten you had or thought that you had lost, or you may discover that some of the things you were keeping thinking that they were precious are junk, because you've not even got them on show.
You Need Waste Clearance in Petts Wood?
You Have Come to the Right Place!
If you are having a big clear out and rubbish disposal in Petts Wood it is a great idea to look into a skip hire alternative, especially if you have a lot of junk that you want to clear out. Skip hire requires a skip permit and it is important to look into this before you hire a skip out, something which we are more than happy to sort for you if you hire our BR5 waste collection services. Another option, if you have old white goods, is to look into white goods recycling and just free up the space that the useless appliances are taking up. We have many tactics to help make your home a better place, and can be extremely useful to you.
List of services we provide

in Petts Wood, BR5
Household Rubbish Clearance Petts Wood, BR5
Commercial Rubbish Disposal Petts Wood, BR5
Building Waste Removal Petts Wood, BR5
Garden Rubbish Removal Petts Wood, BR5
Electronic Waste Collection Petts Wood, BR5
Garage Clearance Petts Wood, BR5
Choose Perfect Rubbish Disposal in BR5
at Reasonable Price
Whether you just need waste removal in Petts Wood or a full clearance, Handy Rubbish is the name that you need to remember. We will be more than happy to help you in any way that we can. You can contact us by phone on 020 3540 8282 and no job is too big or too small for us. Our BR5 rubbish removal services in Petts Wood are guaranteed for your peace of mind, and we're always available at a time that suits you.

Testimonials
My loft was full of stuff I have accumulated for the last 2 years so it needed clearing out. I was after a reputable rubbish disposal company in Petts Wood when I found their team of experts operating in BR5. It was a pleasure working with them and the price was pocket-friendly!
- Reviewed by Y. Marlow
About Petts Wood
Petts Wood can be found in south east London in the borough of Bromley. It is a suburb in the postcode district BR5 and is surrounded by places such as Bickley, St Paul's Cray and Chelsfield. The nearby postcodes include BR1, BR2 and BR6. Petts Wood is a mainly residential area as it is suburban and was mainly built in the 20th century as a top quality estate. This is no longer the case, but the good railway links that Petts Wood maintains with the city still remain. As with many places in London, Petts Wood is also the birthplace of some famous people. There is an extremely wide variety in this area but these include Sir Geraint Evans, a Welsh baritone operatic singer, Cerrie Burnell, an actress and the comedy actor and writer of The Faill and Rise of Reginald Perron, David Nobbs. Alongside its famous people Petts Wood has a brilliant number of facilities for its residents, including three sports facilities, three schools and nine places of worship alongside brilliant transport links.


DO YOU NEED ADDITIONAL SERVICES?