Rubbish Removal

Surbiton KT6

It's far too easy to let rubbish build up: a couple of "I'll do it tomorrow" days and before you know it, you're overrun. By the time you realise what's happened it's in such a state that the thought of dealing with it sends you into a panic. Don't let this happen to you; whether your pile is just getting started or is on the verge of taking over your home in Surbiton, let our KT6 waste removal experts to help you. At Handy Rubbish, we are experts in rubbish disposal in Surbiton, and with one quick call to 020 3540 8282 today your excess clutter can soon be a thing of the past, as can those panic attacks. So if you'd like to get rid of that clutter without spending tons call us today on 020 3540 8282 for your free estimate and get us on the case.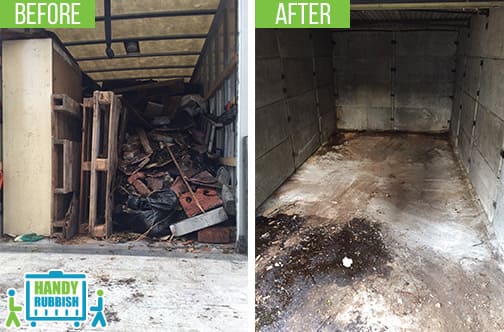 What we do
Where to find us
Like us
Book Cheap

Rubbish Clearance Service in KT6

It's not the most glamorous thing to deal with, but it can't be denied that rubbish needs disposing of. Often this can be dealt with by your local council services, but sometimes you just can't wait for your next bin day, and sometimes the waste you need to dump won't be accepted. When this happens it doesn't have to mean a never ending build up of junk or a stressful trip to the tip. With our premium rubbish removal service in Surbiton, KT6, it can simply be a case of calling us in, and the next day it's gone. That sounds much more appealing. At Handy Rubbish, we deal with all sorts of waste: we are certified experts in waste disposal KT6.
Rubbish Removal in Surbiton
Made Simple
It's no wonder that attics often end up as a dumping ground: all that space hidden away where no one can see it. A perfect place for all the stuff you don't have space for. Unfortunately, at some point that attic will need clearing out; and if that thought brings you out in a cold sweat, you need us. We can handle attic and Surbiton rubbish clearance tasks in KT5 and beyond. We take on all the hard work so you don't have to. We can dispose of your attic junk safely and responsibly, giving you back that extra space and taking some stress off your hands too. Whether you've got garden waste, household rubbish, builders waste or even a mixture of it all, we can help.
List of services we provide

in Surbiton, KT6
Household Rubbish Clearance Surbiton, KT6
Commercial Rubbish Disposal Surbiton, KT6
Building Waste Removal Surbiton, KT6
Garden Rubbish Removal Surbiton, KT6
Electronic Waste Collection Surbiton, KT6
Garage Clearance Surbiton, KT6
The Most Cost-Effective Way to Deal with

Waste Clearance in KT6

Garden rubbish can be some of the most annoying to deal with, it's dirty, smelly and sometimes a little dangerous. If you're not experienced in the removal of it, it can be a pretty onerous task. Fortunately, our team of experts are experienced in the art of garden waste clearance in KT6. So call us on 020 3540 8282 now and let us worry about the nasty bits, and rest assured that we will deal with your waste in a safe, responsible manner, as well as in a way that suits you. With us around, you never need to worry about garden waste clearance again. We offer a complete Surbiton waste collection service KT6 at excellent prices, making us the most cost-effective way to dump your junk. As we offer a comprehensive service, it's also the easiest way too.
Testimonials
I am now living clutter-free thanks to Handy Rubbish's crack junk removal specialists from Surbiton.
They are geniuses, still shocked with how much they did and within such a short time. Everyone in Surbiton KT6 needs to know about them.
They are the real maestros of junk removal in Surbiton KT6.
Best Surbiton KT6 rubbish removal service that there is, highly recommend trying Handy Rubbish to move any unwanted junk.
Received a very good service from Handy Rubbish today. They shifted my old furniture Surbiton effortlessly, and left the place looking spotless. Will certainly be using them again if I ever need a hand with junk removal.
You can trust these guys on your property, even if you're away. Used them before for garden waste clearance in Surbiton KT6 and will be using them again!
Cost-effective, dependable and time-saving waste removal service in Surbiton KT6! Just as it should be!
Surbiton – what to do and where to go
A little way outside of Central London is the district of Surbiton, located in the borough of Kingston upon Thames. From KT5 to KT6, the area is particularly well known for its artistic history, having been the home to many famous literary and artistic talents such as Thomas Hardy, H.G Wells, and artist John Everett Millais. It continues to pursue an artistic feel with many art deco buildings, as well as classical architecture to explore and admire. Should one wish to explore further, there is a great train service from Surbiton Station directly into the heart of London, or get even further out with a trip to Surrey.


DO YOU NEED ADDITIONAL SERVICES?