Rubbish Removal

Riddlesdown CR8

Here at Handy Rubbish we are quite aware of what kind of rubbish removal services in Riddlesdown, CR8 the customer wants. And you can get all kinds with us. Whether you have a single item, such as a bed frame, a rug, a carpet, or a really big fridge you'd like to get rid of, or an entire collection of junk, it makes no difference. Contact us right now and we'll book a date and time convenient to you for a visit from our CR8 waste collectors. They will handle the rubbish clearance Riddlesdown and there will be no more waste to deal with. Simply call us now on 020 3540 8282 and you will hear all our deals and get a free estimate.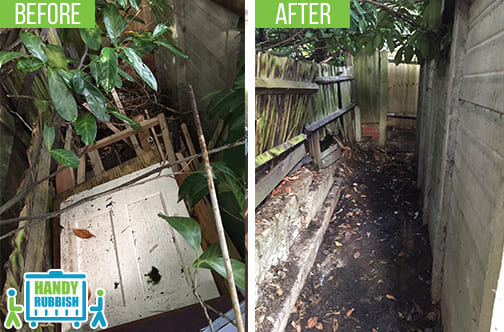 What we do
Where to find us
Like us
Book Cheap

Rubbish Clearance Service in CR8

And no need to worry whether your rubbish will be dealt with in an eco-friendly manner. We will handle it all with absolute care, and when the waste collection is complete, everything will be taken to the nearest recycling centre in Riddlesdown. There we will separate the rubbish and ensure that a minimum of 85% of the waste is recycled and reused so that nothing goes to the landfill unless there's no other way of disposing of it. We try to avoid pollution at all costs and make sure that nothing is left for the landfill. When you turn to us, you will be guaranteed that your Riddlesdown waste removal is done by a green and responsible company that cares equally for both nature and you.
Get the Best

Rubbish Removal Services in Riddlesdown, CR8

What can we offer that is not already offered by other rubbish collection companies in Riddlesdown? We cannot say that we offer anything unique, but we can assure you that we do it better than all the rest. With us you get all the free space you want and leave clutter out of the equation. Here is what else you get when you Call 020 3540 8282 and you will get CR8 waste clearance done by the best teams in town. We offer affordable waste disposal services in Riddlesdown which are available 24/7 and our deals are for everyone and every type of budget.
List of services we provide

in Riddlesdown, CR8
Household Rubbish Clearance Riddlesdown, CR8
Commercial Rubbish Disposal Riddlesdown, CR8
Building Waste Removal Riddlesdown, CR8
Garden Rubbish Removal Riddlesdown, CR8
Electronic Waste Collection Riddlesdown, CR8
Garage Clearance Riddlesdown, CR8
Hire with Us and Get Excellent

Waste Removal Deals in CR8 Today

We pride ourselves on the ability to provide our customers in Riddlesdown with the best deals out there. Our prices are made after scouting the competition – we always make sure to one up the rest and provide customers in CR8 with excellent offers. The prices drop with on-going services, and you can check in with our customer service on 020 3540 8282 to see what special offers we can give you right at this moment. Act now and hire Handy Rubbish to get the best Riddlesdown CR8 rubbish disposal service you need to rid yourself of all the clutter at home or at work. We are here to provide you with the rubbish disposal service you need and we will always be there for you.
Testimonials
Rapid deployment of waste removal services at our property in CR8. Will use again.
Bradley Walker

13

Jan 2021
Amazing garden waste removal company! I can't believe how quick they are and the fact they are so cheap is a total bonus. Handy Rubbish in CR8 get my vote.
There's no way I'm going out into that muddy, filthy yard to do my clearance so I booked some rubbish removal experts to come out to Riddlesdown and do it for me. Glad that I did, because your team was phenomenal!
We found Handy Rubbish to be professional, easy to work with and budget-friendly when it came to waste removal in Riddlesdown.
Handy Rubbish is the best waste removal service in the entire CR8 area. They have low rates, and their crew is professional and gets the work done fast.
That is a top-notch rubbish removal firm; they do their jobs well, and their rates are more affordable than other CR8 area companies I rang.
Finding a good removal service in CR8 might be a hard task. Really glad to have found the builders waste removal service from Handy Rubbish with a quote, that did not make me feel dizzy. Great job, and no need for us to apply for a mortgage after all. Thank you.
Hired junk clearance service in CR8 from your company, and it was done in no time, at all. Would definitely hire in the future.
You'd be hard pushed to find a better rubbish clearance company in Riddlesdown than this one. I've recently moved into a new house, and there's a lot of rubbish left over from the previous owner. They've done a fantastic job of getting the place cleared and haven't charged an arm and leg for it.
Got a speedy waste removal service and a very affordable one at that. Loved the prices, loved the results, definitely my favourite company in Riddlesdown. Already telling friends and neighbours in CR8 about it! Thumbs up!
Enjoy the Town of Riddlesdown

Riddlesdown is located in the southernmost part of London, within the Borough of Croydon, right next to the centre of Purley. It is among the most ancient places in London, with a historical background dating all the way back to the Neolithic Era. Things to see in the area include the Riddlesdown Lawn Tennis Club, existing since 1938. In terms of education it has the Riddlesdown Collegiate, and as far as transport links go, you can use the Riddlesdown railway station and a local bus service which serves the route between West Croydon Bus Station and Purley Tesco.


DO YOU NEED ADDITIONAL SERVICES?