Rubbish Removal

Turves Green B31

Before you begin worrying about your financial situation you should know that we provide all our Turves Green, B31 rubbish disposal services at affordable prices. We have been around long enough to know how tight the financial situation of some people may be, so we do our best to provide alternatives for every situation, with a free quote attached to it all.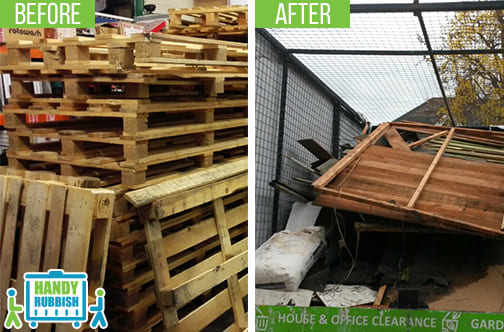 What we do
Where to find us
Like us
Book Cheap

Rubbish Clearance Service in Turves Green

You can call us on 0121 794 8242 anytime you want and you will have it in a flash. The more information you provide about the type of items and their size and materials, the better and more accurate we will be in stating the price for our rubbish removal Turves Green, B31. Our prices can't be beat! We guarantee you won't get a lower price anywhere in B31 area. Book now!
Low Prices

for the Best Turves Green, B31 Rubbish Removal Service

You can count on to make your home clutter-free and you won't have to break the bank to hire us. Although this may seem like a bold claim, we can back it up by more than a decade of experience in the B31 rubbish clearance business. It doesn't take much to make this your new reality, as you can call 0121 794 8242 and we will give more details on the potential ways we can do your Turves Green waste clearance quickly and efficiently. At Handy Rubbish we go toward a mix of equal parts quality service and low prices. Get a free estimate with no strings attached and we guarantee that our service won't set you back.
List of services we provide

in Turves Green, B31
Household Rubbish Clearance Turves Green, B31
Commercial Rubbish Disposal Turves Green, B31
Building Waste Removal Turves Green, B31
Garden Rubbish Removal Turves Green, B31
Electronic Waste Collection Turves Green, B31
Garage Clearance Turves Green, B31
Hire Our Trained Professionals

and Get a Flawless B31 Waste Collection Service

Waste removal Turves Green is serious business, especially as you have to be extra careful with some items that are dangerous to just abandon in the local tip. It takes understanding of the way these items degrade over time and our team has immense experience dealing with just that in B31 district. There are so many benefits you gain with us. Your items will be treated with due diligence and attention. We will pick up your items and will recycle whatever we can, minimising your carbon footprint and protecting the environment from potentially hazardous waste. Our prices are low and affordable, aimed toward clients of all walks in life. We can take care of most of your waste disposal B31 needs within the span of a single work day. What is more, we will send a team of fully-vetted experts who know how approach any job.
Why Do We Focus On

Turves Green Waste Clearance?

In a world where all companies are beginning to realize how bad global warming is getting every year, not to mention places like the plastic bag vortex in the middle of the Pacific Ocean, we understand just how much is at stake here. You can rest assured we will cover all your Turves Green waste collection B31 needs with attention to detail and will do our best to recycle more than 85% of the junk we take. Junk removal will still take place, but the majority of your discarded items will go to a recycling centre if that is possible. For more information call Handy Rubbish on 0121 794 8242 and we will gladly answer your questions.

Testimonials
Waste clearance in Turves Green was super efficient and barely cost anything. The most affordable service in B31! Thank you!
- Reviewed by John Morris
Finding Fun Places in Turves Green, B31

Turves Green is a residential area of Birmingham located on the boundary between West Heath and Northfield. One of the first things one notices when visiting the area is the incredible amount of green grass and pleasant surroundings as far as the eyes can see. This area was once known as a good grass green, a medieval term reserved for open land used for herding and pastures. This was the case with the Green up until the 1860s when the location started changing. Places worth visiting are St John the Baptist Church with its brick facade and great looks, Turves Green Girls' School and Turves Green Boys' School.


DO YOU NEED ADDITIONAL SERVICES?