Rubbish Removal

Tyseley B11

Do you have a load of old possessions cluttering up your property in Tyseley? Perhaps you work in an office in B11 and have just realised that you need to update some of your furniture and storage management systems? Out with the old and in with the new - that is what we say at Handy Rubbish. Give us a ring today and hire the top Tyseley, B11 waste removal services.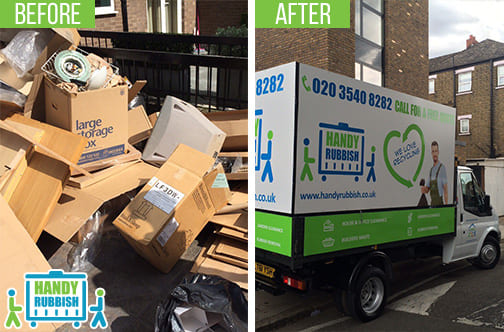 What we do
Where to find us
Like us
Book Cheap

Rubbish Clearance Service in Tyseley

If you need help to clear away the junk from your property and are looking for a professional Tyseley rubbish removal service, pick the right team of rubbish collection experts and the best specialised waste clearance solutions for your needs. Call right now on 0121 794 8242 for a free consultation.
Choose from Our Wide Range

of Tyseley Waste Clearance Services

If a waste clearance B11 service is what you're after, that's certainly what you'll get when you get in touch with Handy Rubbish. Whether you need a general rubbish removal service to clear away junk that's been accumulating in your property, or you need a more specialised B11 rubbish clearance service, such as one that takes care of the removal of building junk or garden waste, give us a call today! We'll be able to help you in many ways than one. We can also offer a same-day service, so you won't have to wait for your Tyseley council collection day. All your items will be removed in a safe and appropriate manner, so act now and call us on 0121 794 8242.
List of services we provide

in Tyseley, B11
Household Rubbish Clearance Tyseley, B11
Commercial Rubbish Disposal Tyseley, B11
Building Waste Removal Tyseley, B11
Garden Rubbish Removal Tyseley, B11
Electronic Waste Collection Tyseley, B11
Garage Clearance Tyseley, B11
Tyseley, B11 Rubbish Removal Carried Out
Easily and Professionally
We provide eco-friendly, fast and reliable waste disposal Tyseley services to people and companies in Tyseley B11. We differ from other junk removal companies in Birmingham, mainly because we really do care about the environmental impact of dumping your waste into landfill sites. That's why in an effort to minimise the amount of waste going to landfill, we ensure that your unwanted items will go to a specialist recycling facility. Your items will be reused for the benefit of others and for the environment without further contributing to the country's landfill problems. Hire a service from us and you'll be able to rest easy knowing your items will be put to good use.
Get a Free Quote

on the Top B11 Waste Disposal Services

To get your rubbish collected and recycled, contact our team and utilise our rubbish disposal Tyseley, B11. Getting started and booking with us is simple, and can all be kicked off by giving us a call on 0121 794 8242 detailing your requirements to our advisors and requesting a free quote. If you're happy with the quote – which we're sure you will be – simply arrange a time that fits into your schedule. We'll confirm everything and then take care of your rubbish removal chores. An easy, hassle-free and reasonably priced service - this is what you get if you hire us! Achieve freedom from junk and clutter when you call our team! Make use of our professional Tyseley waste collection B11 services and low prices today!


Testimonials
Fabulous team of rubbish clearance experts in B11, couldn't have asked for better service. Really helpful, very fast and cheapest rates in Tyseley, couldn't ask for more.
- Reviewed by Indy Sheen
Take a Look around Tyseley

Tyseley, situated in the southern half of Birmingham, was formerly a small woodland clearing, but is now a thriving industrial area, with many manufacturing companies and retail outlets based in the area, next to the Grand Union Canal - part of the British Canal System. A local attraction is the former railway museum, Tyseley Locomotive Works, inside the Great Western Railway's Tyseley depot. The railway station is the main mode of transport for people traveling from Birmingham into the capital and runs regular services on the Chiltern Main Line between London and Birmingham.


DO YOU NEED ADDITIONAL SERVICES?