Rubbish Removal

Ridgacre B32

It can be easy to amass clutter and rubbish in your home. As time goes by, you will be buying things, obtaining new goods and replacing items, and as you do, you will have items you no longer require. These unwanted goods will take up valuable space, add to cleaning work, will make relocations more difficult, make your abode look messy and much more. Getting rid of these items can be tough, but only if you don't have expert help. Get in touch with Handy Rubbish on 0121 794 8242 and you can hire a top team to assist with rubbish removal in Ridgacre B32. We can perform full waste removal and ensure a quick result.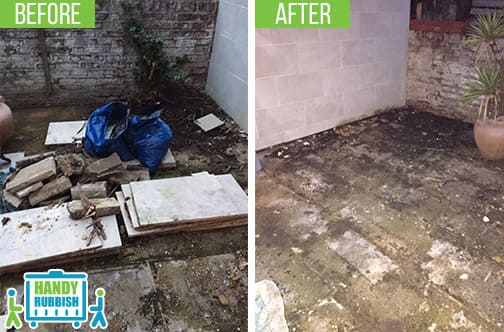 What we do
Where to find us
Like us
Book Cheap
Rubbish Clearance Service in B32
We are dedicated to giving you a fast, pleasant and thorough Ridgacre B32 waste clearance service. We can handle a wide variety of items. Whether it's rubbish, clutter or whatever, we will get rid of it for you. We will remove as many items from your property as you desire. Our team will be fast acting to get the goods from your building onto their vans. Our team will act carefully so that no accidents occur. Our waste removal B32 team will work alongside you and help to bag or break apart items if necessary. We will have everything shifted for your rubbish collection in no time, getting rid of the junk from your home or office once and for all.
Top Quality
Rubbish Disposal Services in Ridgacre, B32
When we take away your rubbish and clutter, we don't want to just throw it in a landfill or incinerator. We want to make your junk into new items or see them reused. This is why we aim to recycle over 85% of all the junk we collect from you. We work with various firms and organisations to ensure this is achieved. We make your Ridgacre rubbish disposal B32 green without any extra work or cost to you, so just by hiring us, you are doing your bit for the environment. We work hard to make eco-friendly Ridgacre waste collection possible, so we will take all steps, follow all laws and guidelines to make your junk into something beneficial. To find our more, call 0121 794 8242 today.
List of services we provide

in Ridgacre, B32
Household Rubbish Clearance Ridgacre, B32
Commercial Rubbish Disposal Ridgacre, B32
Building Waste Removal Ridgacre, B32
Garden Rubbish Removal Ridgacre, B32
Electronic Waste Collection Ridgacre, B32
Garage Clearance Ridgacre, B32
Help You Get Your Home into Shape with Our
Ridgacre Waste Clearance Services
Call anytime on 0121 794 8242 to discover what Handy Rubbish can do for you in terms of rubbish clearance Ridgacre solutions. Our call staff will talk you through the process, giving you advice and answering any questions. Once you are filled in, we will offer you a free waste clearance quote. You can freely select what you want us to do for you in B32, how much rubbish has to be collected, when and where you want us to work, etc. and then your estimate will directly reflect this and we'll charge accordingly. You will always know everything, including the price, upfront, and you can get the deal most appropriate to your needs and budget. We can help with any junk or clutter in Ridgacre, so call now for a top waste disposal B32.

Testimonials
Loved the way they managed my waste removal in Ridgacre B32! The price was low and the service was definitely worth it!
- Reviewed by A. Beck
Learn Something about Ridgacre

Ridgacre is part of Quinton in the west portion of Birmingham. It is near Harborne, Bartley Green, Black Country in Warley, with the M5 motorway separating it from Halesowen. Ridgacre is the old name of the east portion of today's Quinton. Old Quinton contains the Christ Church, which has a spire that acts as Birmingham's highest point. Woodgate Valley Country Park is the largest open space in the area and the Bourne Brook passes through it. The population stands at around 23,000, with most people living in housing in the Ridgacre Estate. There are several schools and a library here, and two local football teams represent the area.


DO YOU NEED ADDITIONAL SERVICES?