Rubbish Removal

Driffold B73

Handy Rubbish has what you need to make your Driffold rubbish removal B73 a reality today. We focus on providing the best customer service by approaching the task with your individual needs in mind. We offer top-notch Driffold waste clearance service with professional attitude and attention to detail. We operate around the Driffold, B73 area and beyond. We have teams well trained in handling items large and small, from appliances that get in the way to large pieces of furniture you are struggling with; we can do it all no matter how hard it seems to you. Just give us a call at 0121 794 8242 and let us deal with it! Book now and you will have the chance to benefit from one of our special offers!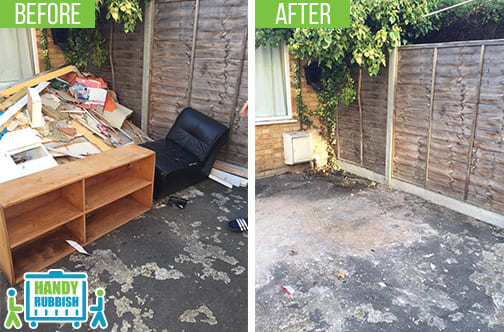 What we do
Where to find us
Like us
Book Cheap
Rubbish Clearance Service in B73
We have many years of experience under our belt working on rubbish clearance in Driffold, so you can count on us to provide you with what you need. We are the preferred choice when it comes to the Driffold B73 waste removal services, as we have what you need and more. Make a call on 0121 794 8242 and we will give you with a free quote based on the information you provide us with. Share the details of your job and we will offer you a price that cannot be beat!
We Provide Nature-friendly
Waste Disposal Services in Driffold, B73
We make this claim because we are a reputable company with a wide range of services and clients. We have what it takes to pull off the job without endangering the environment. To protect the environment we work on the job at hand in various ways, taking our time to ensure recycling is a priority above all and that we find a new purpose for your discarded items, instead of simply throwing them away at the nearest tip. We believe in waste recycling, so we do our best to ensure we prioritise it as much as the environment itself. We do this because we care, not because we want to charge the earth. Recycling is part of our waste collection B73 service - without any increase in prices.
List of services we provide

in Driffold, B73
Household Rubbish Clearance Driffold, B73
Commercial Rubbish Disposal Driffold, B73
Building Waste Removal Driffold, B73
Garden Rubbish Removal Driffold, B73
Electronic Waste Collection Driffold, B73
Garage Clearance Driffold, B73
We Offer Reliable and Cost-effective
Driffold Waste Collection Services
You can really avoid the hassle by working with us, as we will provide you with an affordable waste disposal Driffold B73 at a low price. It is as simple as calling 0121 794 8242! We offer great value for money and a money back guarantee if you are not fully satisfied with our service. Call us now as you have nothing to lose! Handy Rubbish has what you need anywhere in Driffold, B73 and beyond. We offer affordable services, but they are also professional and reliable. Unlike other Driffold rubbish disposal companies we never compromise on the quality of service we deliver. You can call us for a free quote anytime you need one and we will be there to provide what you need within a few short hours. We can take all waste off your hands and give you a chance to relax. Book now and say goodbye to your rubbish disposal chores!

Testimonials
A friend recommended your service and rightly so! I didn't expect to be quite so impressed by a local waste clearance service in B73, but I really was. Best prices in Driffold, great service and so quick, can't believe I waited so long to call.
- Reviewed by Jim Friend
Spending Time in Driffold

Driffold is a small locality in Sutton Coldfield. It is part of Sutton Park located near Wyndley Pool. Driffold has a lot to offer to those willing to live in the area. Its name potentially comes from the practice of performing a so called drift when it comes to livestock grazing on common land. Hunting rights in the area were held by the Earl of Warwick from 1126 onward. The area was enclosed in a seven mile long ditch with a lopped palisade, keeping it isolated for hunting purposes. One can still see many areas around Sutton Park where the banks and ditches of the deer park can still be witnessed. Speaking of the park, it happens to be a wonderful place to relax and unwind from your daily troubles.


DO YOU NEED ADDITIONAL SERVICES?