Rubbish Removal

Woodlands TW7

Waste collection in Woodlands, TW7 shouldn't cause you stress financially. We understand that the current financial times are difficult, so to lend you a helping hand we have put in place many flexible deals to bring you the best value for your money.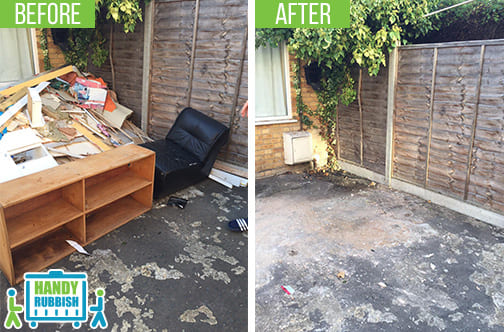 What we do
Where to find us
Like us
Book Cheap

Rubbish Clearance Service in Woodlands

With us you will be getting the best possible deal on Woodlands rubbish disposal compared to the rest in TW7. You can save money by booking with us due to our skilled team and our quick action. The recycling act is furthermore free, you can cancel at any time and we offer also free quotes. To find out about our low prices which will ultimately protect your savings, speak to one of our members on our team.
Perfect

Woodlands, TW7 Rubbish Removal Team

With top quality rates and several professional years in the business, you needn't look any further than us for your TW7 rubbish removal services. If you are currently harboring rubbish of all sorts, no matter how big or small the lump may be, we at Handy Rubbish are glad to take the problem off your hands! We provide the best value in the business, and we also provide deals and quality which our competitors simply cannot live up to. Book with us for cheap waste removal Woodlands and will we take care of you first and foremost. So act now and get on the phone by calling 020 3540 8282. We even offer free estimates and cancel any time policy!
List of services we provide

in Woodlands, TW7
Household Rubbish Clearance Woodlands, TW7
Commercial Rubbish Disposal Woodlands, TW7
Building Waste Removal Woodlands, TW7
Garden Rubbish Removal Woodlands, TW7
Electronic Waste Collection Woodlands, TW7
Garage Clearance Woodlands, TW7
How Our TW7 Waste Disposal Will Also
Protect the Environment
Many people seek other, damaging ways to dispose of their rubbish. Such acts damage the environment and can even sometimes be illegal. The protection of the environment is one of our main causes, and so by booking Woodlands, TW7 waste disposal with us, you are doing your bit for the environment. We have many ways to serve both the environment and you our customer. At Handy Rubbish we take the junk from you and place it in recycling centres – 85% of your junk, in fact, has been recycled in the past. Furthermore, there is no junk which we can say no to, whether it is green waste or builders' waste. Hire our Woodlands rubbish clearance service and we will be happy to take all. So act now and secure your booking by calling 020 3540 8282 today.
Our Woodlands Waste Removal Team is
Comprised of Experts
The customer is always number one, and to prove it, we make sure we provide you with the best that we have on offer. The best we have on offer is our qualified workforce, who has taken care of many homes and commercial properties in the past. Each member of our current team has undergone numerous background checks and the extensive company training to ensure that they are exactly what you need. You can depend on our team, and you can ask anything of our team – it's that simple. Make us of our waste disposal in Woodlands and you can expect nothing but the best. Call today for a free quote on your Woodlands waste clearance TW7 on 020 3540 8282 and book now!



Testimonials
Never thought that a waste clearance company can make me this happy! They took care of all the hard work in Woodlands and I am pleased with the price I got. Never heard a bad word about them in TW7 and I don't think I will anytime soon. Thank you so much!
- Reviewed by Mary N.
Some Important Things Worth Noting in Woodlands

Situated in the London Borough of Hounslow, this area is a small, rural area comprised of small neighbourhoods. The area is placed east of London city centre within the greater London area. The town receives its name from its past rural nature – it was once an area known for its woods, orchards and so on. These days, the area keeps some of its rural nature, and it now features many semi-detached housing estates. The area offers the Woodland Tavern public house and there is also an organization called WERFA, which has a community hall and it is comprised of local members. Nearby areas are Isleworth, Spring Grove and Hounslow.


DO YOU NEED ADDITIONAL SERVICES?