Rubbish Removal

Blackfen DA15

If you find yourself in Blackfen with lots of junk and clutter that needs to be removed, then we can help. We at Handy Rubbish are experts in rubbish removal DA15 and we can be hired with one phone call to 020 3540 8282. We are an elite firm that specialises in waste collection jobs. We can come to your property at any time and handle the work for you. Our team with years of experience will carefully collect every item and take it away to be disposed. Whenever you need us for your rubbish clearance Blackfen DA15, we can be there for you.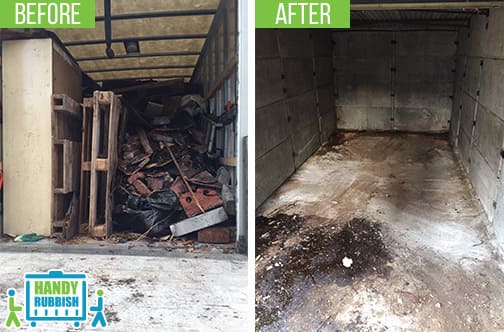 What we do
Where to find us
Like us
Book Cheap
Rubbish Clearance Service in DA15
Call anytime on 020 3540 8282 and you can get our help with the house clearance or any other Blackfen DA15 waste removal job you face. We can collect and dispose of a wide range of goods, so no matter what you have, we can deal with it. Our team will come when you need and bring everything they require. They will carefully shift the junk from your home and move it safely onto their vehicles. Our Blackfen waste clearance team will work with you so that the correct items are taken and that no damage comes to your abode. They will work swiftly and have all the junk out of your life without you needing to do a thing.
Environmental Friendly
Waste Clearance in Blackfen
As we collect many goods as part of our rubbish disposal Blackfen, we are determined that as much of them be recycled as possible. We know the negative impact that carelessly dumping junk can have and are very serious in making sure we recycle as much as possible. We will work with local sites and organisations to ensure that this is achieved and that everything is disposed of correctly. We will do all of this work for you and so you never have to do anything extra in order for us to recycle your goods. Our Blackfen DA15 waste disposal service will do this in a number of ways, so whatever we collect from you, we will recycle it if possible.
List of services we provide

in Blackfen, DA15
Household Rubbish Clearance Blackfen, DA15
Commercial Rubbish Disposal Blackfen, DA15
Building Waste Removal Blackfen, DA15
Garden Rubbish Removal Blackfen, DA15
Electronic Waste Collection Blackfen, DA15
Garage Clearance Blackfen, DA15
Giving You Expert
Blackfen Rubbish Removal Services
To get the best deal on your Blackfen waste collection DA15 call right now on 020 3540 8282. Hiring Handy Rubbish will ensure that you get the best waste disposal support in the area and that the job is done quickly. Over the phone, we will go into detail about the services we offer and how they help you. We answer any questions and give you all the relevant info. You can book our service using a free quote so that you can get the exact support you need and know the prices in advance. Getting a quote is not a commitment, so you can pass on an offer and get one better for you. We guarantee the best prices and services for your waste collection, so contact us now.
Testimonials
If you are looking for rubbish removal help in DA15 try these guys!
This Blackfen DA15 rubbish removal service is a top option and I would recommend to anyone.
No problem with this company. Their rubbish collection experts jumped right in and took care of it all with little input from us, which we appreciated. Can't say enough about their professionalism and timely arrival to DA15.
Great waste disposal in Blackfen DA15! Excellent pricing! Highly recommended!
A Bit about Blackfen

Blackfen is a residential area of South East London and a part of the Borough of Bexley. It lies north of Sidcup. There are two churches in the area, the Catholic Our Lady of the Rosary and the Anglican Holy Redeemer. There are several pubs here too, including the Woodman and Jolly Fenman. Blackfen Library can be found in Cedar Avenue. There are two main shopping areas in town, at Blackfen road and the Oval respectfully. The River Shuttle flows through the area and there are several parks and a conservation area. The nearest railway station is in Sidcup.



DO YOU NEED ADDITIONAL SERVICES?