Rubbish Removal

St Luke's EC1

It's a fact of life that over time we all accumulate things we no longer need. Sometimes it is stuff that we don't use anymore, other times it is junk or rubbish. Often we leave such things to build up and before you know it, you've got a whole attic or spare room full of rubbish and no idea what to do with it. That's where we come in. At Handy Rubbish, we are trained in the art of St Luke's, EC1 rubbish disposal, and when you call us in, we will take care of all your garbage in St Luke's without a problem.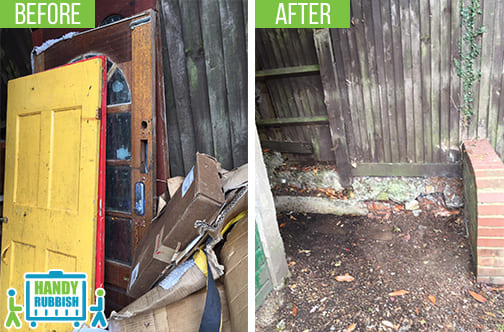 What we do
Where to find us
Like us
Book Cheap

Rubbish Clearance Service in St Luke's

Call us today on 020 3540 8282 to see how we can help with your St Luke's rubbish removal. For most people having a loft is a blessing from above - extra space to store all that junk you don't need is great. Until one day you need to clear it out or move house. Suddenly, it's more of a burden than a blessing. But don't try and deal with this burden alone. Call us on 020 3540 8282 now and one of our team members who have tons of experience in EC1 waste clearance will be there in a flash. We will do all the heavy lifting and disposal for you. That's one extra thing you don't need to worry about.
The Easy Way

to Cope with Your Waste Removal in St Luke's, EC1

Keeping your garden in EC1 neat and tidy is tough at the best of times, but it is even harder if anytime you do anything outside you end up with a pile of rubbish to deal with. But with our garden waste disposal St Luke's, you never need to worry about this again. We can be there to clear away your garden rubbish almost as soon as it appears. This way, you can always enjoy your garden the way it should be – rubbish-free, and soon you'll have so much space you won't know what to do with it all.
List of services we provide

in St Luke's, EC1
Household Rubbish Clearance St Luke's, EC1
Commercial Rubbish Disposal St Luke's, EC1
Building Waste Removal St Luke's, EC1
Garden Rubbish Removal St Luke's, EC1
Electronic Waste Collection St Luke's, EC1
Garage Clearance St Luke's, EC1
We Can Provide You with
the Greatest

EC1 Rubbish Removal

Building projects are notorious for creating a lot of waste. It's also typically waste that isn't easy to dispose of; often local tips won't accept it without permits. That is why we provide a specialist service for all forms of builders waste removal EC1. We have the necessary skills and qualifications to ensure your building waste is disposed of safely and legally, and without you having to do anything but call us. We are the easy solution to your waste removal needs, and often the cheapest one too. Find out how we can help with a quick call to our booking team.
If You Need Help

with Your St Luke's, EC1 Waste Collection

At Handy Rubbish, we provide not only the best St Luke's, EC1 rubbish clearance service, but also the best value services. We offer great rates and a wide range of junk removal packages, so you could pay nothing until the job is done, or grab a great rate and pay upfront. We want to make life easier for all of EC1 residents so our St Luke's waste collection EC1 service is efficient and professional and our payment options are numerous and flexible. Call us anytime on 020 3540 8282 to see what we can do for you, and how little it could cost.

Testimonials
The rubbish removal team I hired the other day was a great, hard-working crew – I was happy having them work in my EC1 property. They also offer the best value for money in St Luke's! An all-round top-notch service!
- Reviewed by Rob B.
St Luke's Local Attractions
Tucked away in the Islington area of London, St Luke's is just a stone's throw away from many notable attractions such as the Barbican which hosts a variety of events, and houses many great restaurants, and Shoreditch which is quickly becoming one of the trendiest places to be. But EC1 also has a lot to offer itself with the wonderful Whitecross Street Market, which dates back to the 17th Century, as well as a grand concert hall often used by the London Symphony Orchestra for their rehearsals. St Luke's is served by Old Street tube station which offers a quick and easy way to the centre of the capital.


DO YOU NEED ADDITIONAL SERVICES?