Rubbish Removal

Queensbury HA3

Keeping your house clean and tidy is a great way to keep your life calm and stress-free. There is nothing better than getting home from work to a tidy and clean house, so doing rubbish removal in HA3, Queensbury, you can have a relaxing home which is much easier to keep dust free and looks so comfortable. Whether you need our clearance services to help you out, or whether you just want simple waste removal Queensbury, it is amazing how much of a difference our services will make to your home. Often, it can seem extremely daunting to do HA3 waste disposal alone, but with the help and advice of our friendly team, it doesn't have to be the horrible task it once was.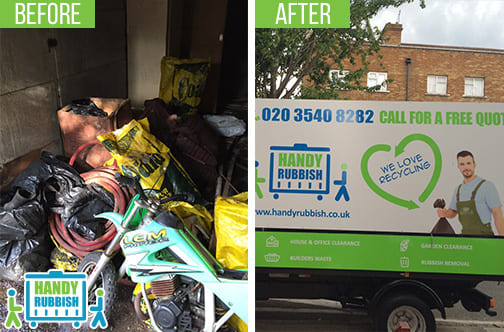 What we do
Where to find us
Like us
Book Cheap

Rubbish Removal Service in HA3

Thinking about where to start with your clear out can often be one of the hardest parts of having a sort out. The task can just seem so big and impossible to handle, but once you break down that barrier, the whole thing becomes much easier. It is often simply to start with general Queensbury rubbish disposal to get rid of any actual rubbish that is clogging up your home. This could be out of date magazines that you no longer need and so on. For our help with your home, call Handy Rubbish on 020 3540 8282 today book a waste removal Queensbury service.
Hiring Queensbury
Waste Clearance Services
We can also assist with waste collection in Queensbury, freeing up a lot of space and generally making your home look clearer, while helping out the environment too, by doing recycling - a win-win situation. These are just two of the positives of hiring out our services, your home will be tidier and the process is stress-free for you. Not only will we help you inside your home, but we can also help with waste clearance HA3 to make your garden look its best too. There really is nothing greater than having a house and garden that you're proud of.
List of services we provide

in Queensbury, HA3
Household Rubbish Clearance Queensbury, HA3
Commercial Rubbish Disposal Queensbury, HA3
Building Waste Removal Queensbury, HA3
Garden Rubbish Removal Queensbury, HA3
Electronic Waste Collection Queensbury, HA3
Garage Clearance Queensbury, HA3
Get Great Deals

on HA3 Rubbish Disposal Services

As a company, ensuring our customers are happy inside and outside of their home is very important, so this service helps us to achieve that. If you are planning a big clear out, rubbish clearance in HA3 can be a good idea to get rid of all the rubbish. If you hire us, we can help with this, along with other tasks such as obtaining a skip permit Queensbury. If you like our help in your home, call Handy Rubbish on 020 3540 8282.

Testimonials
The most cost-effective waste clearance service in Queensbury HA3!
- Reviewed by Jason
About Queensbury
Queensbury can be found in North West London, and is in the London Borough of Harrow, on the border with the Borough of Brent. The area is split by postcode districts, the area around Queensbury tube station is in the HA postcode district, whereas the rest of Queensbury is in the NW postcode area. Places near Queensbury include Burnt Oak, Edgware, The Hyde and Stanmore. Surrounding postcode areas include HA8, W2, NW9 and HA7. Queensbury really came into existence because of the tube line, and so because of this, much of the housing, shops surround the tube. The station was even sited in a song by Paul Bonin and Melanie Hickford, both of who lived in Queensbury, when they were young. Facilities in the area include a post office and shops, but the area is mainly housing. People can easily travel in and out of the city to Queensbury, making it a popular area for commuters to live in.


DO YOU NEED ADDITIONAL SERVICES?