Rubbish Removal

Kingstanding B44

Are you looking for a reliable rubbish removal service in Kingstanding, B44? Are you looking for an average service that just does what it says on the tin and no more? Or are you looking for an outstanding service that can't be beaten in all of B44? If the answer is the second one then you need Handy Rubbish.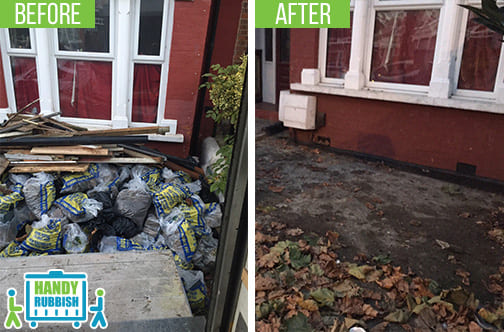 What we do
Where to find us
Like us
Book Cheap

Rubbish Clearance Service in Kingstanding

When it comes to offering the very best waste disposal B44 service we really are the cream of the crop. Our team have been doing this for years so they know what they're doing, but more importantly, when you book with us you'll see that we always put our customers first. We don't waste your time or your money, we do what you need when you need it.
It's Not Just

Any Old Kingstanding Rubbish Removal

When people come to us it's usually because they need some help with Kingstanding waste removal, which we are happy to do, but often they don't realise that we also offer so much more. We can provide a complete house or office clearance, junk removal or regular rubbish management. Our B44 rubbish disposal services are extensive, but that's not the only reason to book with us. We also offer the best rates in all of Kingstanding, B44, a tailor made service based on your needs and excellent availability including same day service where needed. Find out mpore about our quick and easy booking system and a free quote when you call 0121 794 8242. Get an on-going support via telephone or e-mail in case you have any questions.
List of services we provide

in Kingstanding, B44
Household Rubbish Clearance Kingstanding, B44
Commercial Rubbish Disposal Kingstanding, B44
Building Waste Removal Kingstanding, B44
Garden Rubbish Removal Kingstanding, B44
Electronic Waste Collection Kingstanding, B44
Garage Clearance Kingstanding, B44
Love the Environment

, Love Our B44 Waste Clearance Service

We should all be doing our bit to keep our planet healthy, but we do understand that there are a lot of things that can make this tricky to do. Even with the best intentions it's hard not to buy materials that end up in a landfill, and often finding ways to recycle is much harder than it should be. That is why when you call Handy Rubbish on 0121 794 8242 to inquire about our rubbish collection service, we give you our word that part of that service will include recycling everything we can. For our rubbish removal service all you need to do is get in touch and set up an appointment. Then we will come and do the waste collection Kingstanding and we'll separate the recyclables for you.
Unrivalled

Waste Removal in Kingstanding, B44

If you are wasting time and money either hiring expensive Kingstanding, B44 rubbish clearance companies or doing the job yourself then the time has come to put a stop to it. Our expert services are intentionally designed to offer the very best service while seeing prices cut in half compared with other firms. We believe in doing things the right way, and that includes saving our customers money on essential services like rubbish collection. Don' waste any more of your hard earned cash today, instead call 0121 794 8242 and talk to the experts about the easy way to save money on your rubbish in Kingstanding, B44. Our Kingstanding waste clearance B44 services are the best and our prices won't be beaten; that we guarantee.

Testimonials
They went above and beyond to deliver a flawless rubbish clearance in Kingstanding B44! Affordable and hard-working!
- Reviewed by Edgar
The Delights of Kingstanding

Witton Lakes is probably one of the biggest draws of the area offering local leisure amenities to locals and tourists. Also popular in the area is the Perry Barr Reservoir, and the Kingstanding swimming baths. With so much physical activity available there are also two local libraries for those of more academic persuasion: Perry Common Library and Kingstanding Library. The area is easy to get to via bus or train, and with quick links into the main city it really does offer the best of both worlds. For a fun time relaxing and playing it can't be beat.



DO YOU NEED ADDITIONAL SERVICES?