Rubbish Removal

Old Oscott B44

Old Oscott residents have no excuse for slovenliness with a premier rubbish removal B44 company in town. Homeowners and business owners are encouraged to take advantage of our waste clearance services which are second to none. When you phone Handy Rubbish on 0121 794 8242 for a friendly chat about our offering, there is no obligation required hiring us at all. We want our customers to be happy, so if you aren't happy we can satisfy your request, we'll never push for a sale. Our friendly office administrators will simply talk you through our waste disposal B44 and leave the decision in your hands as to whether you want to go ahead (we're confident you will)!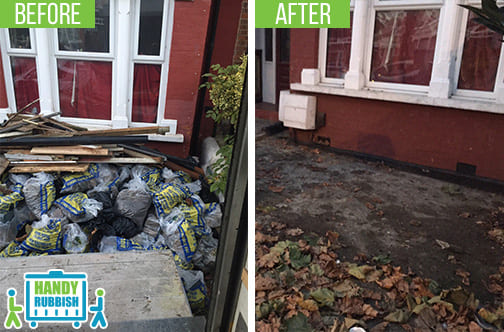 What we do
Where to find us
Like us
Book Cheap
Rubbish Clearance Service in B44
As Old Oscott B44 rubbish clearancel company we are mindful of the harmful impact our waste collection activities could have on the environment if we didn't take great care with our recycling practices. Our customers can rest assured that we take our duties very seriously and never compromise on our ethical and moral obligations of recycling as much waste as we can. We take great pride in our green processes which allow us to be proactive in helping the natural world. We sift, sort and reuse as per the industry guidance we follow, giving back almost as much as we take from the trash heap. By hiring our Old Oscott waste removal services, our customers are doing their bit for the planet too.
Our
Waste Clearance Services

are Highly Prized in Old Oscott, B44

Who wants to live in a mucky house? Or look at a garden strewn with litter? If your general household waste bins are overflowing with rubbish, it's time to call in the professionals on 0121 794 8242 to remove that messy albatross from around your neck. By hiring our rubbish disposal Old Oscott experts your property will be more spacious and hygienic. Don't be the one household in the neighbourhood that's the talk of the street for all the wrong reasons. It's your responsibility to keep your personal space free from unsightly litter, and our job as Old Oscott waste clearance B44 firm is to help you do it the right way.
List of services we provide

in Old Oscott, B44
Household Rubbish Clearance Old Oscott, B44
Commercial Rubbish Disposal Old Oscott, B44
Building Waste Removal Old Oscott, B44
Garden Rubbish Removal Old Oscott, B44
Electronic Waste Collection Old Oscott, B44
Garage Clearance Old Oscott, B44
Make the Right Choice by Picking Our
Old Oscott Waste Disposal

Company

Handy Rubbish are proud to serve the local community and do so with a competitively priced rubbish clearance package and a positive attitude to waste management. Our waste collection Old Oscott B44 is unbeaten on price and quality, with our on-site experts ready to tackle their next job. Act now by phoning 0121 794 8242 and receive a free estimate today. You'll be surprised at what we deliver at a fair price that is designed to cater for even the tightest household budget. We never compromise on quality, and put customer satisfaction at the top of our priority list. If you're happy, then we're happy. And a happy business is a productive one!

Testimonials
Their prices for rubbish removal in Old Oscott were cheaper than those offered by other companies in B44.
- Reviewed by F. Young
Educating the Locals

Historically, Oscott was a hamlet in the ancient parish of Handsworth in the north east part of Perry Barr. Old Oscott was rich with religion, with Christians and Anglicans professing their faith. Father Andrew Bromwich set up a Roman Catholic Mission to the Midlands on Old Oscott Hill. Today, the unassuming Grade-II Listed St Mary's Institute stands proud and provides a peek into the past. The building was used as a college for boys and ecclesiastics. A little later Maryvale Roman Catholic Orphanage was opened which featured a schoolroom for its residents. The educational establishments continued to expand as the number of local school children increased.


DO YOU NEED ADDITIONAL SERVICES?