Rubbish Removal

Harborne B17

Harborne rubbish removal B17 will never be a problem with Handy Rubbish on the job. When somebody does need waste removal services, we are ready to take on the job, no matter how big or small the challenge is. We will provide prompt services that will see Harborne rubbish clearance handled expertly, without any hassle, and at excellent prices that will fit in any budget. We do not seek to impress, we want to do the job we are hired to do. And that is exactly what will happen once you call 0121 794 8242 and request our help. Call us now and ask for your free quote.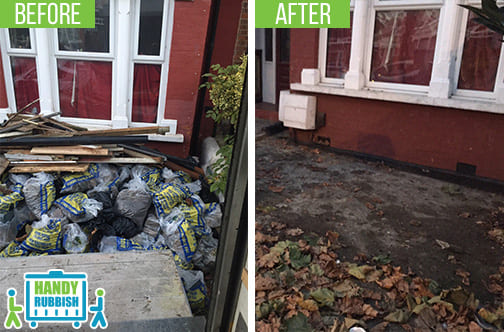 What we do
Where to find us
Like us
Book Cheap
Rubbish Clearance Service in B17
The B17 area is a home to quite a few waste collection Harborne companies, and they have a lot to offer, but we take everything they have and we offer it to you in one efficient package. We have all the services they do, but better. We have better collectors, and we have better prices. Our 24/7 customer service is available even on weekends and bank holidays. Our Harborne B17 waste removal services are the best to clients of all budgets. Call us on 0121 794 8242 and we will we provide the best workers in the area who will deliver you the greatest results. That's guaranteed!
Efficient and Expeditious
Waste Removal Services in Harborne
When we provide rubbish disposal services in B17, we make sure that the service we give is of the utmost quality. This is one thing we do not compromise on and we make it a point to always give our best for our customers. Waste disposal Harborne B17 you receive from us will be done in a speedy and efficient manner, and, best of all, it will be green. Yes, we are an eco-friendly company which does go the extra mile in the name of nature. We stray from the ways of pollution and everything we collect from you will be sent to a recycling centre where we will leave every single piece of recyclable rubbish. The landfill is only a last case scenario.
List of services we provide

in Harborne, B17
Household Rubbish Clearance Harborne, B17
Commercial Rubbish Disposal Harborne, B17
Building Waste Removal Harborne, B17
Garden Rubbish Removal Harborne, B17
Electronic Waste Collection Harborne, B17
Garage Clearance Harborne, B17
Best
Harborne Waste Clearnce

Deals

When you make use of waste clearance Harborne services we offer, you guarantee yourself 100% customer satisfaction. Handy Rubbish always works toward that particular goal and we will achieve it every time we are on the job. Our waste collection is thorough and prompt, we offer great attention to detail, and we always have exclusive offers which will make the services affordable to every customer in need of them. With our deals you guarantee yourself a job well done and a way to save money on clearance services. We will help however we can and we will help whenever you need us to. Call us now on 0121 794 8242 and tell us how and when we can be of service.

Testimonials
I loved their waste collection service in Harborne! I got a five star service at low cost! Their team were a delight to work with. I'll definitely be keeping their contact information handy should I need one of their services in B17 again!
- Reviewed by Emma
Visit and See Harborne

Harborne is located in southwest Birmingham. It was once a parish which consisted mostly of plantations and woodland. It received its suburban development in the early 19th century and today it boasts with quite the housing options for the area. It houses a lot of Mitchell & Butlers pubs, such as the White Swan, Green Man, and the Junction. There you can find two popular churches – St Mary's and St Peter's Church. And if you want to rest or a walk in nature, then you have the Harborne Reserve and the Moor Pool garden suburb.


DO YOU NEED ADDITIONAL SERVICES?