Rubbish Removal

Northfield B31

Want experts in Northfield, who are you going to call? If that's a question that's been plaguing you then we have the answer. Handy Rubbish is your local Northfield rubbish removal company, covering the whole B31 area supplying a wide range of waste collection services designed to make your life easier.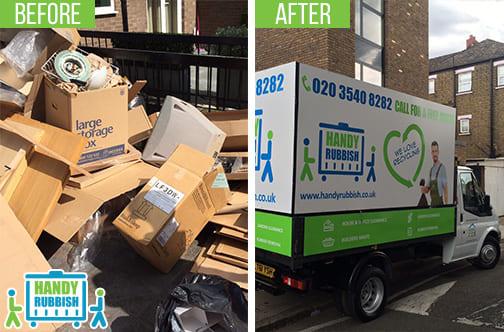 What we do
Where to find us
Like us
Book Cheap

Rubbish Clearance Service in Northfield

We have experts in every different aspect of B31 waste removal, so whether it's a question about gardening junk, building waste or anything else, we not only have the answers but a great team of professionals who can deal with it for you. If you want to treat yourself to the best service in town with the lowest prices around then call 0121 794 8242 and speak to the experts today.
We Don't Just Do Household

Rubbish Removal Northfield, B31

A lot of people don't realise the wide range of expert services that we offer here at Handy Rubbish. Most just assume that all we do is basic waste collection in Northfield, B31 but in fact we do so much more as house clearance - we can remove old furniture, general waste or even old carpets. We also offer waste disposal Northfield - when you have a build-up of unwanted junk call us and we'll dispose of it no problem! What about garden waste - one of the most difficult things to deal with, get us on the case! When it comes to office clearances - moving in or out, we'll clear your office in a flash! And don't forget about building waste - it's easy to create and we make it easy to dispose of.
List of services we provide

in Northfield, B31
Household Rubbish Clearance Northfield, B31
Commercial Rubbish Disposal Northfield, B31
Building Waste Removal Northfield, B31
Garden Rubbish Removal Northfield, B31
Electronic Waste Collection Northfield, B31
Garage Clearance Northfield, B31
The Ultimate

in Northfield, B31 Waste Removal

Far too often we take the environment for granted, throw waste in the landfills instead of recycling it but not here with us because we believe that recycling is everyone's responsibility. But we also know that not everyone has time to do it so when you call us in for your Northfield, B31 rubbish disposal then we will do the recycling part for you. All you need to do is give us the waste to dispose of and we will rifle. We will make sure that we get rid of all the recycling stuff and take it to the relevant places. That means recycling, reusing or donating to local charity to make sure nothing goes to waste. Call 0121 794 8242 to see how we can help you.
Simple Prices and Excellent Savings

with our B31 Waste Disposal

No one wants to be confused by the prices they're expected to pay for a service. If you don't know how much you're paying then it can cause anxiety and frustration when the bill finally comes along that's why we make the process extremely simple. When you hire us for a waste clearance B31 job we will tell you exactly how much it will cost with your free estimate but even better than that - you will find that it will be much cheaper than any other local Northfield rubbish clearance B31 service. If you don't believe us then call now on 0121 794 8242 and will tell you just how much you can save. You might not believe our prices, but they are real.

Areas We Cover:

Testimonials
Had them clear out my attic in B31 and received a remarkable waste clearance in Northfield! Paid a fair price! Will use them again!
- Reviewed by M. Irving
Ready to Shop in Northfield

One of the prime reasons for visiting the area is the local shopping options available in Northfield Shopping Centre, it has all the essentials and much more. This is closely followed by the annual carnival held in the area in early July. Visiting it couldn't be easier thanks to the brilliant transport links which include a dedicated rail station, and a number of local bus routes ready to take passengers virtually anywhere. With ex-residents that include George Cadbury (of the chocolate fame) and attractions such as Northfield Manor House and Northfield Baths there's more than enough to keep the whole family happy.


DO YOU NEED ADDITIONAL SERVICES?