Rubbish Removal

Stirchley B30

We are glad that you're considering booking Handy Rubbish to take care of your Stirchley B30 rubbish removal requirements. We don't want to toot our own horn, but we're the biggest and one of the most successful and most sought-after Stirchley rubbish disposal companies around. Hiring our experts to carry out work in your property won't come at any risk to you – it will only alleviate your stress levels because our waste clearance B30 experts will take care of everything quickly and easily, leaving you to sit back and relax. Don't break your back when you have us in the vicinity. Contact us today on 0121 794 8242 for a free estimate.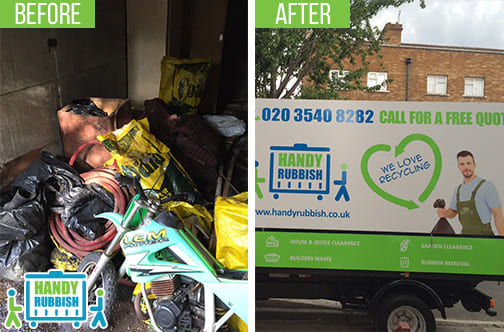 What we do
Where to find us
Like us
Book Cheap
Rubbish Clearance Service in B30
As a leading company, we understand that Stirchley rubbish clearance B30 can be a real headache, and whether you are a business – small or large – or you own a house in B30, you'll always be able to benefit from some expert help. That's where our property clearance team come in. At Handy Rubbish we only hire the best waste collection workers who are competent and skilled – then we train them up further so they're able to tackle all sorts of jobs. Building junk and garden waste clearances are just a couple of the more specialist Stirchley waste collection services that we provide – but rest assured we'll be able to cater for all of your specific requirements. Call anytime on 0121 794 8242 for more information.
Reliable
Waste Removal Solutions in Stirchley
From the moment you first contact our team, you're putting your trust in a company that takes eco-friendly waste removal Stirchley B30 very seriously. We see it as our duty to do our bit for the environment because we certainly don't want to contribute to global warming and other such environmental problems that can just as easily be avoided. Therefore, when we remove your unwanted garbage, it won't be going into a landfill site. We recycle whenever possible – everything geared towards making your local area, and city as a whole, clean and beautiful. We're here to do all the hard work in an environmentally-friendly manner. Call us on 0121 794 8242 and let's get started.
List of services we provide

in Stirchley, B30
Household Rubbish Clearance Stirchley, B30
Commercial Rubbish Disposal Stirchley, B30
Building Waste Removal Stirchley, B30
Garden Rubbish Removal Stirchley, B30
Electronic Waste Collection Stirchley, B30
Garage Clearance Stirchley, B30
Save Money and Get Great Deals by Booking Our
Stirchley Waste Clearance Services
Rather than having an unsightly skip sitting outside your property, or paying a huge amount of cash for someone to come to help, contact us and let our waste disosal Stirchley experts give you a helping hand. We offer, what many people think, are the ideal services. Ideal because they are top-notch in terms of their standard and quality of service, and because they're available at some of the lowest rates in the industry. You won't find prices like ours anywhere else – many people think that our prices don't reflect the standard of service, that they're too low when put together with what's being offered, but we've designed a pricing strategy that works. Call now to find out more!

Testimonials
No idea how you manage to do what you do but offer such affordable prices for rubbish disposal in Stirchley. But however you do it, keep on doing it, B30 needs you!
- Reviewed by Kelvin Scoone
The Community Hub of Stirchley

For the residents of Stirchley in the south west of Birmingham, restoration work and new residential developments have brought the area into the 21st Century. The effects of modernisation are evident with new buildings such as the cinemas Picturedrome, Empire and pubs, the Three, Horseshoes, in amongst the Victorian terraced houses. There are also plenty of open spaces in Stirchley – a far cry from the centre of Birmingham – such as the pocket park of Stirchley Park, Ten Acres Park and Holders Lane Playing Fields – on the site of the famous ancient Farmons Mill.



DO YOU NEED ADDITIONAL SERVICES?