Rubbish Removal

Harold Park RM3

Rubbish clearance in Harold Park is something that many of us consider over a period of time when we become busy with our lives. London living is something that often rushed and hectic as well as stressful and we don't always have the time to be able to do all our cleaning in our house. Waste removal RM3 is something that we often start to find necessary because many of us, by nature, hoard things such as furniture and other small belongings, which when piled up, make our house look like a mess.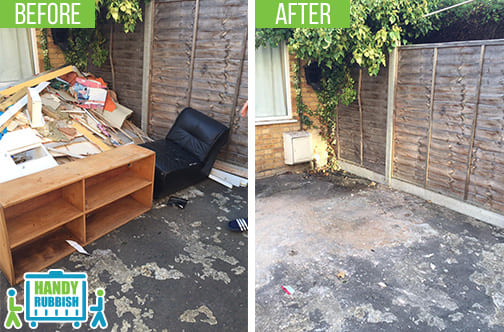 What we do
Where to find us
Like us
Book Cheap

Rubbish Clearance Service in RM3

House clearance services often become a last resort, and if you're at that point in your place, where you require a company to be able to help you, then Handy Rubbish is the perfect choice for you! With over a decade in experience when it comes to rubbish removal in Harold Park, RM3, we offer a quick and efficient service to be able to restore your house back to its original state!
Harold Park Rubbish Clearance Services:
Available to Hire
Going through your home, waste disposal Harold Park is something that we all think about once a while. Weeks and months often pass by, we go to come home, eat and sleep; returning to work the next day without realizing that our carpets are dirty, as well as they need professional domestic clearance. Handy Rubbish is a company that specializes in Harold Park waste clearance services, for all those times when you are simply tired of having excess things lying around. We know things, such as flat clearance, are so important to maintain a healthy state of being (and mind), because a clean home definitely makes for restful sleep!
List of services we provide

in Harold Park, RM3
Household Rubbish Clearance Harold Park, RM3
Commercial Rubbish Disposal Harold Park, RM3
Building Waste Removal Harold Park, RM3
Garden Rubbish Removal Harold Park, RM3
Electronic Waste Collection Harold Park, RM3
Garage Clearance Harold Park, RM3
Choose Our Perfect

Waste Disposal Service in RM3

When you have a clean place thanks to our professional Harold Park rubbish disposal services in RM3, you will notice the difference in how you even behave in your own house. A dirty house clutters the mind and we are able to solve this problem for you, using our Harold Park waste collection services that will be most happy to provide! Call us today on 020 3540 8282 to receive a quote to ensure a good night's sleep.
Testimonials
I used their rubbish clearance services days ago in RM3, and it was great.
The rubbish removal service in Harold Park RM3 went smoothly and was drama-free. Everything went according to plan. I could just leave them to it, safe in the knowledge that everything would be dealt with quickly and professionally.
If only every company was as courteous, efficient, and trustworthy as this rubbish removal services provided to us today in Harold Park RM3! We recommend them over any other rubbish removal company. Awesome!
The customer service is highly reliable. The workers are polite, friendly and very helpful. They approached the project in a professional way. They came with the correct tools and that is why they were able to finish the work on time. It is a great company in Harold Park and we will continue to work with them in our junk removal projects.
Handy Rubbish is serious and dedicated when in waste removal. They abide by instructions you gave them. They are reliable and once they are in Harold Park, we will engage them.
There was so much waste in the office that it was getting to my employees. Had to find a quick solution so I called them. Their prices in RM3 were great, the team were quick to arrive in Harold Park and the rubbish was handled quickly and efficiently. Awesome waste disposal service!
Harold Park – A Lawyer's Story of a Mysterious House
Harold Park, situated in the London Borough of Havering, holding the postcode of RM3, is based in the North-Eastern part of Harold Wood. Situated between the A12, as well as the River Ingrebourne, the area still retains a very rural feel, although it is situated in an outer London borough, and is actually part of the greater Harold Wood area. The story of how Harold Park came about is a very interesting one. Story goes that in 1868, a wealthy Brentwood lawyer built himself a very large mansion south of the river, which was named Harold Court. After he filed for bankruptcy, the house served for various different purposes such as children's home, a sanatorium and even a lunatic asylum. In 1959, it was used as a teacher training college and currently is used as a block of flats. Harold Court Primary School opened in 1929 and a little bit of urbanisation came into the area, as industrial development came further in. Harold Park sits in the Parliamentary Constituency of Hornchurch and Upminster. Its nearest transport links are Upminster tube station that is served by the district line, as well as Brentwood station.
DO YOU NEED ADDITIONAL SERVICES?