Rubbish Removal

Roehampton SW15

When it comes to regions within a city in the United Kingdom, none features any more than London. It doesn't matter what type of lifestyle you have, London districts can offer you what you need. One of the districts, that is growing in popularity, is Roehampton. If you are one of the many looking to find a commercial or residential property in the area, then you are going to look at waste clearance SW15 services to help you get such property up.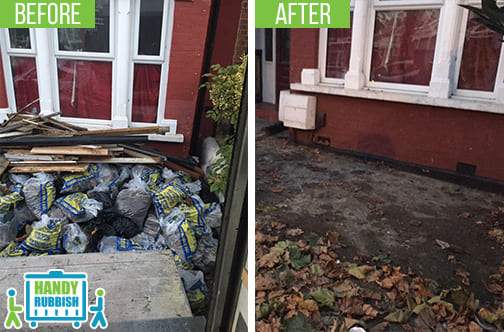 What we do
Where to find us
Like us
Book Cheap

Rubbish Removal Service in SW15

When it comes to Roehampton rubbish clearance services, you are going to come across plenty of pretenders, but in all actuality there is only really one innovator. Handy Rubbish have been providing the SW15, SW14, and SW13 postcode areas with dedicated clearing services for years. Professionalism sits at the heart of all we do, so when you choose us, you can be sure that you're choosing the best in rubbish removal in SW15. Want a free no obligation quote? Then speak to us on 020 3540 8282 today.
Professional SW15 Rubbish Removal
Services at their Finest
If you are thinking of residing your garden, then you are going to look for SW15 rubbish disposal service in the area. A garden itself can be both a thing of beauty and a hindrance, all at the same time. It takes a lot of time and hard work to keep it looking fresh, generally this is time and effort that many people can't afford to give. Don't need to worry about anything, as help is on hand in the form of our Roehampton waste collection. After gardeners have been at work, the last thing you want, is all the rubbish cluttering up and enjoy a beautiful garden.
List of services we provide

in Roehampton, SW15
Household Rubbish Clearance Roehampton, SW15
Commercial Rubbish Disposal Roehampton, SW15
Building Waste Removal Roehampton, SW15
Garden Rubbish Removal Roehampton, SW15
Electronic Waste Collection Roehampton, SW15
Garage Clearance Roehampton, SW15
Our Roehampton Waste Clearance Services
Are There For You
By hiring Handy Rubbish you are getting the best service that money can buy, when it comes to SW15 waste removal. Get the ball rolling today and have your garden waste removed, by speaking to one of our team members on 020 3540 8282. The team will provide you with a quote for our services and a full breakdown of all we can off you. Remember, when you want the best, there is really only one rubbish removal Roehampton company to rely on in the town.
Testimonials
Quick and efficient junk removal service at SW15. Remarkable staff.
Called them this morning and was greeted by a friendly boy who offered me a wonderful deal on waste clearance in Roehampton. They delivered a service in SW15 at short notice without charging me extra! Affordable and swift! Thank you!
The pretty area of Roehampton
Tucked away just past Putney Bridge is Roehampton, one of London's hidden residential gems. With a history that dates back to the 18th Century, the area received its first initial population boom after the opening of Putney Bridge in 1729. A number of estates would then be developed to go along with the areas growing popularity. These original homes once gave the area a very suburban look, however in 2014, it has an impressive historical look. Some of these buildings have even obtained Grade I status, these include Roehampton House, Grove House, and Parkhead House. The area regained sum of its suburban outlook, when London City Council chose to build the Alton Estate (formerly the Roehampton Estate and Dover House estate) in the area back in the 1950s. Roehampton has also a number of famous residents too, as William Harvey, Simon Le Bon, Dawid Malan, Denis Waterman, and Emily Blunt. Those names almost speak for themselves and let people know that Roehampton is the right place to visit or live in.
DO YOU NEED ADDITIONAL SERVICES?