Rubbish Removal

Jewellery Quarter B3

We provide a large array of high quality rubbish removal in Jewellery Quarter to home-owners and business owners alike. All of our services are designed to make life easier for you, whether you want a full property clear-out or a convenient waste collection B3 service. In either case, our staff have every base covered. You can count on them to get things done thanks to their years of experience as well as their general diligence. If you've got a property that needs some clearance services then, be sure to get in touch with Handy Rubbish via 0121 794 8242!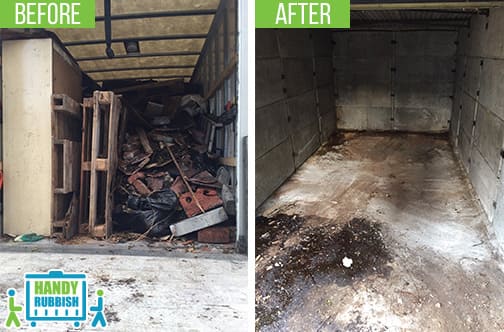 What we do
Where to find us
Like us
Book Cheap Rubbish Removal Service in B3
Have you been looking for a B3 rubbish clearance service to get your property back into shape? Then we've got exactly what you need. Our property clearance services can get your house, flat or business space cleaned up in no time! Just contact us and we'll handle the rest! The Jewellery Quarter waste clearance is a job that's best left to the professionals, and we've got plenty of them ready to dispatch! Furniture can be a pain to get rid of, but it's a job that our staff can handle no questions asked! If you want to free up some space in your loft, cellar or attic, we offer convenient services just for that purpose! So call our offices on 0121 794 8242 today, and arrange a quick and easy visit!
Rubbish Removal in Jewellery Quarter, B3 from the Best in the Business!
We offer a range of great value rubbish removal services here, all of them in place to save you time and money on the general decluttering jobs. We take our job very seriously, and our environmental policies are proof of this. When we handle the rubbish disposal in B3, we avoid landfills and other non-sustainable methods as much as possible and focus on recycling. It just makes sense to us, and it fits nicely with our end goal – keeping the local area clean tidy for the next generation. The planet is the only one we have, after all!
List of services we provide

in Jewellery Quarter, B3
Household Rubbish Clearance Jewellery Quarter, B3
Commercial Rubbish Disposal Jewellery Quarter, B3
Building Waste Removal Jewellery Quarter, B3
Garden Rubbish Removal Jewellery Quarter, B3
Electronic Waste Collection Jewellery Quarter, B3
Garage Clearance Jewellery Quarter, B3
Give Us a Call for Some Affordable Rubbish Clearance in Jewellery Quarter
Professional waste removal Jewellery Quarter services are a valuable asset, because every job associated with rubbish removal is a nasty one. We'd all like to avoid dealing with the rubbish if we can avoid it, and Handy Rubbish gives you an affordable reason to do so. Our staff are professionals in waste disposal in B3, Jewellery Quarter, lending a level of diligence and dedication to the job at hand. Whether you live in the B3, the B18 or elsewhere in Birmingham, you'll find plenty of value in the services that we offer. To find out more, simply call us on 0121 794 8242 and have a chat with our friendly offices!

Testimonials
Polite, on-time, efficient and dependable! Waste collection in Jewellery Quarter B3 is much easier when they are on the job!
- Reviewed by Alvin
Here's Some Valuable Information about Jewellery Quarter
The Jewellery Quarter in Birmingham has a name that suggests high value and top-class craftmanship. It's in the Hockley area of the city centre, and produces about 40% of all of the jewellery made in the United Kingdom. It also has the highest concentration of businesses involved in the trade, and it has a rich history in the jewellery sector as well. The Jewellery Quarter is a popular tourist attraction, as many of the workshops retain their nineteenth century look and feel. St Paul's Gallery is also in the Jewellery Quarter, and it the largest commercial art gallery (outside of London) in the United Kingdom. In terms of transport, there's a train station on the Midland Metro line and the area is connected to Birmingham's canal network.


DO YOU NEED ADDITIONAL SERVICES?