Rubbish Removal

Perry Barr B42

Rubbish removal in Perry Barr can be a very difficult task, especially if you're tackling it alone. There's just so much to think about and if the junk has been building up for a fairly long time, then the task can become very stressful and confusing! There are a number of things we can do to help you. We have a wide range of clearance services on offer and all of these are guaranteed to give you a helping hand. We take care of everything from the sorting to heavy lifting and safe disposal. There really is nothing to lose with us, so why not get in contact?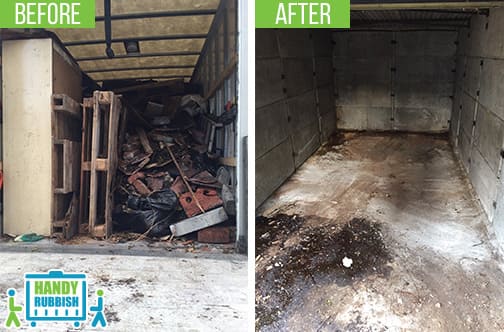 What we do
Where to find us
Like us
Book Cheap

Rubbish Clearance Service in B42

We offer many different services here at Handy Rubbish. All of these brilliant services keep you in mind and we strive very hard each and every day in order to provide you with options and solutions to Perry Barr waste removal that meet all of your needs in B42! Have you let your garden waste get a little out of control? Don't worry because we have a fantastic garden clearance service that takes care of all the lifting, loading and disposal that will make your garden look beautifully clean and spacious. We also have builders waste clearance services and rubbish clearance B42 options that you will love!
The Best

Rubbish Clearance Company in the Perry Barr

We believe that we are the best company when it comes to waste clearance in Perry Barr, B42! That's because we offer so much more than other companies and really pay attention to detail in every single aspect of the job! We offer a 100% flexible service every time you need. We are completely eco-friendly and green. Our professional and expert team works even on the weekends and bank holidays and can offer special deals for both new and existing customers. If you'd like to find out more call 0121 794 8242.
List of services we provide

in Perry Barr, B42
Household Rubbish Clearance Perry Barr, B42
Commercial Rubbish Disposal Perry Barr, B42
Building Waste Removal Perry Barr, B42
Garden Rubbish Removal Perry Barr, B42
Electronic Waste Collection Perry Barr, B42
Garage Clearance Perry Barr, B42
Rubbish Removal Solutions in Perry Barr,
B42 that You Can Count On
We all know what impact we can have on our local environment by not recycling properly and disposing of waste in a haphazard fashion. It's a topic that many of us simply can't sit back and ignore and thus we have always strived to meet a standard of recycling that we're happy with. That's why we recycle the majority of the rubbish we receive. Rubbish disposal in Perry Bar doesn't need to have a negative impact on the environment so call 0121 794 8242 for more advice and information on this topic and pick our eco-friendly services now!
Hire Our Outstanding

Rubbish Removal Company in B42 And Save Money

Do you think you could save money by booking our brilliant waste collection services in B42? The answer is yes! We have many deals on at the moment so make sure you beat the rush. Pick one of our appointment slots which are available on a very wide range of dates and times to suit you. We will discuss your needs first and give you a completely free quote so that you know exactly where you stand from start to finish. Work at your own pace with Handy Rubbish's excellent waste disposal Perry Barr options! Book an appointment now in order to save even more money! All you have to do is call us on 0121 794 8242!

Areas We Cover:

Testimonials
Rubbish disposal in Perry Barr that is worth the money. Definitely the best in B42!
- Reviewed by A. Mcneil
Hear More about Perry Barr

Perry Barr is situated in the north of Birmingham and also shares the name of a political constituency. Perry derives from the word 'small' and Barr comes from the Latin word for 'hill' – the name literally means 'little hill'. The River Tame runs through the area and the total length of the river is about 285 km. The M6 motorway runs through Perry Barr and there are many bus routes run by the National Express which pass through and around the region and the surrounding areas. Perry Barr also has some sporting ties - Aston Manor Cricket club is located on Church Road.


DO YOU NEED ADDITIONAL SERVICES?