Rubbish Removal

Selly Park B29

We offer dependable and affordable Selly Park, B29 rubbish removal services, and that's not all we do. Here at Handy Rubbish we focus on quality and accessibility rather than simply offering the lowest price around. That means our assistance is worth your time as well as your money, and you'll get a whole lot of value out of our services. So whether you want a regular or one-off B29 waste collection service, or something more substantial like a Selly Park property clear-out, give us a call on 0121 794 8242.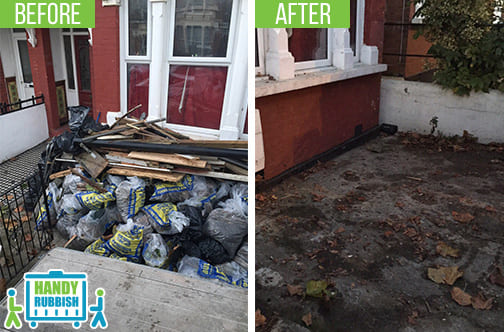 What we do
Where to find us
Like us
Book Cheap

Rubbish Clearance Service in Selly Park

Our work is well-known in the B29 region for their quality of our work, so call us and see if you agree! We're highly conscious when it comes to processes that could potentially damage the environment, so we do our best to minimise ours. Our Selly Park rubbish disposal methods reflect this; we make sure that all electronic goods are dismantled and disposed of safely, and that everything that can be recycled will be. Landfills are a big no-no as far as we're concerned, and we steer clear of them as a general rule. In other words, if you're looking for a waste removal B29 company, who'll do their job properly, get in touch with us today.
Provide Yourself With the Expertise

of Our Selly Park Waste Disposal Staff on Your Side

We understand that clearing out your house can be a lot of work, and keeping your offices and other business related spaces free of clutter can be difficult. If you live local to Selly Park you can leave the hard graft to us! Simply call Handy Rubbish on 0121 794 8242 and hire one of our valuable rubbish clearance Selly Park, B29. We will dispatch a team of talented staff, who will put all of their years of experience to good use. They're some of the finest waste disposal professionals in Birmingham, and uphold our quality standards with ease!
List of services we provide

in Selly Park, B29
Household Rubbish Clearance Selly Park, B29
Commercial Rubbish Disposal Selly Park, B29
Building Waste Removal Selly Park, B29
Garden Rubbish Removal Selly Park, B29
Electronic Waste Collection Selly Park, B29
Garage Clearance Selly Park, B29
Swamped by Rubbish? Our Selly Park Rubbish Removal Services are
Just the Stress-Saving Tool You Need!
We are waste clearance Selly Park company that respects our customers, so we always provide a high-quality service no matter what the job is. You'll get a lot of mileage out of our services, that's for sure! Our quality standards are through the roof, but thankfully our prices are not. Your wallet won't take a hit when you book with us, and we guarantee complete transparency as well!
Don't Miss the Golden Opportunity

to Hire Our Expert B29 Waste Disposal

When you dial 0121 794 8242, you'll be put through to someone who knows what they're talking about. They'll help you arrange a convenient appointment, provide you with a free estimate for your rubbish disposal job within B29 district or just give you the answer to your queries. Our Selly Park waste disposal B29 help is well known for their cleanliness and safety. Everything will be recycled, and all potentially dangerous bits of equipment will be disassembled by professionals!



Testimonials
Pleased with the low-cost waste removal service I received in Selly Park B29! Would recommend!
- Reviewed by Alicia R.
Take a Look Around Selly Park and Take in The Sights!

Selly Park is a suburban district in the south-west of Birmingham. It's most a residential area and its postcode district is the B29. It's located between the Bristol Road and the Pershore Road and has a fair few schools and buildings of architectural merit. The area is named after the parkland that used to make up part of Selly Hall (the parkland in question now makes up part of nearby Selly Convent). St Edward's Church is Selly Park's main Catholic Church, and is well known for its decorated, gothic style. It originally opened in 1902, and was expanded on numerous times until it was finally completed in 1936.


DO YOU NEED ADDITIONAL SERVICES?