Rubbish Removal

Mayfair W1K

London on a whole is a city that truly never sleeps. People are on the move within the capital almost 24/7, to the point where it can overwhelm some residents. One area that does what it can to slow things down and restore a classic touch of residential living to the capital is Mayfair. The W1K and W1J postcodes are some of the most expensive in the world residentially, but that doesn't mean that people aren't buying up properties in the district. If you are deciding to move in or out of Mayfair then shifting furniture is going to be an issue you will have to address at some point. When it comes to Mayfair rubbish clearance W1K or furniture disposal, you will want the very best. Make a call on 020 3540 8282 and get the best deal on professional waste removal Mayfair W1K today!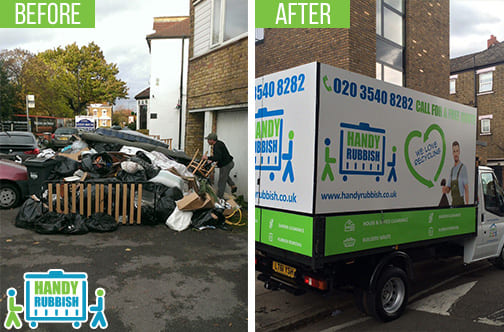 What we do
Where to find us
Like us
Book Cheap
Rubbish Clearance Service in W1K
When you hire Handy Rubbish you will be getting such Mayfair waste clearance services in the true spirit of the area, meaning that quality is offered above all else. You won't find us mishandling your furniture, as we will handle furniture collection with delicacy and care every single step of the way. Ready for the best? Then don't delay and call us on 020 3540 8282 today to book rubbish disposal Mayfair.
A Tailor Made
Mayfair Waste Removal Service

for You!

Mayfair is an area that is all about luxury. From shopping to hotels and gardens to residences, the area is prim and proper in almost every aspect. However, the only way things can stay such way both inside and outside of properties in the area is if waste and rubbish disposal is handled the right way. When you want Mayfair W1K rubbish removal professionals that truly encompass the upmarket spirit of the area, then you need look no further than us. Handy Rubbish have forged a hard working reputation within the local community. It doesn't matter what it is you need clearing or moving, from expensive furniture to small appliances, you can be sure that we can handle all your waste collection W1K needs.
List of services we provide

in Mayfair, W1K
Household Rubbish Clearance Mayfair, W1K
Commercial Rubbish Disposal Mayfair, W1K
Building Waste Removal Mayfair, W1K
Garden Rubbish Removal Mayfair, W1K
Electronic Waste Collection Mayfair, W1K
Garage Clearance Mayfair, W1K
Waste Clearance Done

the Mayfair Way

Next time you are wondering about how to get yourself and your furniture moved in, out or around the area, call us on 020 3540 8282. One quick call is all it takes to receive not only more information but also a free no obligation Mayfair waste disposal quote from one our team. When you are ready for the best in the business, don't delay and call today.

Testimonials
Hired them for rubbish disposal in Mayfair and paid the lowest price for such a service in W1K! Highly recommended!
- Reviewed by Rob
More About Mayfair
It found its fame around the world largely because of its position on the Monopoly board. Mayfair is and always will be one of the most rich and affluent districts on the planet. A part of Central London, located to the edge of Hyde Park and within the City of Westminster, Mayfair rents from both a business and residential perspective are among some of the highest in the world. It has made the area as exclusive as it gets in London; with the area featuring countless five star hotels and Michelin star restaurants. The area is also known as major retail hub, showcasing some of the very best stores that Britain has to offer. What is lesser known is the residential side of Mayfair. Even though expensive, there is definitely an element of privacy among residents in the area. This is solidified by the fact that there are no actual London Underground stations within Mayfair, even though there are plenty around the outskirts. There is also only a single bus route that travels in the area within the form of the C2. If you are a resident or soon to be resident of the area and you want your furniture moved in true discreet Mayfair fashion, then we are the name to talk to.
DO YOU NEED ADDITIONAL SERVICES?