Rubbish Removal

Surrey Quays SE16

Keeping on top of your rubbish and clutter can be hard at the best of times. Often it is left to build up with people making promises to themselves that they'll get round to it when they finally get a free day. But from our experience, this free day never arrives. Instead, you end up watching the pile get bigger and bigger while your stress levels do too. But if you are one of these people, you don't have to worry any longer. Call Handy Rubbish on 020 3540 8282 now and see how we can help you. Let us deal with your rubbish disposal SE16 in the stress-free way. Offering the best value waste clearance service in Surrey Quays all of SE16 region is something we are extremely proud of. Especially because we also offer the best service too, so with our low prices you really are getting the best bang for your buck.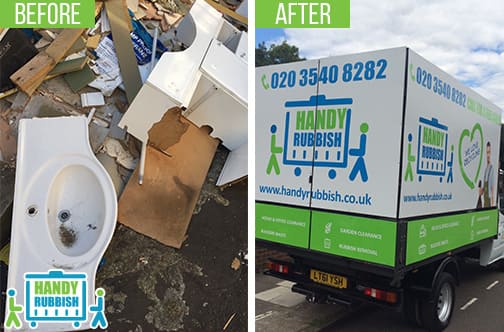 What we do
Where to find us
Like us
Book Cheap

Rubbish Clearance Service in SE16

There's a reason most people leave dealing with garden waste until the end of a renovation or tidy up: it's because it is often dull and frustrating to do. Fortunately for those who share these sentiments, we have got the process down to a fine art, which means not only can we deal with it quickly and professionally, but we actually like doing it too. For professional waste removal services in Surrey Quays, SE16 we are the company for you. Don't waste your time doing something you don't want to do when you can call us in to deal with it quite happily. But we don't just want to tell people in Surrey Quays about our great prices, we want them to see for themselves. When you call Handy Rubbish we will offer you a no obligation quote for our rubbish removal Surrey Quays services which you are welcome to compare with our competitors: we bet they won't beat it.
Professional

Rubbish Disposal Company in SE16

If you've got bulky, heavy furniture to get rid of (or even light furnishings) and you don't know what to do with it, call us. Our SE16 waste disposal team members are fully trained, insured furniture disposal experts. We relish the opportunity to help people with disposing of old furniture, and we guarantee to do it with minimal stress and disruption to your daily schedule. We dispose of all types of furniture: old, broken or just unwanted, we deal with it all. Tell us what needs to go and point us in the right direction, once you've done that you can leave it in the capable hands of our Surrey Quays rubbish clearance experts. Call us on 020 3540 8282 now to find out how we can help you.
List of services we provide

in Surrey Quays, SE16
Household Rubbish Clearance Surrey Quays, SE16
Commercial Rubbish Disposal Surrey Quays, SE16
Building Waste Removal Surrey Quays, SE16
Garden Rubbish Removal Surrey Quays, SE16
Electronic Waste Collection Surrey Quays, SE16
Garage Clearance Surrey Quays, SE16
The Best Value

Waste Removal Service in Surrey Quays

Residual waste left over from building projects can be a serious problem. Depending on the materials, finding a safe way to dispose of this rubbish can be difficult, and even potentially dangerous. This can sometimes add an extra layer of stress to projects that already have enough. But builders waste clearance doesn't have to cause a headache. Instead of letting this extra worry blight your project, call us on 020 3540 8282 today and see how we can help. Builders waste collection in Surrey Quays is what we do, allowing you to get on with what you need to do.
Testimonials
Reasonably priced junk collection service. Will recommend Handy Rubbish to neighbours in SE16.
Handy Rubbish has handled a few rubbish removals for my parents, so I decided to hire them too. They showed up on time and had everything cleared in an hour. I highly recommend their services to anyone living in SE16.
There was a lot of waste that I needed clearing out of my property in Surrey Quays. But thankfully, it didn't pose Handy Rubbish any problems. They handled the waste clearance task brilliantly. I'll certainly hire them again if I%u2019m ever in need.
The garden waste disposal service in SE16 took place without a hitch. Handy Rubbish removed every last bit of waste from my garden. I'm so glad I hired them for the job. It was well worth the money too, perhaps even more!
I was so happy with the low rates offered by Handy Rubbish in SE16 that I could have hugged them (that would have likely been looked down upon - so I didn't). Everyone else I called was much too expensive. These guys are wonderful, best rubbish removal company in the area.
We had absolutely no idea just how much junk we had accumulated over the years until it was time to move! Handy Rubbish sent their rubbish removal guys to give us a hand in Surrey Quays. The price was right, and their team wasted no time in getting us free from junk! Made the move easier.
I highly recommend their rubbish clearance services to anyone living in SE16.
I highly recommend this waste disposal company in SE16.
When we needed to get rid of the junk, Handy Rubbish came through, top job and now our Surrey Quays SE16 flat looks great with no more mess.
A quick thank you to Handy Rubbish for a great service. This was my first time using a rubbish disposal service in Surrey Quays and it was a lot easier than I'd imagined. Great prices and very good service throughout.
Quick responsible waste collection. Used them to clear up a spare room at my flat in Surrey Quays, as it was being used as a catch-all for junk. Talked to a nice person on the phone, and they answered my questions about charges, fees, etc. and was satisfied with their answers. So I booked them to come out and help me chuck the stuff in the spare room. Impressed with their work, so am giving them a good rating.
The price was fair and affordable considering the large amount of junk that I needed clearing from my property in SE16. It was just great! Will be booking with them for my next job in Surrey Quays!
Have a great time in Surrey Quays
Once a thriving dock of London, Surry Quays is now a bustling residential and tourist heavy part of South East London. Located in the Rotherhithe district, it is an area with much to offer. It has a wonderfully expansive shopping centre which attracts thousands every day. SE16 is also the home of the publishing house which prints the Daily Mail and Evening Standard. There are numerous sports facilities and entertainment options around such as cinemas and bowling alleys, not to mention a comprehensive sailing facility, where people can try their hand at the sport. The area is serviced by London Overground trains and numerous bus routes.


DO YOU NEED ADDITIONAL SERVICES?