Rubbish Removal

Peckham SE15

When you live somewhere that has been recently regenerated as Peckham has, you don't want to have to leave your junk and rubbish everywhere simply because you had waste clearance in SE15 and don't have enough bin space to put all your rubbish in. This makes you, your home and your area look bad and is simply unnecessary when companies like us exist to help with your Peckham SE15 rubbish removal. If you feel that this clearance service would be useful to you simply call us on 020 3540 8282 and let Handy Rubbish help sort out all your Peckham rubbish removal problems.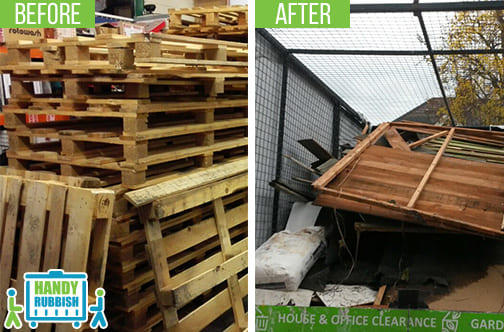 What we do
Where to find us
Like us
Book Cheap
Rubbish Clearance Service in SE15
In a rapidly improving area such as Peckham, it is not hard to love where you live, but if you have lived there for a long time, you may have started to accumulate a lot of junk that you no longer need. Sorting and doing Peckham rubbish disposal SE15 yourself can be extremely challenging as often you are attached and just don't notice that some of the things around you are junk that you simply don't need anymore. This is where we come in. Our Peckham waste collection company can help you in your home with your waste removal. This means that you will definitely get rid of everything that is junk along with having the help to get the job done quickly. Property clearance is our specialty and so we will not be phased by whatever you need help with, whether it is just emptying your bins or helping you to get a skip permit for skip hire.
The Best
Waste Clearance Services in Peckham
If you are looking to have rubbish clerance Peckham but don't know where to start, our services can really come in handy. Our team can advise you by giving tips such as working through your home room to room, clearing one room and then the next. If you have a loft or basement we can help with clearance in case anything can be moved down or up into these. Loft and basement waste removal services in Peckham can really help to clear your head before you start working on the whole house.
List of services we provide

in Peckham, SE15
Household Rubbish Clearance Peckham, SE15
Commercial Rubbish Disposal Peckham, SE15
Building Waste Removal Peckham, SE15
Garden Rubbish Removal Peckham, SE15
Electronic Waste Collection Peckham, SE15
Garage Clearance Peckham, SE15
Call Us Today for a Stress-free
Peckham Waste Disposal Services
Handy Rubbish can help you make your life feel better and more stress free by simply helping you to clear out your home. If this is something that you would like help with in your life, call us on 020 3540 8282 and we can inform you of our waste disposal Peckham SE15 services and how they can help you in your home and area.

Testimonials
I contacted many rubbish removal companies in Peckham SE15 and they all offered high prices that didn't fit my budget. I am glad I got in touch with Handy Rubbish as they gave me the best price and delivered a top-notch service! Will hire their team again!
- Reviewed by T. Chilvers
What Is Peckham Like?
Once seen as a small village which was surrounded by fields, Peckham has recently been regenerated into a buzzing area with lots to do and see. It is situated near Peckham Rye Park and could definitely be seen as an up and coming area. it is in the London borough of Southwark in South East London and is in the SE15 postcode district. Nearby Peckham, there are places such as Brixton, East Dulwich and Bromley and the surrounding areas have postcodes including SE22, SW9 and BR1. Peckham grew around the railway and Rye Lane shopping street making it busier and busier and more like the place that it is today. In the 1990's there was a large regeneration project in Peckham in order to try and get rid of some of the bad press, replacing council estates with better quality housing and so on. It is one of the most diverse areas in London, and is an area where many different ethnicities can come together and live side by side. Recently, there has been a growth in the number of cafes and wine bars in Peckham making it an area to definitely keep your eye on as it begins to grow and improve.
DO YOU NEED ADDITIONAL SERVICES?