Rubbish Removal

Pentonville N1

Whether you have recently move into new offices in Pentonville and want to give them a good clear out before you set up your business or have been working there for years and simply want to give your office a revamp, we are here to help you. We have plenty of N1 rubbish clearance services ready to come into your business and help you out. To get in touch with us and find out what services our waste disposal in Pentonville can provide for you and your business, call Handy Rubbish on 020 3540 8282.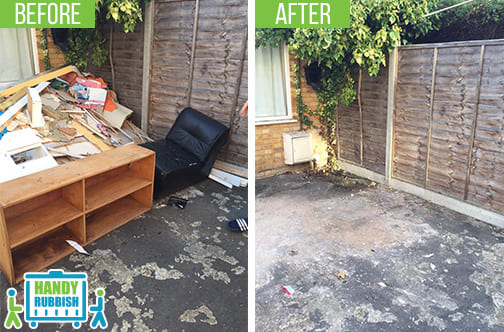 What we do
Where to find us
Like us
Book Cheap

Rubbish Clearance Service in N1

With such big influential thinkers being born in Pentonville, it really seems a brilliant place to have your business. If you are looking to move into offices in the area and want to make sure that they are all cleared out before you have to start moving your things in, you can hire our waste clearance services in Pentonville, N1 to help you out and ensure that your office is suitable. Our services include loft clearance and basement clearance which can be extremely helpful if you buy a large building or block of offices as this helps to free up space either for workers or storage. Even if you are told that the building is empty when you rent it, it can be a good idea to get us out to help with rubbish disposal N1 of any furniture left behind and to help with waste removal Pentonville just to be on the safe side.
Amazing

Waste Removal Services in Pentonville

We also provide services for those who have been in their offices for a long time. A clear out can really help you and your workers feel as though they have a better working environment and thus be more productive. It will allow you to find things more effectively in storage as our N1 waste collection service will help you to get rid of any old paperwork and items that you do not need any more. We are even able to help you to get a skip permit and help you to find a decent skip hire alternative Pentonville to get rid of as much of your rubbish as possible.
List of services we provide

in Pentonville, N1
Household Rubbish Clearance Pentonville, N1
Commercial Rubbish Disposal Pentonville, N1
Building Waste Removal Pentonville, N1
Garden Rubbish Removal Pentonville, N1
Electronic Waste Collection Pentonville, N1
Garage Clearance Pentonville, N1
Get Expert

Waste Clearance Service in N1 at Amazing Prices

If you're moving your business into new premises and want us to help you clear them out before you finalize and move in, or if you want to give your offices a bit of a refresh by cleaning out some of the junk and rubbish that has stored up there, we are happy to help you. All you need to do is phone us on 020 3540 8282 and let Handy Rubbish help sort out all your Pentonville rubbish removal problems for you.

Testimonials
Had to deal with a garden full of waste so I called the pros. The waste removal job in Pentonville N1 was carried out quickly and seamlessly! Reliable and reasonably priced!
- Reviewed by Austin J.
What Is Pentonville Like?
Pentonville is situated in the northern fringe of Central London and is named after the developer of many of the streets in the area, Henry Penton. It is located in the postcode district N1 and places such as Golden Lane, St. Pancras are nearby. Some nearby postcodes include N7, EC1Y and W1G. Pentonville can be found in the London borough of Islington, although this wasn't always the case. Although there is a prison with the same name, the Pentonville Prison is not actually in Pentonville. The area itself is served by the tube with the Angel stop being the nearest for people looking to travel to and from Pentonville. It developed from the ancient parish of Clerkenwell into the Pentonville that it is today. Pentonville was the birthplace for some pretty big thinkers including the philosopher John Stuart Mill and the Psychiatrist Forbes Benigus Winslow.
DO YOU NEED ADDITIONAL SERVICES?