Rubbish Removal

Soho W1

It can be argued that no part of London draws in more people year on year than Central London. The area features more bars, pubs, and restaurants than any other area in the capital, making it a tourist hotspot for sure. Amidst Central London there is one area that happens to bring more to the table than others. Soho is located in the heart of all the action in the region and makes for an interesting prospect from a residential and business perspective. If you are thinking about moving in or out of a property in the area, then clutter and rubbish is going to be a matter of great urgency. Thankfully, when it comes to Soho W1 waste clearance help, Handy Rubbish have been working within the intricate Soho set-up for years, showing our quality over and over again. Next time you need rubbish removal W1 service that you can depend on, pick up the phone and call us on 020 3540 8282. In this way you will be able to get more information and receive a free no obligation waste removal quote as well.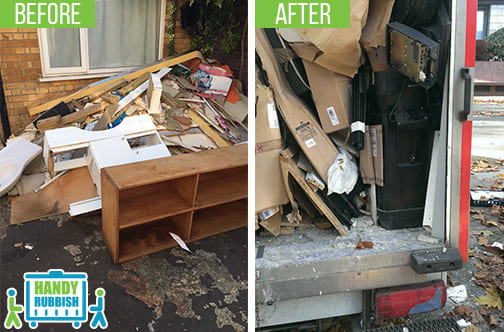 What we do
Where to find us
Like us
Book Cheap
Rubbish Clearance Service in W1
It is built up, vibrant, and on trend, Soho is undoubtedly one of, if not the most exciting area in Central London. Having shaken loose its once seedy reputation, it is no surprise that tourists are pouring into the area by the coach load. Sadly, with tourists and foot traffic, comes a big problem for businesses and residents in the area. This problem is rubbish and waste, which many council bin men just won't handle. You are going to need professional help in the form of Soho rubbish clearance company, in order to get rid of such problems. Whether you require a one off visit or a rolling appointment, the team at Handy Rubbish can help.
The Art of
Soho Waste Clearance
Choosing us gives you full access to not only our experienced roster staff, but also the latest in technology and tools. The cowboy competitors may promise you the earth, but only our waste collection Soho W1 company can deliver on such promises every time.
List of services we provide

in Soho, W1
Household Rubbish Clearance Soho, W1
Commercial Rubbish Disposal Soho, W1
Building Waste Removal Soho, W1
Garden Rubbish Removal Soho, W1
Electronic Waste Collection Soho, W1
Garage Clearance Soho, W1
Have Your
Rubbish Disposal Problems

Solved in No Time

When it comes to Soho waste disposal W1, don't settle for less than perfect anymore, pick up the phone and call us on 020 3540 8282 today instead. Do you need a quote in writing? Then send us an email and one of our team of rubbish disposal W1 members will get back to you within 24 hours.
Testimonials
Thank you Handy Rubbish for the best rubbish clearance at my home in Soho W1.
Thank you Handy Rubbish for a great garden waste clearance in Soho W1 yesterday.
Handy Rubbish is just splendid. Lovely people. They came to our flat in the Soho area and the junk collection services are completely affordable. Fantastic job and we can't thank you enough!
I needed a cheap but reliable company that offers garden waste clearance in Soho. Looked at a few different options, but I liked the sound (and prices!) of Handy Rubbish the best, so decided to give them a go. Very pleased I did it. I can finally see my lawn again! A very handy service to have around!
I used the junk removal service in Soho W1 for a wardrobe beyond repair. Gladly use again!
They came in W1 and took away all my waste in a jiffy. No fuss, no delays! It was a great rubbish clearance in Soho! Thank you!
A Quick Guide To The Area
Located in the City of Westminster and the West End of London, Soho has been a long-established part of the entertainment district within London. Soho has now become an area that boasts not only a thriving retail sector, but also a bustling nightlife. The area is now also home to plenty of industry, culture, commerce, and entertainment, along with both affluent and not so affluent residential areas. Soho's popularity has steam rolled in recent years, to the point where they need to close several streets to cater for all the people. Music is also a large part of what makes Soho the place it is, with various old school record shops and small music venues, darted around the area. If you want to reside, work, or visit an area with vibrancy at its heart, then Soho is place that is worth visiting.
DO YOU NEED ADDITIONAL SERVICES?